American Scholars Return to Studying Religion
The college campus has long been perceived as one of the most secular precincts of American society. Within the academy and mass media, the secularization of the university remains a dominant storyline.
Despite its widespread acceptance, strong evidence indicates a new story needs to be told about religion in the academy, one that recognizes the resilience of the study of the sacred in higher education. Marginalized for the better part of a century, the study of religion is making a comeback in American higher education.
In this postmodern era, growing numbers of scholars are challenging the boundary between faith and knowledge, as well as acknowledging the importance of religion as a social phenomenon. Religious professional associations, centers and institutes, journals, and support from philanthropic foundations have been the result.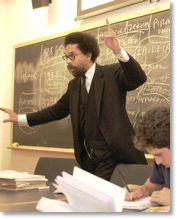 Photo by Denise Applewhite
further reading online
Want to learn more about current scholarship on religion? John Schmalzbauer provided us with this extensive list of online resources:
Online Studies of Religion:
Religion-Oriented Centers and Institutes:
Sections of Disciplinary Associations Focused on Religion:
Scholarly Societies Focused on Religion:
Religious/Spiritual Scholarly Societies and Organizations:
Secular Advocacy Organizations Focused on the Academy:
Organizations Focused on Values and Ethics:
Associations of Religious Colleges:
Foundations who have funded projects on religion in the academy