About Contexts
Contexts is a quarterly magazine that makes cutting-edge social research accessible to journalists, policymakers, sociologists, and general readers. We're the public face of sociology.
The magazine includes peer-reviewed feature articles, culture and book reviews, and photography, as well as analysis of the latest social science research.
Find us on social media: Instagram, Twitter, Facebook, and, newly, TikTok.
Who Should Read Contexts?
Anyone interested in sociological trends, social change, and the implications of sociological knowledge for policy and public debate
Journalists, teachers, students, civil servants and policymakers seeking out important developments in social research
Social and behavioral scientists interested in the cross-fertilization of ideas and creative new thinking
All sociologists who wish to remain current and engaged with findings across the field
At Contexts you'll find:
The best sociological ideas and research
Fresh perspectives, clear, concise thinking, and jargon-free writing
A thought-provoking look at modern life
Editors
Amin Ghaziani and Seth Abrutyn (University of British Columbia)
Sr. Managing Editor
Letta Page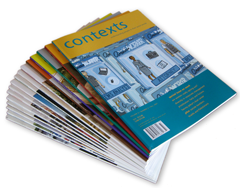 Books Editor
Joseph Cohen
Policy Brief Editor
Laura-Beth Nielsen
Trends Editor
Juan Pablo Pardo-Guerra
Culture Editor
Jooyoung Lee
Photo Essays Editor
Ryan Centner
Design
Print: ThinkDesign Group
Web: Jon Smajda
Website Host
The Society Pages
Editorial Board
Keera Allendorf, Indiana University-Bloomington
Amelia R. Branigan, University of Maryland-College Park
Tristan Bridges, University of California-Santa Barbara
Steven Brint, University of California-Riverside
Melissa C. Brown, Santa Clara University
Monica L. Caudillo, University of Maryland-College Park
Ryan Centner, London School of Economics
Rodney D. Coates, Miami University
Yesh Cohen, University of South Dakota
Barbara Combs, Kennesaw State University
Jonathan M. Cox, University of Central Florida
Anya Degenshein, Marquette University
Faustina DuCros, San Jose State University
Jan Arendt Fuhse, Humboldt Universitat (Berlin)
Mark D. Hayward, University of Texas-Austin
Melanie Health, McMaster University
Yasmiyn Irizarry, University of Texas-Austin
Nina A. Johnson, Swarthmore College
Pei-Chia Lan, National Taiwan University
Zakiya Luna, Washington University in St. Louis
Damon Mayrl, Colby College
Joshua Mccabe, Niskanen Center
Paul-Brian McInerney, University of Illinois-Chicago
Laura K. Nelson, University of British Columbia
Laura Beth Nielsen, Northwestern University
Anthony Paik, University of Massachusetts-Amherst
Amelie Quesnel-Vallee, McGill University
Wendy D. Roth, University of Pennsylvania
Zeinab Shuker, Sam Houston State University
Jessi Streib, Duke University
Jenny Stuber, University of North Florida
Marshall A. Taylor, New Mexico State University
Lisa Wade, Tulane University
Emily Walton, Dartmouth College
Deadric T. Williams, University of Tennessee-Knoxville
Amina Zarrugh, Texas Christian University