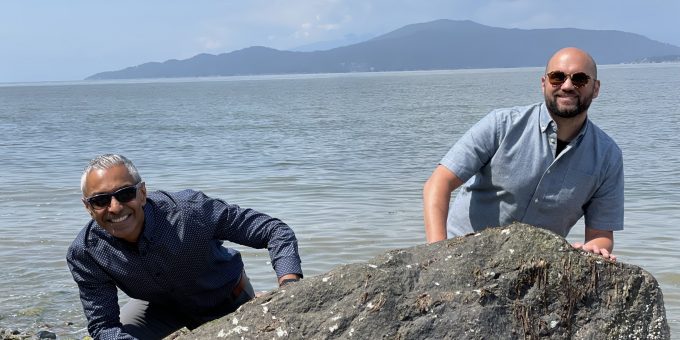 Summer 2023: From the Editors
Greetings from Vancouver, the traditional, ancestral, and unceded territory of the xwm∂θkw∂y'∂m (Musqueam) People. We are grateful to them for passing their culture and caretaking practices from one generation to the next on this coastal site. We also take this time to acknowledge that you, dear reader, are located on the territories of many different Aboriginal, First Nations, and Indigenous peoples. These land acknowledgements are not simply words. They commit us to the cross-border work of remembrance and reconciliation, especially as we reflect on what it means to belong in a place and to a place. They remind us that where we live, where we work, and where we play matters—because place matters.
That word, place, animates our summer issue. But what does it mean? For starters, a place is not the same as a space, despite the resemblance between the words. A space is a location, whether physical or virtual. But a place! Now that's where things get more interesting. A place is a cultural object. More than collection of material or digital features, a place is what gives the canvas of a space a unique set of meanings that accent its history, personality, and style. Think of it like this: space + meanings = place.
Our summer issue is chock full of this magic formula, starting immediately with our in-briefs. When a city invests in the civic capacity of its residents, it transforms into a green innovator. Overlaying humor onto racist slurs or nativist remarks empowers immigrant youth to turn the suffering they experience in a new place into forms of resistance. Despite declining levels of religiosity, megachurches are flourishing in South Korea, Brazil, and the U.S. due to the power of place-based cultures.
Warmed up yet? Turn the page, and you will meet CBC news anchor Lien Yeung, who speaks with us about the spike in anti-Asian hate on the streets of Vancouver. But wait, isn't Vancouver a cosmopolitan city? Of course it is, but as we learn from Yeung, for a space to become a place does not require a single set of uncontroversial meanings.
The heart of the matter, which beats in all the stories in this issue, is the plurality of what places mean—from the environment to athletic competitions in Qatar and the more immediate circumstances of our home. Some meanings are hotly contested. We'll take you to Montgomery, Alabama, where debates about monuments, dismantling the old and building anew, represent efforts to redefine our collective past and imagine an aspirational future. From here, you will read about the meanings that families from different class backgrounds assigned to pandemic-related campus closures, meanings that shaped the choices young people made about whether to live in an apartment on campus or with their parents.
No conversation about home is complete without our furry friends. Get ready to go to an animal care center, a place that picks up strays, where you will appreciate the challenges that people with housing instability face as they care for their animal companions. (Keep tissues nearby.)
Sometimes, our attachments to a place have moral implications. Another feature scales up to the environment. How we relate to it—decisions about what to drive, for example—exposes a hierarchy of morality, communicating attitudes about (and exacerbating cleavages around) how to best care for the planet.
Our summer issue will make you scratch your head repeatedly and say, "Huh, I hadn't thought about place like that before." Our first photo essay travels to Leadville, Colorado, a destination for health-conscious outdoor enthusiasts. Here, tourists are looking for a "local" feeling, expecting to experience the place in a way they view as authentic. But in doing so, they are displacing long-term residents. Gentrification is not just an urban phenomenon; rural gentrification is a real thing too.
Contradictions in cultural worldviews are everywhere—like in Cuba, where our second photo essay lays bare stark contrasts of Havana as a stalwart pariah, a contrarian clinging to its revolutionary banner, and a daring beacon for Latin America. This place, imaginative and improvisational in equal measure, is immersed in a sea of circulating people and ideas.
Space + meaning = place. Keep that in mind as you read. From the land acknowledgements with which we began to the very last essay of our summer issue, we hope to inspire you to reflect on the power of place.
That's just how we roll at Contexts: It's rigorous! It's relevant! It's readable! It's rad!
—Amin Ghaziani and Seth Abrutyn University of British Columbia