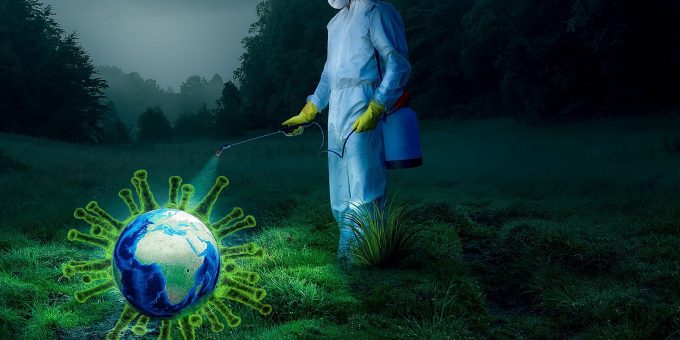 #CourageIsBeautiful but PPE is Better: White Supremacy, Racial Capitalism, and COVID-19
On April 27, 2020, Dove promoted a hashtag #CourageIsBeautiful with the tagline "Thank you, Frontline Heroes." The next day, Ivanka Trump tweeted about a military aircraft salute to "first responders" to COVID-19 and Reza Aslan tweeted in response "Are they dropping COVID tests from the sky? No? Then go fuck yourself." On May 7, three JetBlue aircrafts flew above Manhattan, Queens, and the Bronx in gratitude for essential healthcare workers. Likewise, residents from New York to Los Angeles applaud healthcare and other essential workers nightly.
We agree with Aslan's response. While these are nice and emphatic gestures, as sociologists we cannot miss the role of white supremacy and racial capitalism in providing only gestures to these essential workers, and not actual structural and material resources. Anyone who supports these symbolic gestures without actively demanding PPE for these workers is complicit in their exploitation and marginalization.
It matters that it is largely Black and Brown individuals who are exploited and marginalized. These populations are pandered to, condescended to, and sacrificed without making the kind of structural change that would be necessary actually protect them. This is how white supremacy works — who the vulnerable and exploited workers are is racially patterned. Many who have been deemed "essential workers" are Black and Brown. As scholar Cedric Robinson argued, racial capitalism reveals whose labor is considered essential for maintaining capitalism. In this case, we see how the labor of Black and Brown individuals – whether as delivery workers, hospital staff, subway train operators, grocery store clerks, etc. – is vital for sustaining our capitalist society, even as the actual Black and Brown individuals are ignored and exploited. Rather than being a great equalizer or leveler, COVID-19 reveals, yet again, the interconnectedness between white supremacy and American capitalism.
It's not surprising that companies are using their capital to symbolically thank these essential workers, rather than protect them. But we need to be clear who these gestures benefit – the companies, not the workers; the owners of capital, not the workers. Just like Teacher's Appreciation Day does nothing to improve the structural conditions under which public school teachers work, neither do flying planes or creating hashtags improve the actual lives of essential workers.
It is also important that the face of the worker that accompanied the hashtag #CourageIsBeautiful is a Black woman. Black women confront "controlling images", a term coined by sociologist Patricia Hill Collins, one of which is that they are unusually tough (think, for example, the strong single mother) and consequently not in need of protection. Moreover, as Black feminist scholars have argued, ideas of beauty and femininity have long been attached to white women at the expense of Black women. For example, historian Deborah Gray White describes how enslavement of Black women in the American South was defended by a narrative constructed by white slave owners in which uncompensated labor of Black women was justified because it allowed white women to embody a kind of "soft," protected, and subordinate femininity, which was seen by slave owners as white (but not Black) women's natural state. As such, the Dove image is exemplary of one group of workers who are being exploited and pandered to (e.g. Black women). Somehow black women are only allowed to be seen as beautiful and feminine when they are serving others or sacrificing themselves.
Moreover, while we've started to document racial patterns in terms of COVID-19 mortality and morbidity, we've not sufficiently discussed racial patterns as they relate to labor. States that have reported racial data of COVID-19 deaths demonstrate the disproportionate impact on Black populations. Black Americans who are essential workers are not only at risk for exposure to the coronavirus but also risk exposing their family members, resulting in disproportionality of deaths by race. The majority of essential workers are women, about 52% according to the New York Times, and they are also more likely to be non-white women. According to a study from University of California-Davis, a disproportionate number of workers in essential industries including agriculture, food production, healthcare, social services, and transportation, are immigrants, often from Central America and Mexico.
Many essential jobs, including nurses and bus drivers, are not well-paid nor provide adequate leave policies and health benefits. Even though these workers did not sign-up to work during a pandemic, they are forced to do so. As such, the pandering and the narrative of heroism are used by those who benefit from the exploitation of economically and racially vulnerable populations to distract from the unnecessarily dangerous working conditions they face. Those of us who are privileged enough to be able to work from home, or not need to work at all right now, can therefore see these workers as heroes, rather than as exploited, while many of these workers understand themselves to be "sacrificial, not essential."
And while Black Americans have been criticized for not following social distancing guidelines, what is missing is a critique of the structural conditions constraining Black life. Only about 16 percent of Hispanic workers and fewer than 20 percent of  Black American workers are able to work from home–in comparison with about 30 percent of whites and 37 percent of Asian-Americans. As such, the lack of PPE, and other protections such as health insurance and paid leave, for essential workers is not just shameful, it is also racially patterned.
This disparity is the result of a capitalist society in which some workers are sacrificed to bolster the wealth, safety, and convenience of others. For example, on April 28, 2020 President Trump invoked the Defense Production Act to force meat processing plants to reopen, despite the known risk to workers, as well as others living in nearby communities, while at the same time declining to force companies to ramp up the production to make needed PPE and testing supplies, both of which are in short supply and are badly needed to protect essential workers.
We think that it is important that we take action to move the country in a better direction. Don't just share our article (though, of course, we'd like you to do that too). Rather, call or write letters to your elected officials. Demand PPE, access to accurate COVID-19 testing, hazard pay, paid leave, and health benefits for essential workers. Along with calls for better and more comprehensive racial mortality data, demand more comprehensive data as it relates to racial patterns of essential workers, as well as the health consequences of these racial patterns. All of this is necessary in order to better understand, and mitigate the effects of, racial capitalism in present American society.
---
Jean Beaman is an Assistant Professor of Sociology at University of California, Santa Barbra and Catherine J. Taylor is an Associate Professor of Sociology at University of California, Santa Barbra.