Feminist Fight Club, for grad students?
We had high hopes that this self-proclaimed feminist manifesto would have some nuggets of wisdom for graduate students. Although we found the book useful in a few ways (see below), we turned the last page feeling more irritated rather than liberated. Bennett writes realistically about some the issues facing women in the workplace — ranging from not receiving credit for your own ideas to manterrupting, and offers some viable solutions on how to deal. However, Bennett's Feminist Fight Club has a double standard issue. Women need to be nice, but not that nice. Women shouldn't give a damn, yet need to be likable in order to succeed. For instance, Bennett asserts that in order for women to avoid being labelled as "bitchy, bossy, too ambitious," they need to combine "communal behaviors like friendliness, humor, empathy, or kindness with aggression or ambition" (p. 114).  Yet, at the same time, Bennett tells women to "Cut words like "nice' from your vocabulary– along with other nurturing words…" (p.116) and provides the Broad City approach as a viable response when asked to smile:"Places a middle finger at each corner of the mouth. Curls upward" (p. 130).
Although some would argue that the book's plethora of contradictions represent the reality of being a woman in the workplace, we expected a feminist manifesto to rise above these double standards rather than perpetuate them. If you'd like to read The Feminist Fight Club yourself, go ahead. If you'd like the tips, but are worried you'll experience the same visceral reaction we did (or would like to read the book, but find yourself with an insurmountable mountain of papers to grade and three contradictory journal reviews to sort through), fear not: below is the list of tips we found most useful when circumventing sexism in grad school — with caveats.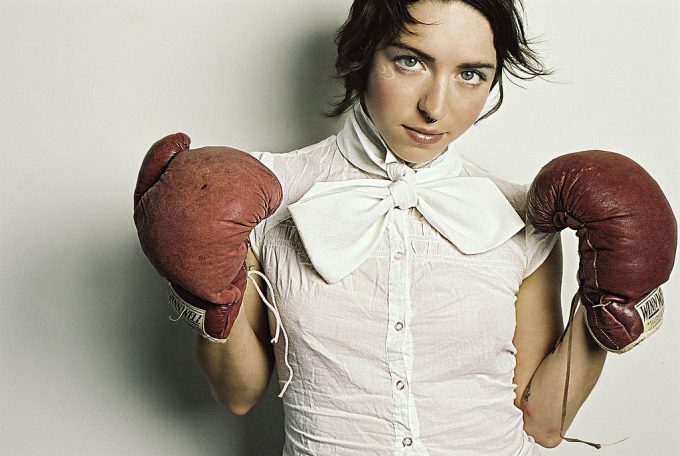 Be self-sufficient
"Time to open a fuck-off fund" is a cute way of presenting the importance of being financially independent. Having your own money means you're not beholden to the whims of a partner or employer (even if that employer is a university). This is good advice for everyone…. Also pretty darn impossible to accomplish as a graduate student on a $17K/year stipend, so good luck with that. Find some more roommates.
Own your ideas
Bennett suggests the "reMYnd" approach when someone tries to take credit for your idea, using phrases like, "I'm glad you're in agreement with me," when a colleague repeats what you've said as though you never said it. Of course, there's an additional level of power dynamics if you're in this position with your advisor, who holds your future in his hands like a small bird.
Mansplaining? How about "manterrupting"?
Can't get a word in edgewise in that one seminar? Bennett recommends playing "verbal chicken," where you keep talking when a male classmate starts talking over you. Also, physically lean in to the table, and make it clear that you're trying to speak. Bonus tip: when he interrupts your female classmate, stand up for her and make space for her to make her point. Say, "Wait, can you let her finish?" or invite her to speak when she's clearly been talked over, with "Nell, what is your opinion?"
Don't volunteer for work your male colleagues wouldn't take
She describes this as the "mother-ducker" fight move. Avoid being cast as class mom, taking notes, lunch orders and planning in ways your male colleagues aren't expected to do. (p56) At the same time, Bennett reminds us to know our rung, and grad students are expected do grunt work, so be mindful. You may find this particularly applicable to planning social events in graduate school — somehow, the social wellbeing of the entire department tends to rest on the female grad students' shoulders.
Accept praise
You do good work. Among the many ways Bennett says women self-sabotage is through self-deprecating comments and attributing their individual work to others When you've accomplished something, it's ok, even expected, for you to be proud of it. Email your first published article to your mom — and also email your school's PR department and demand a news release.
Take charge of your own anger
You have plenty of things to be angry about — the Marxist dude in your theory class who thinks that intersectionality is unnecessary, working 40 hours in a graduate assistant job that's supposed to be 20 hours, etc. Women – and especially Black women – often don't get the same luxury of expressing their emotions as men to. If someone calls you out for being upset, explain your concerns. You have a right to your anger, and it shouldn't be dismissed as emotional when you have legitimate issues to discuss.
Have a personal board of directors
Bennett describes a PBOD briefly, but having mentors in different specialties, with different strengths and backgrounds, helps in grad school and beyond. Think of all of the people you admire for one trait or another (no one has to be the total package) and seek their counsel. Also, don't tell them they're on your "personal board of directors" unless you think they'd enjoy that sort of thing. Know your audience — and your audience is likely faculty members who are overburdened with courses and advisees, so find board members who have time for you.
Try with confidence
Remember that women are much less likely to apply for a job when they don't have all of the listed qualifications than men are. It's easy to think your colleague across the table is more intelligent, skilled, or creative than you are if he presents himself that way. Keep this in mind when you ask yourself whether it's worth applying for that fellowship or submitting that paper for review. It can't happen if you don't try, and he's probably trying.