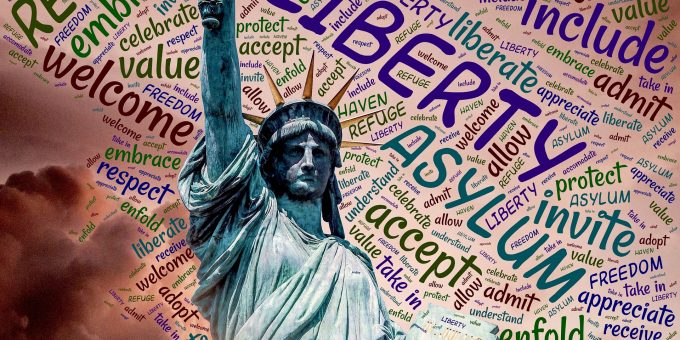 Unpacking the Invisible Citizenship Knapsack
As a sociologist, my research has examined the intersection of race, ethnicity, immigration, health, and policy with migrant communities domestically and abroad. Through that research, I became more cognizant of the invisible privileges associated with my U.S.-born citizenship. I once took these privileges – having a U.S. birth certificate or freedom from deportation – for granted. When I became part of a mixed-status relationship, my proximity to my then documented, but non-citizen partner had a direct impact on decisions we made as a couple. Considering where to travel for vacations or how his noncitizen status might affect our homebuying experience directly exposed me to spillover effects of policies aimed at noncitizens. Such policies also indirectly affect citizens and correspondingly our broader communities.
As an African American woman who has experienced structural disadvantages based on race and gender, I have contemplated how other aspects of my positionality might privilege me. My elite education, middle-class status, and career as a tenured professor have afforded me job security, quality health care, and generous employee benefits. But, being a U.S.-citizen also made my social mobility possible. Without it, I would not have been eligible for federal-level financial aid or the Fulbright grant, which funded my first project abroad and continues shaping my present research agenda. My citizenship privilege is unearned, I was just fortunate to be born in this country after the 14th amendment ratification that legalized birthright citizenship.  In today's socio-political climate with racialized anti-immigrant policies and rhetoric that further disenfranchise noncitizens, I am constantly reminded of my citizenship privileges.
In 1988, Peggy McIntosh wrote her essay "White Privilege: Unpacking the Invisible Knapsack" that catapulted the discussion of white privilege into national discourse. Though already aware of her gender disadvantage as a woman, her whiteness blinded her from recognizing her invisible privileges. Reflecting on how systemic white privilege is and its centrality to racism, McIntosh provided specific examples. In this piece, I highlight how citizenship structurally advantages citizens and disadvantages noncitizens in not so obvious ways.  In my daily life, these privileges range from having a social security number to obtaining a driver's license, which are essential for work authorization and government identification.
In reading this piece, there are three important caveats. First, I focus on noncitizens instead of only undocumented immigrants. I have learned from researching various types of policies that not being a citizen – regardless of having documented status – does not protect noncitizens from deportation. Both undocumented and documented immigrants have been increasingly excluded from access to public benefits. This also includes tax-paying legal permanent residents (or green card holders).
Second, I focus on legal citizenship – being recognized as a legal citizen of a nation-state. This differs from social citizenship – being socially and politically included in the nation-state. The scholarship on stratified or differentiated scholarship highlights the de facto (and for some still de jure) exclusion that many legal citizens continue to experience based on their race, ethnicity, gender, sexual orientation, income, or felony history. More research is exploring how the racialization of people of color diminishes the social citizenship of legal citizens of color.
Lastly, there is a distinction in policy between naturalized and U.S.-born citizens. Within their first few years of naturalization, naturalized citizens can be stripped of their citizenship and subsequently deported if they committed any fraud or misrepresentation in the naturalization process. Under the Trump administration, there has been increased scrutiny of the application materials of noncitizens who wish to naturalize. Furthermore, in my research with naturalized Brazilians, Dominicans, and Salvadorans, these individuals express concerns about never being fully perceived as "Americans" despite having legal citizenship. They feel that they will never fully belong and their citizenship can be taken away. Thus, being a U.S.-born citizen provides the most protection and peace of mind from denaturalization and subsequent deportation.
The list below is a starting point for conversations regarding the invisible knapsack of citizenship privilege that U.S. (born) citizens carry with them as they navigate their lives. These privileges range from ease in travel mobility to planning for financial security. These privileges also have related physical and mental health implications.
Citizenship Privileges:
I have a U.S. birth certificate, which is proof of my citizenship that eases my ability to get a social security number, driver's license, and passport.
I can take having a social security number for granted.
I can get a Driver's License, REAL ID, or Passport if I have the money to do so.
I can travel throughout the country without concerns about whether I have the proper ID to do so.
I can leave my home and not worry that I will be detained by immigration officials at some point during the day.
I do not have to worry that minor driving infractions (speeding, drinking under the influence) will lead to detention or deportation.
For the most part, I have less difficulty re-entering the U.S. after a foreign trip.
In a national emergency, I will have an easier time gaining entry into the U.S.
With my U.S. passport, I can travel to most countries and be welcomed as a tourist or temporary visitor and not perceived as a potential undocumented immigrant.
My passport will usually not be confiscated when I cross international borders.
Most discussions of immigration don't directly affect me as an individual.
I have the right to vote in elections in the mainland U.S.
I can pass my U.S. citizenship on to my children regardless of where they are born.
I can plan for the future knowing that my (individual) life in this country is relatively secure regarding my citizenship status.
I do not get afraid when asked for my date of birth or social security number.
I do not experience discomfort or apprehension when asked for my citizenship status on applications for work, school, etc.
I do not feel that I have to keep my citizenship status a secret from others.
When asked to undergo work authorization for a new employer, I can do so without fear that I may be unable to work legally.
I can apply for and possibly receive federal financial aid (i.e. Pell grants, work study) for my higher education pursuits.
I am eligible to apply for citizens-only fellowships and scholarships.
My citizenship status does not limit my career pursuits after obtaining higher education.
I do not have to get a job with a company that will sponsor me for work visa or green card to stay in this country.
I am not subject to legally sanctioned discrimination due to my citizenship status.
I can open a bank account more easily because I have a social security number.
I can put away money for my children's college education in a 529 savings plan.
I am considered less of a financial risk by the banking industry, which may likely result in paying a lower down payment when purchasing homes, cars, etc.
Having a social security number makes it easier for me to participate in investment or financial planning.
I am eligible for and can feel entitled to receive public benefits as a recognized taxpayer.
I can be certain that I will receive economic stimulus from the COVID-19 CARES Act if I meet the income requirements.
Being pulled over by police will not lead to my detention or deportation.
I do not have to worry about being deported.
I have constitutionally granted rights (i.e. access to legal representation) if arrested that detained noncitizens do not.
I don't have to learn U.S. history, take a difficult test in another language, or have my life history scrutinized to become a citizen.
I do not have to constantly submit documents to or undergo interviews with immigration officials to maintain my citizenship status.
As a U.S.-born citizen, I cannot be stripped of my citizenship.
I do not have to make a family preparation plan in case of deportation to assign legal guardianship for my children.
Recommended Resources
Bloemraad, Irene, Will Kymlicka, Michèle Lamont, and Leanne Son Hing. 2019. "Membership without Social Citizenship? Deservingness and Redistribution as Grounds for Equality." Daedalus 148 (3):73-104.
Joseph, Tiffany D. 2020.  "Whitening Citizenship: Race, Ethnicity, and Documentation Status as Brightened Boundaries of Exclusion in the U.S. and Europe." Chapter 4 in International Handbook of Contemporary Racisms. (Editor John Solomos). New York: Routledge Press.
McIntosh, Peggy. 1988. "White Privilege and Male Privilege: A Personal Account of Coming to See Correspondences through Work in Women's Studies." Working Paper 189. Wellesley College Center for Research on Women.
---
Tiffany Joseph is Associate Professor of Sociology and International Affairs at Northeastern University. Joseph's current research examines how the intersection of race, ethnicity, and documentation status shape individuals' healthcare access and experiences under subnational and federal health reform policies.