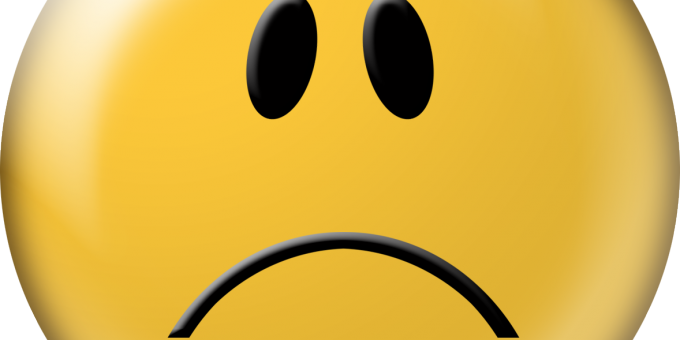 Walmart's Consumer Redlining
When Walmart opened its first two stores in Washington D.C. in late 2013, Mayor Vincent Gray said that the massive retailer would help to solve the problem of "food deserts" in the city. Muriel Bowser, then a city council member and now the city's mayor, gushed, "I'm just glad there is another option for fresh food, another option for goods in neighborhoods where people may not be able to hop in their Lexus and go out to Alexandria to shop." In early 2016, when Walmart reversed its promise to build two additional supercenters in the city's poorest neighborhoods—part of the deal that allowed the first two stores to open—the same politicians were outraged: "I'm blood mad," Bowser said. "It's an outrage," echoed Gray.
But what, exactly, does Walmart bring when it arrives in underserved communities like those in the nation's capital? We know it brings low prices: Walmart's innovations in lean inventory and logistics have let it economize on warehouse space and distribution costs, and they have passed these gains along to U.S. consumers. Research has documented the negative effect Walmart has had on prices; some authors argue that the effect of Walmart is so enormous that the Consumer Price Index should be modified to account for it.
However, other research has shown that the opening of a Walmart in a community leads to job loss and lower wages in the surrounding retail market, thus offsetting some of the effects on prices.
Most of the popular debate concerning the net impact of Walmart for working families concerns an assumed tradeoff between these two types of effects: Do the cost savings it provides for consumers outweigh the downward pressure on wages and working conditions it places on retail workers and workers across the supply chain?
But low prices, while important, are not the only consideration for consumers. The ever-expanding service sector is distinct from manufacturing in that workers and customers interact directly on the shop floor. When companies in the service sector underinvest in their workers, whether in the form of understaffing, irregular scheduling, or low-pay and poor benefits, this has consequences for consumers in the form of wait times and lower-quality interactions with staff. The monetary costs of these things are difficult to measure, but an extra fifteen minutes in line for a customer may translate into more spending on a babysitter; empty shelves or rotting produce may mean that an entire shopping trip is wasted time. In the aggregate, the price of waiting certainly adds up: some estimate that Americans spend 37 billion hours waiting in line every year, or 115 hours per person.
Walmart is distinctive in the retail world for the low ratings it gets for customer service. A recent survey by Marketforce found that Walmart was ranked the lowest across all grocery stores in virtually every dimension of customer preference, from cleanliness to checkout speed. As Figure 1 illustrates, the American Customer Satisfaction Index gives Wal-Mart 68/100, the lowest of all retailers. Consumer Affairs gives it a 1.2 stars out of 5. Understaffing at Walmart is widely recognized as a large and growing problem for the company; between 2005 and 2015 the company increased its retail footprint by 45% while its workforce grew by only 8%.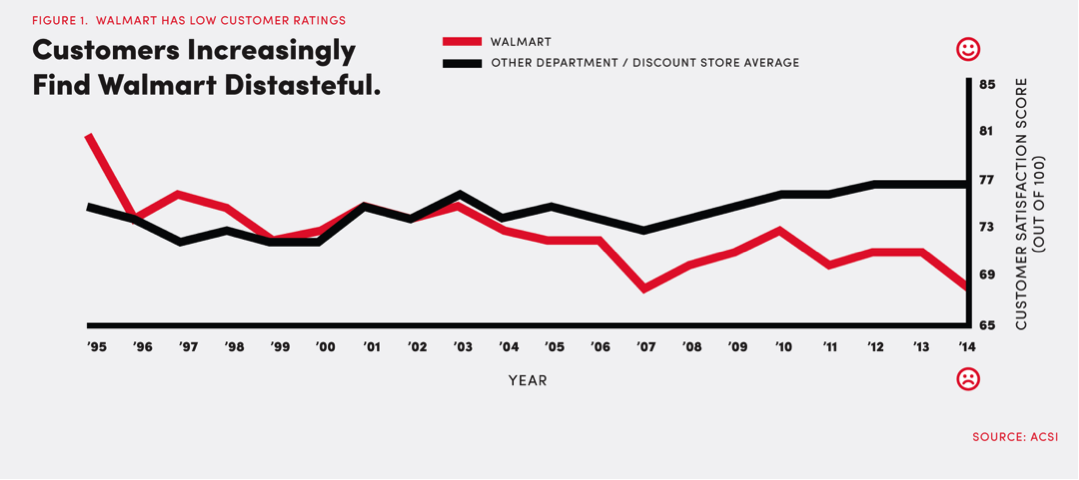 I conducted an analysis of the full population of Yelp reviews about Walmart (approximately 35,000 reviews across 2,840 stores). Yelp has approximately 142 million unique visitors per month. A Harvard Business School study published in 2011 found that each "star" in a Yelp rating affects a business's sales by between 5-9%.
I found a troubling pattern: Poor customer service is unevenly distributed across Walmart stores in ways that reproduce racial and socioeconomic disadvantage. The racial composition and average income of the neighborhood in which a Walmart is located is strongly associated with the kind of service customers can expect to receive there. Figure 2 illustrates the relationship between characteristics of a zip code in which a Walmart is located and the average Yelp ratings of that Walmart, after controlling for the broader region (three digit zip) in which the store is located, as well as the number of reviews the store has received. Each point on the graph represents the averaged values of approximately 150 stores located in neighborhoods with similar race or SES profiles.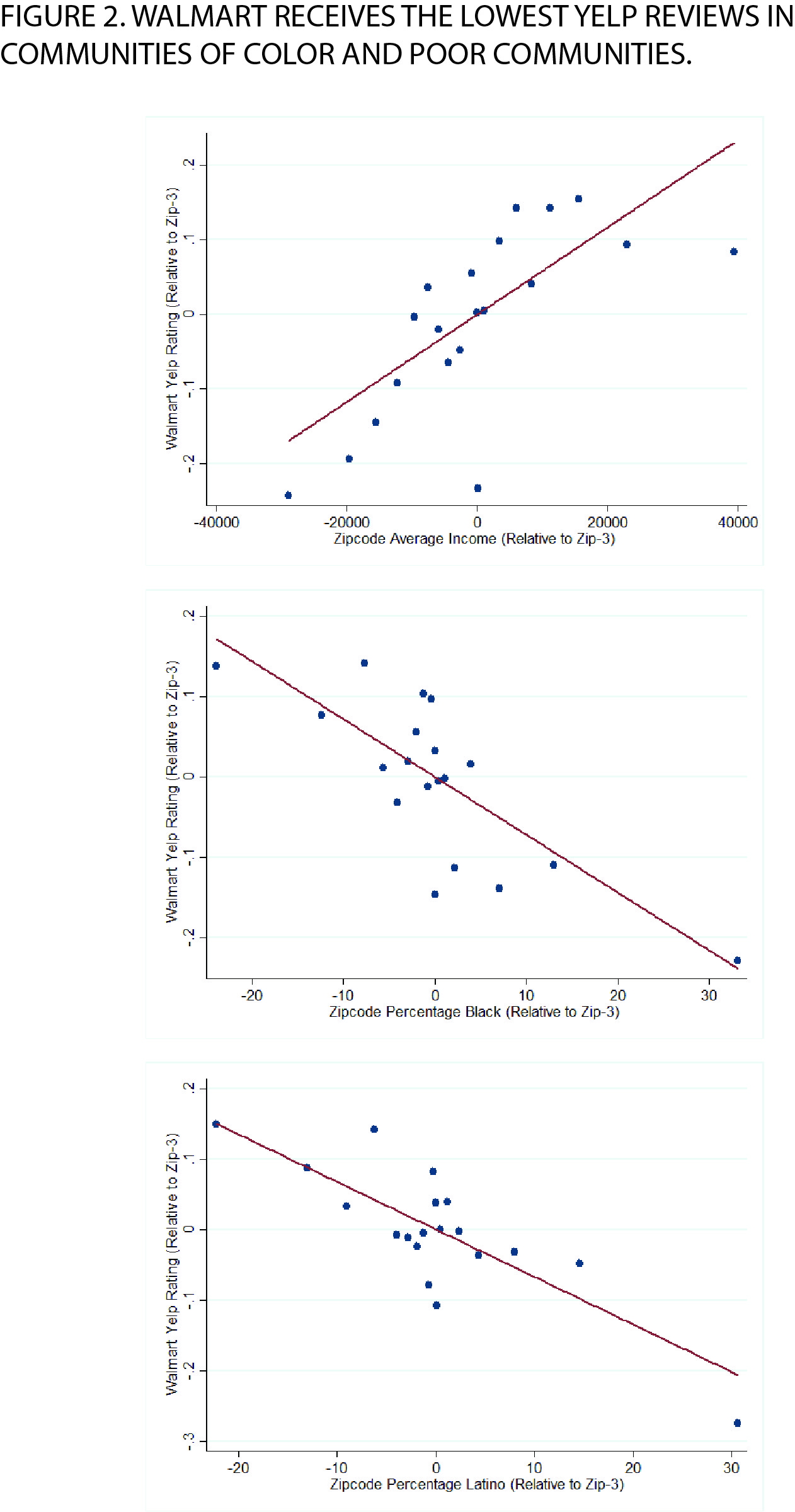 Walmart stores situated in low-income communities of color consistently get lower Yelp scores than those situated in wealthier, whiter communities. Moreover, when I conduct a similar analysis but work to untangle race from SES (by studying the impact of each controlling for the other), I find that race is more strongly related to low ratings than class. Figure 3 shows the relationship between race and ratings after controlling for income (and the relationship between income and ratings after controlling for race). The higher the percentage of Black or Latino residents in a zip code, the worse Walmart service becomes, regardless of whether this zip code is poor or wealthy.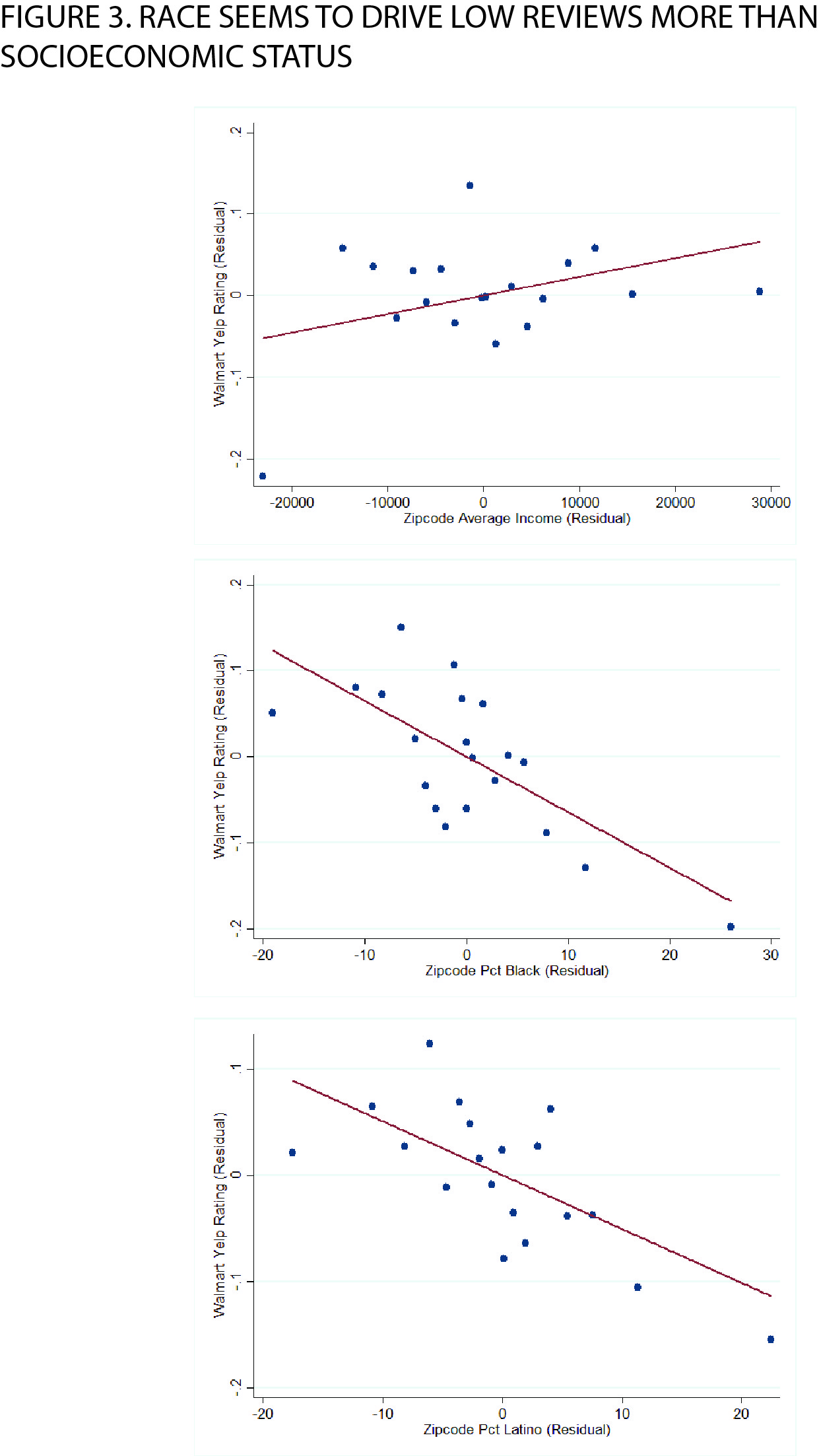 I also conducted a text analysis of the Yelp reviews, examining the adjectives used in the reviews most associated with stores in different communities. These analyses provide more descriptive support for the idea that Walmart engages in consumer redlining, systematically neglecting its stores in communities of color. For example, as shown in Figure 4, in stores in predominantly African American zip codes, reviewers are likely to use words like "worst," "unorganized," and "nasty" to describe their experiences. In contrast, in stores located in white communities, reviewers were likely to use words like "typical," "friendly," and "smaller."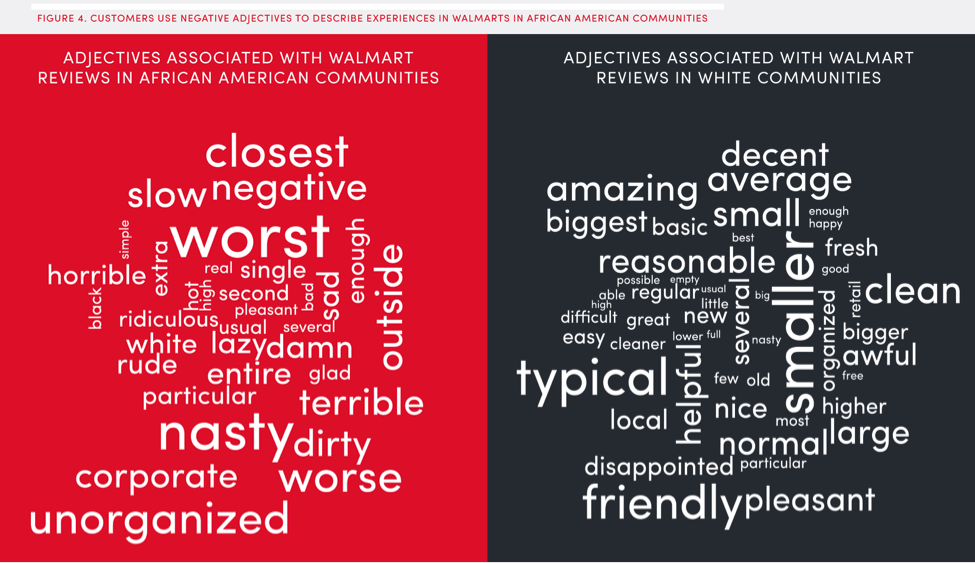 Walmart workers understand perhaps better than anyone the obstacles to providing good customer service at the company. In the summer of 2014 I led a team of undergraduate students that conducted interviews with eighty-nine Walmart workers in five different regions of the country (Los Angeles, Dallas, Chicago, Cincinnati, and Central Florida). In these interviews workers expressed how difficult it was to take care of their customers in the face of short staffing and poor working conditions. This was true across sites, although the difficulty seemed particularly acute for those who worked at stores in low-income communities of color. A worker from a store on the South Side of Chicago [Walmart Store #5965] said, "They'd have me working in two or three different departments. If you're working in all these departments, how are you going to get your department straight? You can't… That means the customers don't get help. When they ask for some help, there's nobody there." A second worker from the same store said, ""Folks come to the store, they can't get four things on their list and they only have five things on the list." The sentiment was shared by a worker from a store in Miami, Florida [#3397], who said, "Customer come in, everything a mess, what you going to do? He cannot buy nothing." A worker from Cincinnati [#4609] said that her store "never [has] enough workers." She continued, "Have you ever went in Walmart and had to stand in a long line, or went to get some food from the deli, and there was nobody behind the counter to wait on you? This is going on all the time." A worker from Franklin, Ohio [#3784], said that "customers come in to get help, they want you to help them." Putting herself in the shoes of her customers, she continued, "I come in to get something, I want it right then and there. I don't want it like an hour later. I've got a time limit, I've got a budget, I've got stuff to do. I've got to get the girls to bed because of school or something, you know?"
Underinvestments in staffing lead to low morale among workers in addition to low customer service ratings. It does not feel good to be the target of customer ire. As a worker from Cincinnati [#4609] put it, customers "look at you like you're doing something wrong, but it ain't us, it's the company not having enough workers." Another worker from Chicago [#5781] said, "I take pride in doing retail work" but "[Walmart] sinks that." A third worker, from Orlando, Florida [#1084], said that due to low staffing the "customers are getting on your case, and it's not your fault." Asked how that made him feel he answered, "Horrible! You feel like you're being attacked. And it's not your fault." For some workers, this pressure is enough to drive them out the door. One worker from Chicago [#1814] described how he reached breaking point: "One day I woke up and I just felt miserable. I felt miserable because I had to go in there, and just having to deal with the pressure of it being so understaffed…. I woke up and I said, enough." It was impossible to feel a sense of pride in one's work without being given the resources to do one's job well. A worker from Cincinnati [#1521] described how customers call her store the "Ghetto Walmart," because of its low customer service. "It kind of hurts my feelings," she says. The single word most highly correlated with reviews of Walmarts in communities of color is "ghetto."
If Walmart were operating in an efficient market, one might argue that any increase in customer service—from more staffing to higher wages—would need to be passed on to customers in the form of higher prices. But Walmart's poor and differentiated service is consistent with a story in which Walmart's lower-cost distribution network allows it to enter a market and establish a local monopoly. The technical term for market power in the labor market is "monopsony", and it operates exactly like monopoly in reverse: instead of raising prices and lowering product quality and quantity to increase profits, profits are increased by lowering wages and staffing levels, worker effort, and employee retention. All companies trade-off lower turnover and effort for lower wages; Walmart is distinct for the extent to which it has chosen a strategy in which low-wage workers do not stay very long, do not invest much effort, but are paid such low wages that Walmart is still making a profit.
Market power and increasing monopoly has become an increasing concern in recent years. The increasing concentration of business has been documented in virtually every sector, and is partially responsible for the pattern of increasing corporate profits, a larger capital share, and lower productivity since 2001. A poster child for this concentration has been the airline industry, cartelized by horizontal shareholding among institutional investors like BlackRock. Recent work finds that institutional investors increased airline fares by between 3 and 10%. As anyone who has flown on a US airline or called a cable company knows, customer service is often the margin that companies with market power use to cut costs at the expense of customers.
When Walmart enters underserved neighborhoods like those in Washington D.C., then, it does not do much in the way of enhancing customers' options. Rather, it chases the lowest common denominator, exploiting the lack of other options in the neighborhood for customers and workers, and creating a shopping (and working) environment that is just marginally above what was there (or wasn't there) before.
This preliminary analysis cannot tell us the extent to which the patterns we observe at Walmart are true across other major retailers, and cannot explain why we observe the patterns we do. Nevertheless, Walmart is the largest retailer and largest employer in the world; moreover, it has consciously branded itself as a champion of and boon for disadvantaged communities. Its underinvestment in these communities is thus particularly notable.
While businesses might normally be averse to a reputation for poor customer service, it is important to remember that shareholders tend not to care about image per-se, only image insofar as it is worth the costs and investment. Walmart has decided that its path to profitability involves exploiting its local market power over both workers and consumers. Yet investors interested in maintaining long-term brand value may be concerned about Walmart's understaffing, low-wage, high-turnover human resource strategy. Given the rise of online retail, which allows consumers to shop from the comfort of their couches, Walmart's local monopolies are likely to be short-lived.
For Walmart and other retailers, providing a pleasant customer service experience seems likely to be increasingly important to corporate profitability. For its own sake, then, Walmart should hire more employees, particularly at stores in low-income communities of color, and give all Walmart employees more reasons to smile through better wages and working conditions.
Adam Reich is in the sociology department at Columbia University. He is the author, most recently, of Selling Our Souls: The Commodification of Hospital Care in the United States.
Special thanks to Meghan Lambert for creating the graphics.