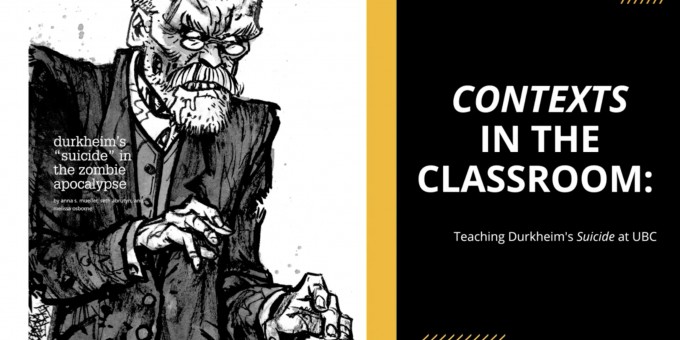 Contexts in the Classroom: Teaching Durkheim's Suicide at UBC
Contexts articles are perfect for the classroom: rigorous, relevant, readable, and rad! In this video, Dr. Seth Abrutyn, Contexts co-editor, talks about using his own piece, "Durkheim's Suicide in the Zombie Apocalypse," co-written with Dr. Anna Mueller, to help undergrads engage Suicide. The article is free to read and download from our publisher SAGE, making it easy for students to access and use it, and below, Dr. Abrutyn shares his small-group discussion prompts.
Please break up into groups of 3-4 students to discuss the Durkheim's Suicide and the article on the zombie apocalypse. One student can be responsible for taking down the group's answers to the following questions, and another for sharing with the full class when we reconvene.

Why does a zombie apocalypse serve as a good analogy to Durkheim's thoughts on modern societies?
From your understanding, what were the major differences between Rick Grimes and Dr. Jenner's characters that led to different outcomes?
Can you think of other real or fictional crises that might have similar social outcomes to a zombie apocalypse?