The Contexts Reader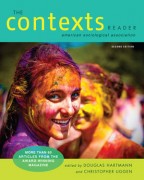 The Contexts Reader collects over sixty of the best articles from the award-winning magazine Contexts in one affordable anthology. Recognized by The Library Journal as one of the "Top 10 Best New Magazines of 2002," Contexts magazine is highly regarded for its synthesis of the diverse work of well-known sociologists into essays aimed at a general audience.
The Contexts Reader enables instructors to assign readings that are as accessible as a popular paperback, but as brief as a journal article, in one affordable anthology. Three-quarters of the articles were published in the last four years and are therefore new to the Second Edition.
Highlights
The Context Reader features articles that are as accessible as a popular paperback, but as brief as a journal article.
Designed to attract readers who are not trained as sociologists, Contexts magazine features articles on topics ranging from religion and discrimination, to pop culture and foreign crises. Prominent sociologists contribute articles that synthesize their cutting-edge research into brief essays that are accessible to anyone. Free from jargon, the articles in The Contexts Reader challenge outdated ideas, provoke creative thinking, and stimulate lively debate.
New Review Questions
To make the articles easier to teach, the editors wrote study questions to help professors integrate the magazine articles into their courses and use the questions as a basis for assignments. Three to four questions for each reading vary from basic reading comprehension questions to more involved, reflective assignments.
Praise for the Contexts Reader
"The Contexts Reader brings 'the sociological imagination' alive, whether it be gaining insights into human sexuality or video games, neighborhood segregation or global issues."
—Richard T. Schaefer, DePaul University
"Contexts strikes a middle ground between a textbook, which regurgitates interesting subject matter in often boring ways (pablum!), and original texts (too long and daunting many times)."
—Kathryn Edin, University of Pennsylvania
"Simply put, it's the reader we've been looking for—smart, engaging, and consummately utilitarian, with contributions by scholars of genuine distinction addressing an impressive range of issues and topics."
—Brian Powell, Indiana University