Subscribe to Contexts
ASA Members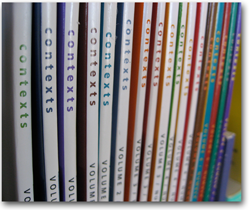 With your ASA membership, you may opt to receive a year's subscription to Contexts. In addition to your membership fee, the regular member subscription rate for Contexts is $45, and the student rate, $30. For American Sociological Association (ASA) members, subscriptions are on a calendar-year basis, and all back issues published to date will be provided upon order.
Please visit the ASA online application and renewal site to join or renew, and select Contexts from the ASA publications list.
Non-ASA Members
As a non-American Sociological Association (ASA) member, we welcome your subscription to the journal for an annual rate of $42 (E-access) or $52 (Print & E-access). Contexts is published quarterly; all subscriptions for non-ASA members begin with the next issue. To order Contexts from SAGE, click here. Please allow six to eight weeks for delivery.
If you would like to join the ASA and receive Contexts at a discounted rate, please email the ASA membership team for information or join or renew your ASA membership here.
Institutional Subscriptions
If you are an institutional member and would like your library or organization to receive Contexts, you may subscribe to the journal at the annual rate of $230 for print & electronic subscriptions, $207 for electronic only, or $225 for print only. To order, contact SAGE. Subscriptions begin with the next issue and include four quarterly issues.
Gift Subscriptions
Make someone's day with a year's subscription to Contexts, one of the most informative, engaging, and accessible sociology publications on the market. Gift recipients will receive a card notifying them of your gift. To order, contact SAGE.
Renewals
If you are a non-member individual subscriber and would like to extend your subscription to Contexts through the next calendar year, please visit SAGE.