Breastfeed At Your Own Risk
For nearly two years, the U.S. Department of Health and Human Services spent $2 million on an ad campaign to promote breastfeeding by educating mothers about the risks of not doing so.
Those risks were often communicated in provocative ways. One television ad, for example, showed a pregnant African American woman riding a mechanical bull, and then the message appears on the screen, "You wouldn't take risks before your baby is born. Why start after?"
This campaign was the culmination of three decades of increasing consensus among medical and public health professionals that, as the saying goes, "breast is best"—that there is no better nutrition for the first year of an infant's life than breastmilk. The endorsement of the medical establishment is echoed in advice books and parenting magazines that overwhelmingly recommend breastfeeding over formula. Communities have passed laws to support breastfeeding mothers in the workplace and to ensure public breastfeeding isn't legally categorized as indecency.
And rates of breastfeeding in the United States have increased dramatically—nearly 75 percent of mothers now breastfeed newborns, up from 24 percent in 1971. Rates of breastfeeding are even higher among middle-class, educated mothers. For these mothers, breastfeeding has become less of a choice and more of an imperative—a way to protect their infant's health and boost their IQ. Breastfeeding is a way to achieve so-called good mothering, the idealized notion of mothers as selfless and child-centered.
Mothering is shaped by discussions among scientists, doctors, and other experts, as well as policy recommendations that grow out of scientific findings
Taking a sociological look at the cultural imperative to breastfeed illustrates how mothering is shaped by discussions among scientists, doctors, and other experts, as well as policy recommendations that grow out of scientific findings. It also reveals that breastfeeding and infant feeding practices differ by culture, race, class, and ethnicity, and that the "breast is best" conventional wisdom doesn't take these differences into account. Thus, this campaign leaves many mothers feeling inadequate—and perhaps unnecessarily so because the scientific evidence about the benefits of breastfeeding are less clear-cut than mothers have been led to believe.
Historical Trends in Breastfeeding
Cultural ideas about motherhood and family in the United States have changed significantly over time, thanks in part to science and technology.
Religious authorities, midwives, and physicians encouraged mothers in the 17th and 18th centuries to breastfeed their infants. The practice through the mid-1800s, in a primarily farm-based society, was to nurse infants through their "second summer" to avoid unrefrigerated and possibly spoiled food and milk.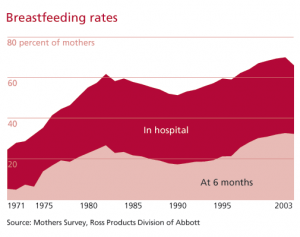 Wet nursing—breastfeeding a child who is not a woman's own—became necessary when a mother was severely ill or died during childbirth. Breastmilk was widely thought superior to "hand-feeding"—providing milk, tea, or "pap" (a mixture of flour, sugar, water, and milk)—in promoting infant health, but even so, according to historian Janet Golden in her study A Social History of Wet Nursing, families worried about having a wet nurse of "questionable" moral fitness, and these fears were exacerbated by race and class divisions. In the north, wet nurses were typically poor immigrant mothers; in the south, they tended to be African Americans, and it was common for female slaves to be wet nurses in the antebellum south. However, by the turn of the 20th century, the use of wet nurses had declined, in part because pasteurization made bottle-feeding a safe alternative to breastmilk. This was also the era in which children came to be seen as priceless, in need of protection, and worth extraordinary investment, sociologist Viviana Zelizer explained in Pricing the Priceless Child.
Technological advancements led to the development of mass-marketed infant formula in the 1950s. Doctors then began to recommend formula, saying a scientifically developed substance was at least equivalent to, and possibly better than, breastmilk. By the early 1970s, breastfeeding rates in hospitals were at a low of approximately 24 percent, with only 5 percent of mothers nursing for several months following birth.
It was in this era that some feminist women's health groups and Christian women's groups such as La Leche League began challenging the medical model by promoting "natural" childbirth and breastfeeding. These groups promoted the benefits of breastfeeding and also raised public awareness about the activities of formula companies.
For example, some feminist health groups helped organize a boycott of Nestle in the late 1970s for promoting formula in developing countries. These groups claimed that Nestle's formula marketing tactics in Africa had led to 1 million infant deaths (from mixing powered formula with contaminated water, or feeding infants diluted formula because of the expense). The success of these small groups in challenging the corporate marketing of formula led to increasing consensus that breastfeeding was better than bottlefeeding. Soon, the medical establishment was embracing breastfeeding, based on scientific studies that confirmed the benefits La Leche League and other feminist health groups had been talking about for years. In 1978, the American Academy of Pediatricians (AAP) recommended breastfeeding over formula, marking the beginning of the shift in mainstream medical advice to mothers. Since then, scientific evidence and the medical establishment have continued to reaffirm the benefits of breastmilk.
Trends over the last 40 years gathered from a survey of mothers show how experts' recommendations and public discussions about breastfeeding have influenced breastfeeding rates. The graph above shows the sharp increase in breast feeding in the 1970s. In the 1980s, there is a slight decrease and plateau in breastfeeding initiation rates, and then, in the 1990s, the rate steadily rises to nearly 70 percent. The rates of breastfeeding until six months of age follow a very similar pattern, although overall the rates are quite lower than breastfeeding initiation; currently, only about one-third of mothers report breastfeeding at six months. This recent rise in breastfeeding rates can be explained, at least in part, by the ideology of intensive mothering.
Breastfeeding as Intensive Mothering
Childrearing advice books, pediatricians, parenting magazines, and even formula companies themselves now universally recommend breastmilk over formula. The consensus that "breast is best" is embedded in cultural ideals of motherhood.
In her book The Cultural Contradictions of Motherhood, sociologist Sharon Hays identifies an ideology of intensive mothering and describes how it's at work in the United States: Mothers—not fathers—serve as the primary caregivers of children; mothering practices are time-intensive, expensive, supported by expert advice, child-centered, and emotionally absorbing; and children are viewed as priceless, and the work that must be done to raise them can't be compared to paid work because it's infinitely more important.
The ideology of intensive mothering helps explain why we hear so much playground chatter and read so many magazine articles about getting children into the "best" school, the idea that natural childbirth is better than one assisted by medication or other medical interventions, and the recent discussion of "opt-out" mothers who leave high-powered jobs to stay home with their children. Hays contends the strength of the intensive mothering ideology is the result of an "ambivalence about a society based solely on the competitive pursuit of self-interest."
This may be one reason, for example, journalist Judith Warner, in her book Perfect Madness: Motherhood in the Age of Anxiety, felt such a difference when she was mothering in France compared to when she returned with her children to the United States. In France the state offers practical support to mothers, including subsidized childcare, universal healthcare, and excellent public education beginning at age 3. Furthermore, Warner explained that, as a new mother there, she found herself in the middle of an extensive and sympathetic support network that attended to her needs as a mother as much as they attended to the needs of her child. "It was a bad thing [for mothers] to go it alone," she wrote. In contrast, upon her return to the United States Warner felt isolated and anxious. She linked this directly to what she called the "American culture of rugged individualism." Mothers in the United States were under extraordinary pressure to be a "good mother"—otherwise, who else would protect their child from an individualistic, self-interested society?
The cultural imperative to breastfeed is part of the ideology of intensive mothering—it requires the mother be the central caregiver, because only she produces milk; breastfeeding is in line with expert advice and takes a great deal of time and commitment; and finally, the act of breastfeeding is a way to demonstrate that the child is priceless, and that whatever the cost, be it a loss of productivity at work or staying at home, children come first.
Since Hays links the intensive motherhood ideology to American individualistic sensibilities, it would seem to suggest that breastfeeding rates in the United States would be higher than other countries. To return to the example of France, only 50 percent of French mothers breastfeed their newborns, compared to 75 percent of American mothers. However, upon closer examination of statistics compiled by Le Leche League International, U.S. breastfeeding rates lag far behind many other countries, including European countries other than France (Germany, Italy, Spain, and the Scandinavian countries all have breastfeeding initiation rates around 90 percent). Most countries in Asia, Africa, and South America report breastfeeding initiation rates higher than the United States, as do New Zealand and Australia.
Clearly the cultural imperative to breastfeed in the United States has met some resistance. This resistance may be reflected in public debates about breastfeeding, which quickly dissolve into mud-slinging, judgmental arguments that pit mothers against mothers. Not "the mommy wars" in the traditional sense—working moms versus stay-at-home moms—but instead bottlefeeding versus breastfeeding moms.
Breastfeeding mothers, and a subset of those mothers who are deeply committed to breastfeeding promotion (sometimes referred to as "lactivists"), point to a continuing undercurrent of resistance to breastfeeding. Despite the fact that scientists and doctors recommend breastfeeding, and that these recommendations have been disseminated through a public health ad campaign and parenting magazines, breastfeeding remains controversial. While society wants mothers to breastfeed to protect and promote infant health, it wants them to do so behind closed doors. Indeed mothers are often asked to cover themselves while nursing in restaurants.
For example, in 2007 a nursing mother was asked by an Applebee's employee to cover herself while nursing or leave the restaurant. After repeated calls by enraged nursing mothers to the corporate headquarters, executives there insisted it was reasonable to ask the nursing mother to leave, despite a state law that extended mothers the right to nurse in public spaces. This incident resulted in "nurse-ins" at Applebee's locations all over the United States in protest. The social networking site Facebook found itself in a similar firestorm of controversy at the beginning of 2009 when it removed photos of breastfeeding mothers because they violated the site's decency standards. The resistance to nursing-in-public arises from the link between breasts and sexuality, including the idea that breasts are indecent.
Note that these public debates about breastfeeding and mothering in the United States emerge primarily from discussions by and about middle class mothers. The ideal of intensive mothering is much easier for these women to achieve. Even so, studies have explored the extensive labor middle class mothers must engage in just to meet current breastfeeding recommendations.
Sociologist Orit Avishai demonstrates through interviews of white, middle class mothers that they treat breastfeeding not as a natural, pleasurable, connective act with their infant but instead as a disembodied project to be researched and managed. They take classes about breastfeeding, have home visits from lactation consultants post-partum, and view their bodies as feeding machines. When returning to work, they set up elaborate systems to pump breastmilk and store it. These middle-class women were accustomed to setting goals and achieving them—so when they decided to breastfeed for the one year the AAP recommends, they set out to do just that despite the physical and mental drawbacks. Although it's easier for middle class mothers to meet the recommended breastfeeding standards than it is for less privileged mothers, they're at the same time controlled by a culture that equates good mothering with breastfeeding.
Variations in Class and Culture
In At the Breast, sociologist Linda Blum examined how mothers of different classes aspired to or rejected the intensive mothering ideology and mainstream cultural imperative to breastfeed. Through interviews with white middle-class mothers who were members of La Leche League, as well as with a sample of both white and black working-class mothers, Blum's study was the first (and is also the most extensive) to expose how the meaning of breastfeeding varies by class and race.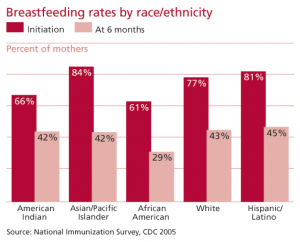 Her interviews with the La Leche mothers revealed the organization's emphasis on an intimate, relational bond between mother and child created through breastfeeding. They rejected medical, scheduled, and mechanized infant feeding and emphasized how important it is for mothers to read their babies' cues and be near them all the time. As such, a mother's care is seen as irreplaceable. One mother told Blum, "Only a mother can give what a child needs, nobody else can, not even a father. A father can give almost as close, but only a mother can give what they really need." Some of these mothers were also very critical of working mothers. "I'm pretty negative to people who just want to dump their kids off and go to work eight hours a day," one said. Ultimately, Blum contends La Leche League is a self-help group largely created by and for white, middle-class women.
In contrast, interviews with white working-class mothers revealed they understood the health benefits of breastfeeding and embraced the ideal of intensive mothering, but that they often didn't breastfeed because of constraints with jobs, lack of social support, inadequate nutrition, and limited access to medical advice. Working-class mothers were less likely to have jobs that allowed time and privacy to pump breastmilk and were less likely to have access to (paid or unpaid) maternity leave. Some felt it was embarrassing or restrictive. Yet, they still aspired to the middle class ideal of intensive mothering, so they were left feeling guilty and inadequate. Many reported feeling like their bodies had failed them. One mother, for example, said, "At first [breastfeeding] was great. I can't explain the feeling, but at first it was really great. [But then,] I felt … useless, if I couldn't nurse my baby, I was a flop as a mother."
Ethnic and racial differences were even more unique and revealing. Black working-class mothers in Blum's study were similar to white working-class mothers in understanding the health benefits of breastmilk. However, their discussions about not breastfeeding were, for the most part, remarkably free of guilt. In short, black mothers rejected the dominant cultural ideal of intensive mothering, and had a more broadly construed definition of what it meant to be a good mother. Many African American women, for example, talked about the importance of involving older children and extended family in caring for the child, and insisted one way this could be accomplished was through bottlefeeding. Some black mothers reacted negatively to breastfeeding because they believed it reinforced long-standing racist stereotypes about the black female body as threatening or even animalistic. By rejecting medical advice about breastfeeding, black mothers asserted some control over their own bodies. "The doctors said that breastmilk was the best, but I told them I didn't want to. They tried to talk me into it, but they couldn't," one interviewee told Blum.
These cultural differences in the meaning of breastfeeding to white and African American mothers are reflected in breastfeeding initiation statistics. White, Asian, and Hispanic mothers have roughly similar rates of breastfeeding initiation, while African American and American Indian mothers have lower rates (above).
The importance of cultural differences and how they play out in breastfeeding practices has also been explored in studies of immigration. A study by public policy professor Christina Gibson-Davis and Jeanne Brooks-Gunn, co-director of the Columbia University Institute on Child and Family Policy, found that breastfeeding rates among Hispanics were related to the mother's country of birth. If the mother was born outside the United States and immigrated, she was more likely to breastfeed. Furthermore, for each additional year the mother had lived in the United States, her odds of breastfeeding decreased by 4 percent. These patterns suggest that the more acculturated the mother is in U.S. society, the less likely she is to breastfeed.
However, another study examining Vietnamese immigrant mothers in Quebec contradicts that model. Medical anthropologist Danielle Groleau and colleagues interviewed 19 Vietnamese mothers who immigrated to Quebec. They argue that geography and culture combine to create a context in which mothers decide not to breastfeed. In the Vietnamese traditional understanding of post-partum medicine and breastfeeding, women are said to suffer from excessive cold, which leads to fatigue, and the production of breastmilk that isn't fresh. In Vietnam, new mothers are cared for by extended family for several months post-partum in order to balance their health and allow them to produce "fresh" breastmilk. However, Vietnamese immigrants in Quebec had low rates of breastfeeding primarily because the lack of social support and caregiving that would have been offered in Vietnam wasn't available in Canada. They saw bottlefeeding as optimal for their babies because their breastmilk wasn't fresh. These mothers weren't adopting the dominant Canadian cultural model and had retained their own cultural ideals about breastfeeding.
Problematic Science
The understanding that "breast is best" is based on scientific studies linking breastfeeding to a variety of health benefits. The breastfeeding recommendations issued by AAP, the World Health Organization, and other public health organizations state that breastfeeding increases IQ and lowers the likelihood of ear infections, diabetes, respiratory and gastrointestinal illnesses, and obesity. These benefits are transmitted to the public as unambiguous scientific findings. But upon closer examination, the science behind these claims is problematic.
Political scientist Joan Wolf, in the Journal of Health Politics, Policy, and Law, argues that the benefits of breastfeeding have been vastly overstated. Perhaps the largest problem is that it's impossible to conduct a controlled experiment—by asking some mothers to breastfeed and others to formula-feed—so all studies are observational. In other words, researchers have to tease out the characteristics of those who decide to breastfeed from the benefits of breastmilk itself. Mothers who choose to breastfeed may also promote a host of other health-protective and IQ-promoting behaviors in their children that go unmeasured in observational studies. The problem becomes even more pronounced when trying to examine the long-term health benefits of breastfeeding because there are even more potential unmeasured factors between infancy and adolescence that contribute to overall health.
Trends over the last 40 years show how experts' recommendations and public discussions about breastfeeding have influenced breastfeeding rates.
Some researchers have attempted to control for potential unmeasured factors by studying the health of siblings who were fed differently as infants. Although these studies can't discern why the mother breastfed one child but not the other, they do control for parenting factors that go unmeasured in other studies. For example, a recent sibling study by economists Eirik Evenhouse and Siobhan Reilly, based on data from the National Longitudinal Study of Adolescent Health, suggests correlations between breastfeeding and a variety health benefits, including diabetes, asthma, allergies, and obesity, disappear when studying siblings within families. Only one outcome remains significant—that the breastfed sibling had a slightly higher IQ score (siblings who were ever breastfed scored 1.68 percentile points higher than siblings who were never breastfed).
Most of these studies can be critiqued for exaggerating the importance of small and weak associations; however, although these correlations are weak, they are consistently found. Furthermore, despite weak correlations, biomedical researchers have in some cases been able to identify the biological mechanisms that offer infants health protection. For example, one very consistent finding seems to be that breastmilk lowers the incidence, length, and severity of gastrointestinal illness because gut-protective antibodies, including IgA and lactoferrin, are passed from mother to child through breastmilk.
To be sure, not all biomedical research on breastmilk identifies beneficial biological mechanisms. Medical researchers have found breastmilk to contain HIV, alcohol, drugs, and environmental toxins. How these findings are used by public health officials varies. To take the case of HIV, in parts of the world with high rates of infection, public health officials debate whether to recommend breastfeeding or not. Even if the mother is HIV positive, some argue the infant may gain other protective health benefits from breastmilk, especially in resource-poor countries plagued by inadequate water supply, limited refrigeration, and poor sanitary conditions. In the United States, however, mothers are now routinely advised to bottlefeed if they have HIV. Mothers in the United States are also advised to stop nursing if, for medical reasons, they have to take medication that passes through breastmilk and may be harmful to the baby. Nevertheless, the overwhelming public health message continues to be "breast is best."
Breastfeeding for Public Health
The "Babies Were Born to be Breastfed" public health ad campaign was designed to educate the public about the benefits of breastfeeding and the risks of not doing so. The campaign hoped to achieve goals established by the Department of Health and Human Services "Blueprint for Action on Breastfeeding"—75 percent of mothers initiating breastfeeding and 50 percent breastfeeding their babies until five months by 2010.
But the campaign, along with doctors' advice and parenting publications, treat the decision to breastfeed as an individual choice without attending to the social and cultural situations in which this choice is made. The decision to breastfeed is shaped by a variety of social and cultural factors, including doctor-patient interaction, social support networks, labor force participation, child care arrangements, race and ethnicity, class, income, and education. Treating breastfeeding and other parenting practices as individual, decontextualized choices holds mothers solely responsible for their children's health.
In an analysis of discussions about mothering, bioethics professor Rebecca Kukla argues that we hold mothers accountable for all kinds of childhood health problems, including obesity, malnutrition, birth defects, and behavioral disorders. The fact that many of these health problems are disproportionately overrepresented among the lower class further demonizes poor, working-class mothers. Furthermore, by focusing on mothers' individual responsibility for child health and well-being, we aren't attending to other, more egregious societal issues that negatively affect children, such as pollution or lack of adequate health care.
Scientific research on infant health is incredibly important. However, as these findings are reported to the public, shaped into recommendations, and developed into public policy, it's important to view them with a critical eye. We need to consider the unintended consequences of breastfeeding promotion and other recommended parenting practices. These recommendations and policy based upon this science may inspire stress and guilt in mothers, especially poor and non-white mothers, when they don't measure up.
Recommended Resources
Orit Avishai. "Managing the Lactating Body: The Breast-Feeding Project and Privileged Motherhood," Qualitative Sociology (2007) 30: 135–152. Challenges the notion that breastfeeding is empowering and pleasurable through interviews with middle class mothers.
Linda M. Blum 1999. At the Breast: Ideologies of Breastfeeding and Motherhood in the Contemporary United States (Beacon Press, 1999). Uses in-depth interviews with mothers and analyses of popular advice literature to explore how mothering and breastfeeding vary by race and class.
Eirik Evenhouse and Siobhan Reilly. 2005. "Improved Estimates of the Benefits of Breastfeeding Using Sibling Comparisons to Reduce Selection Bias," Health Sciences Research (2005) 40: 1781–1802. This quantitative analysis of sibling pairs suggests observational studies may have overstated the long-term benefits of breastfeeding.
La Leche League International. Breastfeeding Statistics (La Leche League International Center for Breastfeeding Information, 2003). Summary of cross-national breastfeeding initiation and duration rates.
Joan B. Wolf. "Is Breast Really Best? Risk and Total Motherhood in the National Breastfeeding Awareness Campaign," Journal of Health Politics, Policy, and Law (2007) 32: 595–636. A forceful critique of the public health campaign to promote breastfeeding, as well as the science behind it.