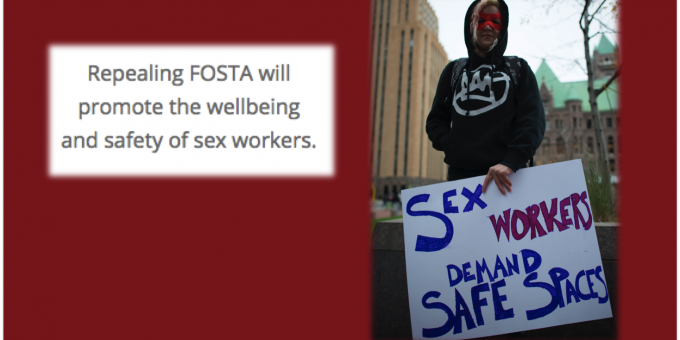 Repeal FOSTA and Decriminalize Sex Work
Repealing FOSTA will promote the wellbeing and safety of sex workers.
In 2018, President Donald Trump signed into law Fight Online Sex Trafficking Act (FOSTA). FOSTA is the first major federal policy to conflate sex work and sex trafficking since the Congress passed the Trafficking Victims Protection Act (TVPA). Like the TVPA, FOSTA was motivated by the belief that people do not willingly enter sex work occupations. "Force, fraud, or coercion" to perform sex acts constitutes
sex trafficking
in U.S., and scholars and activists alike argue that prostitution is, by definition, coercive and violent. Legal scholar Catherine MacKinnon adds, "prostituted people are overwhelmingly […] destitute."
The situation is more complex than that. In a digital era, sex workers have used advertising websites like Backpage.com and other social media for protection. Electronically mediated "bad client lists," for example, allowed sex workers to share information about violent or non-paying customers with each other. Under FOSTA, these safety nets may disappear.
FOSTA Policy
FOSTA passed almost unanimously in the House and Senate, with support from Democrat- and Republican-affiliated legislators. The bill criminalizes Internet companies, which are subject to state and civil prosecution, for hosting sex workers on their platforms. FOSTA also rolls back the protections of Section 230 in the Communications Decency Act, which previously held that "No provider or user of an interactive computer service shall be treated as the publisher or speaker of any information provided by another information content provider."
Online platform companies are now responsible for the content shared on their platforms. This, in turn, criminalizes online communication between or with sex workers, contributing to difficulties in locating and assisting victims of human sexual trafficking.
Research Evidence
Policies like FOSTA are part of a widespread legislative strategy known as End Demand legislation. The idea is simple: end the demand for all erotic services to mitigate human trafficking into the sex industry. However, statistics on human sexual trafficking are contradictory; policies based on bad data are not, themselves, sound.
For example, the first Global Report on Trafficking in Persons, published in 2010 by the United Nations Office on Drugs and Crime (UNODC), stated that 79% of worldwide human trafficking is sex trafficking. The 2016 edition claims that sex trafficking is over half of human trafficking globally (54%). Other reputable sources offer different assessments: the International Labour Organization (ILO) estimates 19% of human trafficking (what they refer to as forced labor) is sex trafficking (forced sexual exploitation), and that most human trafficking occurs in agricultural and domestic labors.
A concerted effort is underway to hinder the collection of reliable data. For example, while non-governmental organizations (NGOs), non-profits, and scholars receive lucrative endowments and funding to advocate for End Demand policies, it has been ruled constitutional (Agency for International Development v. Alliance for Open Society International) to deny funding for research that does not explicitly support End Demand policies.
Who Fosta Hurts
The U.S. Department of Justice is on record stating that FOSTA will increase exploitation in the sex industry.
Other information on the repercussions of FOSTA comes from community leaders, advocates, and sex workers. The national Sex Workers Outreach Project (SWOP) issued a statement warning of the violence that sex workers will face now that their online harm reduction strategies are being eradicated. The St. James Infirmary in San Francisco reported a fourfold increase in street-based sex work (versus online solicitation) in the first week after the passage of FOSTA.
COYOTE RI, an organization of sex workers and sex trafficking survivors in Rhode Island, conducted an impact survey after FOSTA. Sixty-percent of those surveyed (156 sex workers) stated that without online screening capabilities, they now see potentially dangerous clients.
Anonymously interviewing sex workers for her exposé on the fallout from FOSTA, Vice assistant editor Samantha Cole reports that in the absence of online platforms where sex workers vet clients, many now say they turn to exploitative and abusive pimps to help find and screen potential customers. Similarly, sex trafficking survivor Tara Burns states that the new law will make both sex workers and victims of human sexual trafficking "easy targets for violence."
Tellingly, Backpage.com's owners are not yet facing sex trafficking related charges, but prostitution-related and money laundering charges. The U.S. has a long history of selling anti-prostitution policies to the public using anti-sex trafficking discourse. For example, the 2016 Homeland Security and NYPD raid and shutdown of Rentboy.com, a platform for men to advertise sexual services, followed the passage of the Justice for Victims of Trafficking Act earlier that year, which focused on trafficked youth. That raid, too, led to the arrest of the owner and several employees on prostitution-related and money laundering charges, with the owner indicted.
Moving Forward
The difference between FOSTA and earlier regulation of sex work is that the law targets online spaces where sex workers connect with clients. Sociologically, FOSTA is a response to a moral panic around sex and technology.
Moving forward requires a shift in scholarly and policy thinking. We argue that voluntary sex work is not the same as human sexual trafficking and that laws like FOSTA have dangerous unintended consequences for both sex workers and victims of human sexual trafficking. We suggest that policy makers, activists, and scholars instead consider a path toward the decriminalization of sex work to minimize exploitation.
Evidence from Human Rights Watch, the Global Commission on HIV and the Law, the UN Special Rapporteur on the Right to Health, the United Nations Development Programme, UN Women (the UN body focused on gender equity), Amnesty International, the Center for Health and Gender Equity, the World Health Organization, and UNAIDS indicates that the decriminalization of sex work results in safer environments for sex workers and provides more resources to victims of sex trafficking. New Zealand is the first and only country to have fully decriminalized the sex industry, in 2003 (New South Wales, Australia did so in 1995). Resulting data show lower rates of sex trafficking and less sexual and physical violence amongst sex workers compared to countries with End Demand policies.
In the U.S. today, the only legal sale of sex occurs in Nevada's rural counties. The counties follow a legalization model, allowing sex work in licensed and regulated brothels, with licensed and health-checked workers. While scholars find legalization models to be safer than full criminalization, these models do little for sex workers outside the legal sale of sex and still stigmatize the worker, who has an official record of sex work.
Up until 2009, Rhode Island effectively allowed indoor sex work after a 1976 lawsuit brought by sex worker rights activists, among others. Recent research correlated the ability of Rhode Island sex workers to work indoors with reduced violence. However, anti-sex trafficking activists, emboldened by the 2003 TVPA, argued that Rhode Island's moderate approach could cultivate sex trafficking. Two Rhode Island Democrats sponsored a bill to criminalize all forms of sexual labor regardless of site, and it was signed into law in 2009 (H 5044/S 0596).
Sex worker rights activists in Rhode Island and around the country were opposed to the bill. They cited data that, as seen in community-based research projects, the criminalization of labor is violent: there is no recourse for violence experienced at the hands of police officers (a common complaint among sex workers), sex workers fear coming forward about known cases of sex trafficking or violent clients because they do not want to be arrested or assaulted, it pushes some sex workers to rely on managers ("pimps") who may be another source of violence or exploitation, and the economic violence of criminalizing work impacts not only workers, but their families.
Both domestic and international evidence suggests that decriminalization of sex work would likely be followed by a number of desirable outcomes, such as lower rates of violence, better health outcomes, and access to more relevant social services.
Scholars, activists, and policy makers should rethink the assumption that all sex work is coercive and that all human trafficking is about sexual exploitation. Sex work should be treated as a form of labor (distinct from sex trafficking), complete with safety measures. We argue that repealing FOSTA and other End Demand policies at the state, federal, and international levels will promote the wellbeing and safety of sex workers. Litigation against the bill is already mounting. Woodhull Freedom Foundation et al. v. United States calls for the federal court to declare FOSTA unconstitutional. One of the plaintiffs, Human Rights Watch, states "HRW relies heavily on individuals spreading its reporting and advocacy through social media… We are worried that social media platforms and websites may block the sharing of this information out of concern it could be seen as demonstrating a 'reckless disregard' of sex trafficking activities under FOSTA. This law is the wrong approach to the scourge of sex trafficking."
We also argue that decriminalizing sex work will help mitigate exploitation in the sex industry, including human sexual trafficking. The prohibition of sex work and its conflation with human sexual trafficking put sex workers at heightened risk of assault and homicide and disproportionately affect low-income and other marginalized groups.