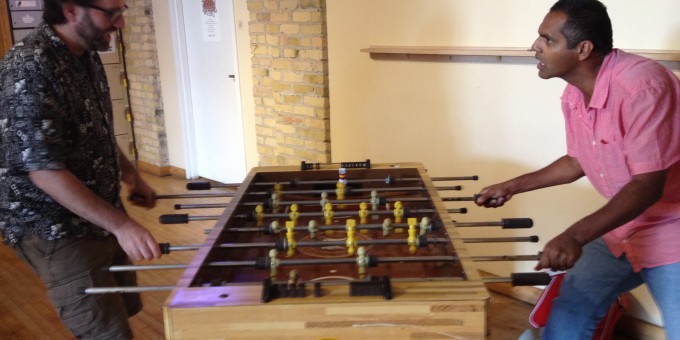 Spring 2015 Letter from the Editors
Hi. We're so excited once again to bring you such high quality fare from high quality folk. Many of our articles this time dovetail with the theme "boundaries and unstable states." Marketplace's Amy Scott has a lovely photo essay on the fascinating story of how Oyler Community Learning Center in Cincinnati is fighting poverty by meeting students' basic health, social, and nutritional needs at school. Karen Kelsky walks us through "post-ac" opportunities for graduate students. And Gary David tells us the sociology behind how he dealt with his daughter's severe medical diagnosis—and learned to see diagnosis as key to unlocking a world of services.
In keeping with a growing trend, we devote a good number of pages to stories with an international focus. Yingyii Ma compares the Chinese and U.S. educational systems, explaining why people in each system idealize the other. Aya Ida and her colleagues write about how Japanese expatriates reacted to the massive earthquake and tsunami in 2011. And Sangyoub Park has a fascinating trends essay on the rapid changes in marriage and family formation patterns in South Korea.
Meanwhile, we feature two gripping essays on people suffocated by strict boundaries in incredibly unstable states: Palestinians. Silvia Pasquetti introduces us to Palestinians living in an Israeli city, and how their fear of the Israeli security apparatus affects their daily lives. "Words burn lips," they say: everyone must be really careful about what they say and to whom. In fact, you're better off being seen as a petty criminal than a political activist. Then Andy Clarno takes us on a very unusual walk, showing how the apparently mundane activity is unduly complicated for Palestinians in the West Bank. For Palestinians, this usually peaceful activity is inherently political, understood only in the context of Israeli occupation and illegal settlement.
It's interesting—and disappointing—to us that American sociologists show so little interest in Palestine and Palestinians in Israel. We had far more submissions on Ferguson than we knew what to do with, even as the latest war in Gaza almost coincided with the killing of Michael Brown. Given that many activists have explicitly made the link between Ferguson and Palestine, you'd think a sociologist or two would have picked up on it. Of course most Americans are America-centric, and most American sociology stops at the water's edge. But even among those who venture into international topics, clearly not all boundaries are equivalent. There are people elsewhere in the world suffering discrimination and segregation—even, as in Ferguson, experiencing violent repression at the hands of armed authorities who don't represent their population. We do our jobs well when we examine them, too.