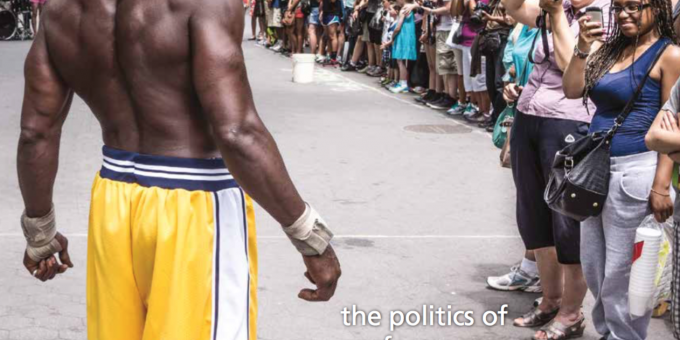 Summer 2016 Table of Contents
A multifaceted issue covering diversity in sport and the Oscars, reviewing Hamilton and Wonder Women, and exploring the world of mommy bloggers and street performers.
Letter from the Editors:
"A Cornucopia of Sociological Goodness," by Syed Ali and Philip N. Cohen.
In Brief:
Mothers, murders, and mental health: new research from the journals.
Q&A:
"The Shifting Landscape of Sports Media with Dave Zirin". Sport sociologist Ben Carrington talks with the "Edge of Sports" reporter about nearly a decade of changing coverage.
Viewpoints:
"Making Sports More Sporting," by Marvin P. Dawkins, Lucia Trimbur, Pat Griffin, Cheryl Cooky, and Kevin Hylton. Sport may seem like a meritocracy, but scholars debunk, debate, and diagnose the boundaries that keep some on the sidelines, off the air, and out of the game all together.
Features:
"Friends with Academic Benefits," by Janice McCabe. College students' friendship networks are associated with specific social and academic benefits, and their friends are both resources and liabilities in academic achievement.
"The King of Compton," by Jooyoung Lee. How street dancing provides talented young people an alternative identity option in a world where gangbanging is the more familiar rite of passage.
"Domestic Workers Refusing Neo-Slavery in the UAE," by Rhacel Salazar Parreñas and Rachel Silvey. Dubai's kafala system regulates the lives, labors, and mobility of migrant domestic workers who have seen no new rights with reforms. this is how they resist.
"The Serious Business of Mommy Bloggers," by Felicia Wu Song. As their online efforts gather attention and become revenue sources, "mom bloggers" struggle to balance commercial affirmation with authenticity.
In Pictures:
"Bonfires of Belfast," by David Schalliol. In Belfast, Northern Ireland, annual bon fires and parades operate as political and cultural claims over a contested city.
Books:
"Soft and Hard Landings in Transatlantic Crossings." Mabel Berezin on Strangers No More.
"Gender Politics and Taming the Alpha Male Harem Master." Mimi Schippers on Out Of Eden.
Culture:
"Why More Oscar Diversity Won't Solve Hollywood's Whiteness Problem." Rachel P. King on getting past awards gaps to fix an industry.
"The New Wonder Woman." Cory Albertson on a resurgence of "courageous womanhood."
"Hamilton's Immigrant America." Philip Kasinitz on the brash young insurgents of "Hamilton"—and the American Revolution.
Trends:
"Where Race Matters Most." Amon Emeka on finding the cities where employment discrimination is lowest.
"The Problem of Urban Sprawl." Thomas Laidley on the causes and consequences of expanding cities.
Teaching & Learning:
"Torture and Scientism." Steven Ward on two reports revealing the insidious instrumentalism of a social science.
Back Page:
"The Injustice." Jay Livingston on crime and the triumph of vengeance over practicality.