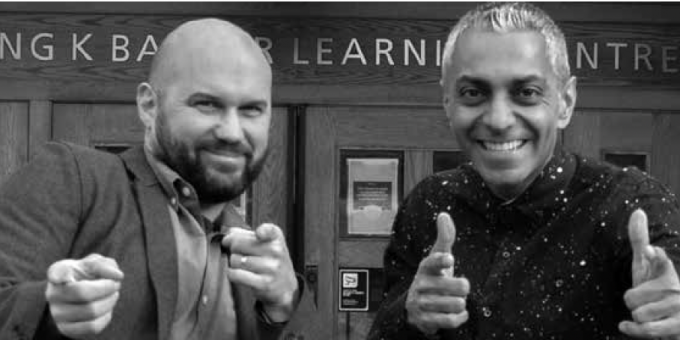 Winter 2023 From the Editors
Once upon a New York Times, American columnist and Pulitzer Prize winner Nicholas Kristof urged, "Professors, We Need You!" Kristof incited an impassioned conversation around the world about the relationship between academe and the public. "Some of the smartest thinkers on problems at home and around the world are university professors," Kristof observes, "but most of them just don't matter in today's greatest debates. The most stinging dismissal of a point is to say: 'That's academic.'"
Enter Contexts. We are the public face of sociology.
Since its inception in 2002, Contexts has steadfastly worked to make the best sociological research accessible for broad audiences as we all work together on the most pressing issues and debates of our time. At its heart, this is the mission of the magazine. A flagship publication of the American Sociological Association, Contexts provides a unique forum for intellectual fellowship, shifting "that's academic" to "that's pretty cool—and actionable."
As the newest in a line of venerable editorial teams, we are delighted to take the helm of this page-turner. As we do, we express our gratitude to outgoing editors Rashawn Ray and Fabio Rojas for their hard work and dedication, and we welcome Contexts, for the first time, to an editorial home beyond the United States. Greetings from the University of British Columbia in spectacularly beautiful Vancouver!
We understand that where we are and who we are matter to the magazine. Amin is a queer-identifying scholar of color who studies expressions of urban sexualities that range from neighborhoods to nightlife, and Seth is a broadly trained theorist with interests in youth suicide, mental health, and emotions. For us as the new editors and you as our loyal readers, the transition of Contexts to Canada presents exciting opportunities.
A core priority of ours is to seize on the magazine's increasingly international focus, expanding sociology's global imagination even further. Hence, our inaugural issue includes gripping pieces on the rise and erasure of temporary migrant camps at Mexico's northern border; on the spillover effects of punitive immigration policies on those who work to help asylum-seekers; the urgent need to globalize place-based initiatives that cultivate communities; intermarriage patterns among Nigerian immigrants; and attempts to stifle India's #MeToo movement.
One common thread across the enthralling work in this issue is the unfulfilled promise of choice, or perhaps what it means to extol freedom while maintaining unequal options across a range of contexts. In this vein, you'll read about the "optional illusions" faced by cisgender Black women under the spectre of CPS, by residents navigating consumer choice in mixed-income neighborhoods, and by parents struggling to balance budgets and keep their kids diapered. You'll find a story about the binds that result in unwanted heterosex, and another about how researchers' choices affect what we can know about phenomena like mass shootings.
Throughout, it's clear that we've begun to make a number of small, though sparkly, innovations. For starters, we've reimagined how we review books. We ditched the conventional approach and instead placed two buzzy books—in this issue, a headline-grabbing pair on American racism—into conversation. This longer-form style allows a certain freedom to explore broad themes and demonstrates that even book reviews can inform our most significant, vexing concerns.
We've also reoriented our Q&A to focus on conversations with journalists, those key collaborators for any aspiring public sociologist. Fittingly, for this inaugural issue, we return to Kristof's clarion call, first issued in 2014. It really hit home when he called on academics to get in the game—but have we come through?
Finally, we are keeping pace with the proliferation of new communication channels. Contexts may live as a print and online magazine, but we hope you'll also connect with us on social media platforms, including Facebook, Twitter, Mastodon, Instagram, YouTube, and TikTok. There, we're exploring the sociological context(s) behind the headlines, sharing teaching exercises and blog posts, and posting (despite being a bit camera shy at first!) videos galore.
Talk to us. Let us know what you think and feel. We want to hear from you. We—and all our readers—want to learn from you. Let's show the world why sociology matters.
For now, it's back to work. It takes a chorus of voices to uphold the 4 Rs, after all.
Contexts: Rigorous. Relevant. Readable. Rad.
–Amin Ghaziani and Seth Abrutyn