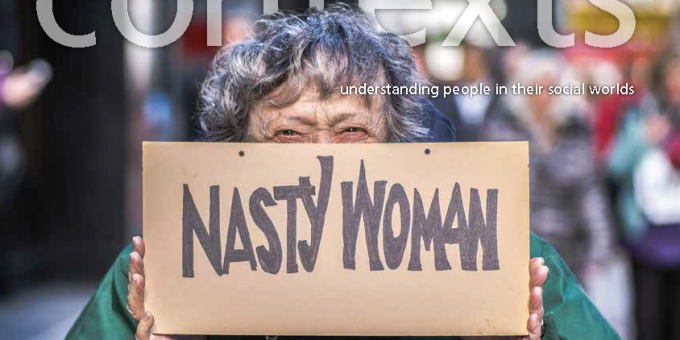 Winter 2017 Table of Contents
The Winter 2017 issue of Contexts is available for free online until April 23, 2017 at http://journals.sagepub.com/home/ctx. In addition, links to select articles below will go live as the articles become available on contexts.org over the next month. If a link does not work, the article has not yet published on our site.
Letter from the Editors
Syed Ali and Philip N. Cohen
In Brief
Immigrant obesity and distrust toward non-believers: New research from the journals.
Q&A: Observing Life and Death in America
Gary Younge on reporting on the 2016 presidential election and the prevalence of childhood gun deaths in the U.S.
Viewpoints: Chump Change
Josh Pacewicz, Joshua McCabe, Laura Blessing, Vanessa Williamson, Isaac William Martin, and Monica Prasad
Features
Living on the Fringe in Post-Apartheid Cape Town
Zachary Levenson
Post-Apartheid urban policy was meant to help reverse racial segregation, but as informal settlements proliferate at Cape Town's urban peripheries, residential segregation remains stubborn.
Love Wins?
Amanda K. Baumle and D'Lane R. Compton
For LGBT individuals who have experienced exclusion from legal marriage, the choice to suddenly embrace an institution that they perceive as flawed, discriminatory, and symbolic of gender inequality can present irreconcilable differences.
Could There Be a Silver Lining to Zika?
Caitlin Killian
Public health crises around Thalidomide and Rubella changed American public opinion around abortion policy. But could the spread of Zika do the same amid an outbreak of new state-level restrictions?
"Straight Girls Kissing" Beyond the Elite College Campus
Jamie Budnick
Our best sexuality theories are based on research that overlooks a clear pattern: women with the lowest levels of education now report the highest lifetime prevalence of same-gender sex.
In Pictures: The Sadness of the Border Wall
David Bacon explores how the U.S./Mexico border wall affects those it separates.
Books
Class, Culture, and Resentment
Richard Lachmann on Hillbilly Elegy.
Scorn Wars
Nina Eliasoph on The Politics of Resentment, Strangers in Their Own Land, and Hillbilly Elegy.
Culture
Forgotten Plums and Funeral Potatoes
Jennifer A. Jordan on edible memory
What's So Cultural about Hookup Culture?
Lisa Wade on the Norms and Practices of College Sex
A "Real" American Indian
Kimberly R. Huyser on the durable power of images.
Trends
The Converging Gender Wage Gap
Craig Upright on the Persistent Problem of Equal Pay.
Cobesity
Sven E. Wilson on a sizeable trend that's reinforcing inequality.
Teaching & Learning
Climate Misinformation Campaigns and Public Sociology
Robert J. Brulle and J. Timmons Roberts on Bringing Sociological Research to the Senate floor—and Beyond.
Back Page
Intersex and the Social Construction of Sex
Georgiann Davis and Sharon Preves on Moving from "What" to "Who."