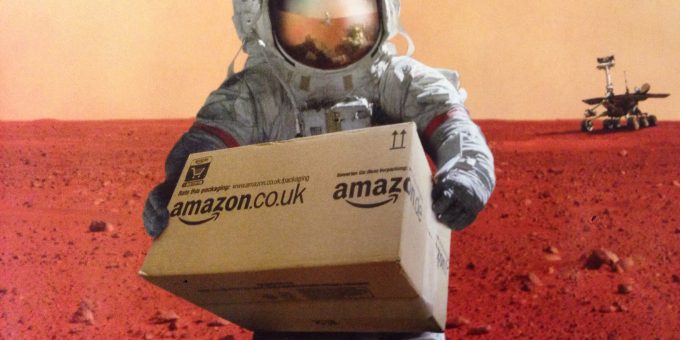 Amazon puts itself on the market, but we're the ones for sale
This is Amazon CEO Jeff Bezos's Willy Wonka moment. The online retailer, consumer electronics giant, film studio, cloud computing company, and gourmet grocer announced a prize so grand few had even thought to covet it: the opening of a brand new second headquarters—equal in size and esteem to the flagship in Seattle—promising one lucky city $5 billion in investment and 50,000 new white-collar jobs. In a twist on the literary classic, Bezos would not select his winner at random, but would instead request that the golden ticket be delivered to himself. His eight-page Request for Proposals (RfP) set mayors, governors, and chambers of commerce in a lusty panic to sell themselves as the most suitable suitor for what was immediately branded HQ2. The deadline is this week.
It is an odd competition. A company that specializes at least as much in gathering data as it does in selling goods would seemingly have little difficulty coming up with a list of cities that could accommodate its criteria for expansion. If Bezos simply needed to know which metro areas have populations greater than one million or are serviced by a major airport, he could just ask Alexa. What the RfP is seeking, then, is not a sense of what features a given city already has, but a suite of opportunities that cities will create specifically for the benefit of Amazon, the fourth-largest public company in the world.
The free market fable of Amazon's success touts the company's vision and innovation in providing its customers a bewildering variety of goods with the convenience of home delivery that cannot be matched by its brick-and-mortar competitors. But Amazon's ascent owes to more than ease or algorithms; the company has gobbled up market share through innovations of a different sort: a relentless drive to avoid the taxes paid by its competitors.
Bezos's reputation as tax-averse is well-known. On the 2016 campaign trail, he famously played kettle to Trump's pot, as the would-be president (perhaps enviously) bemoaned the Amazon founder's "getting away with murder, taxwise." The bookseller got its start when Bezos alighted from New York to exploit a new Supreme Court ruling that online retailers would not have to collect sales taxes in states where they lack a physical presence. Setting up shop in low-population Washington lowered the company's sales tax burden, and it couldn't have hurt that Washington doesn't collect personal income tax, either. As the company grew, it gained the leverage not just to exploit tax loopholes, but to solicit governments to grant them benefits exclusively. As Amazon ventured into European markets in the early 2000s, Bezos secured a transfer pricing deal with Luxembourg allowing them to cap their tax liability and save the company billions of dollars.
The HQ2 RfP is just the latest, and most brazen, extension of this corporate strategy. By placing "incentives" (the request specifies "land, site preparation, tax credits/exemptions, relocation grants, workforce grants, utility incentives/grants, permitting, and fee reductions") on the company's public wish list, Amazon is openly advertising its thirst for corporate welfare. And amid concerns by consumer groups that Amazon has grown too large, cities are now competing among themselves to aid the company's quest for monopoly.
Corporate welfare is more than just an upward redistribution of wealth from taxpayers to corporations. All the urban amenities sought by Amazon for its dream second city—from quality schools to public transportation infrastructure—aren't natural features of the urban geography. They are paid for by the same property and sales taxes Amazon is seeking to avoid, the very same taxes that are paid by the mom-and-pop shops the online retailer is so aggressively displacing. It's a tidy one-two punch to competition: As municipal expenditure inevitably rises to ease the strain of 50,000 additional workers and their families using public services, Amazon not only relieves itself of the burden to contribute, it dumps the bill on its rivals.
Cities also take on the risk: the ink was barely dry on Wisconsin governor Scott Walker's deal with Foxconn before job-creation estimates dropped and construction timetables were delayed. Now the state's Legislative Fiscal Bureau is saying that the soonest taxpayers could hope to recoup their $3 billion in tax credits granted to the Taiwanese manufacturer would be 2043. Previous public-private partnerships have become famous flameouts, with cities throwing good money after bad in an attempt to "feed the downtown monster."
These perversities create a vicious cycle. Companies that achieve scale can demand handouts, which help them consolidate market share, which in turn increases their leverage over cities. On the day Amazon announced its roving eye, both the governor of Washington and Seattle's then-mayor jumped on the phone with Bezos to make sure there wasn't anything else they could do for him. Their alarm is understandable. Washington has a recent history of being held hostage by its marquee companies. In 2013, Boeing secured $8.7 billion in subsidies—the largest payout ever—once it started flirting out-of-state for production of its 777X aircraft. After a modest tax abatement for manufacturers was ruled not to apply to Microsoft's data centers, the company began an open dalliance with Iowa, playing the states off one another and earning millions in concessions from each.
When corporations shop for cities, they transfer competition away from the marketplace to one among governments. The municipal race to the bottom all but ensures that the prize will go to the city willing to shoulder the greatest risk, and pass the greatest reward back on to its dubious benefactor. Tax policy should not be subject to corporate blackmail. Social science shows us that most Americans are proud to pay their taxes, considering it a civic duty and a moral credit. What sparks their ire is the notion that others aren't paying their fair share. So if you find your mayor debasing your city with bizarre gifts, corny ads, or embarrassing hail-marys, don't be fooled as to who they're really helping.