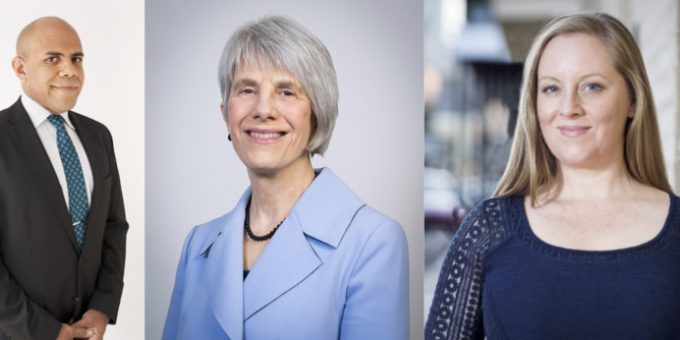 Contexts Hall of Fame Award
Contexts is a labor of love, not just for the editors, but for our writers, editorial board members, and everyone else involved. There are no six figure salaries for staff or big payouts for authors. Most of our articles aren't peer reviewed, so there's not much scholarly currency for those academics trying to get promoted. People do stuff for Contexts mostly because they love the idea of expressing themselves clearly to try to reach a broader audience and they love the mission of Contexts.
We want to thank three people in particular who are phenomenal friends of Contexts, and enter them into the pantheon of the inaugural Contexts Hall of Fame™. Our award winners are Paula England, Lisa Wade, and Steven Thrasher.
Paula England's 2010 co-authored article, "Is hooking up bad for young women?" and various co-authored blog posts in the last couple of years—which she started writing as a lead-up to her 2015 American Sociological Association presidential address then kept continuing doing (15 and counting)—are some of our most read pieces. This included working with us to live tweet her presidential address, which helped elevate the magazine's twitter presence. (She also did a great review of Lisa Wade's book recently.) Paula has been a great champion of the magazine within the ASA, and the work she did over the last couple of years behind the scenes in ASA committees have greatly helped shape the future and the stability of the magazine.
Lisa Wade's wildly popular Sociological Images, which she started with Gwen Sharp, was printed early on in Contexts alongside its weblife. She has written more than a dozen articles for the print magazine, and reviews stuff way more than she should, and promotes Contexts and our articles quite often through her media empire. As a very public scholar, she's even earned a disparaging nickname from Rush Limbaugh—we can only dream of such an honor. The author of Gender (with Myra Marx-Ferree), American Hookup, and the co-editor of Assigned: Life with Gender, Wade is also the only person to have served on the editorial board twice, she loves Contexts that much.
Steven Thrasher, even though he's a full-time writer for the Guardian and writing his dissertation at NYU in American Studies, is a Contexts mainstay. We've called on him a lot to write multiple pieces for the blog and print, and he's done three interviews for us. One of his first blog pieces for us, "'I can breathe,' and the occasional fear of covering protests," was our first "rapid response" sociology post. The picture he took of two White, pro-police protesters wearing "I can breathe" shirts (mocking Eric Garner's dying words) went viral on his twitter, and the article he wrote for us was huge, and still one of our most read pieces. One of his latest pieces was on Justine Diamond, the White, Australian women killed by police in Minneapolis, who was a friend of our senior managing editor, Letta Page. Steven's interview with Letta touched on the personal pain, but importantly couched it in the sociological context.
So to Paula, Lisa, and Steven, we give our most heartfelt thanks for helping to make Contexts the best forum for cutting-edge research and the chillest magazine in town!