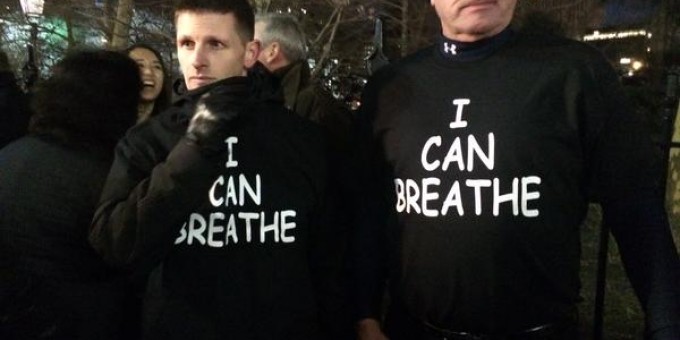 "I Can Breathe," and the Occasional Fear of Covering Protests
Last night, I shot the above picture, which went far more viral than anything I've ever posted to Twitter. I shot it while spending the early part of the evening covering a pro-police "Thank You NYPD" rally at New York's City Hall. From the advance publicity, it seemed like the kind of event which could quickly devolve into a pro police-state rally, the kind of affair which would doubtlessly draw one of the city's nightly anti-police brutality rallies (which have been occurring since NYPD Officer Daniel Pantaleo was not indicted for the death of Eric Garner) into a confrontation.
Which was precisely why I wanted to go. Not only would it be a great place to listen to the protestors I've been covering for my column, it would also be a great place to hear from those who think the police have been taking too much heat. I called up Whitney Dow, the director of the Whiteness Project, to go with me. We met when I interviewed him for the Guardian about his fascinating POV interview project on white identity, and we have been conversing about how white people perceive their own race ever since. I knew he might be able to connect with the pro-NYPD demonstrators in a way I, as a black/ mixed race interviewer could not.
Outside City Hall, the pro-police side only had a handful of demonstrators, and were always outnumbered by several factors by the well organized anti-police brutality side. The theater of the whole scene was comically absurd, given that the NYPD — the organization feared by one side, and defended by the other — tried to maintain control over the scene by separating the two sides with barriers. The pro-side then appeared bigger than it was because most journalists and researchers, including me, went to that side. That was where the story was of the kinds of people who were wearing "I Can Breathe" T-shirts, mocking Garner's final words.
The shirts were made by the man in the above picture, who traveled all the way from Colorado to show his solidarity with the police officers, after reading about it in the New York Post.
As a reporter, I've often assumed there is limited value in covering such events. The whole thing is a spectacle, often with people who come out simply to get time in the media. Yet the theater itself can be revealing, and the mechanics of the staged protest informative. For example, there were probably not more than 200 protesters, counter protestors, media and cops combined on the ground, yet the NYPD appeared to have two helicopters flying overhead.
There is also something great in getting to talk face to face with people with whom I agree about little, like those who would go out on a night with sub-freezing temperatures to defend the police in the fall of 2014. Yet, there is something fundamentally scary about being a black reporter in such a setting. I have never been a war reporter, but I've felt in danger a couple of times before (in Israel/Palestine in 2008, and while covering an anti-gay marriage rally in the Bronx in 2011). I felt so last night, too. Here I was, surrounded by angry white people with shirts reading "I Can Breathe." The protesters on the other side of the barrier were primarily people of color. Except for one black woman on the pro-police side (a woman who seemed not especially balanced as she chanted, "The NYPD needs love too! Close ranks!"), they were all very angry white people around me, mostly men and mostly large. One protester grabbed another reporter's camera next to me and started screaming at us that we were the "scum of the earth" and should be on other side with the "rest of the garbage," because that's who "you really support."
The dialogue between the two sides was not especially nuanced. The people of color would chant, "Whose streets? Our streets!" and the White people would respond, "Whose jails? Your jails!" This went on and on — the Black and Hispanic folks yelling, "Hands up, don't shoot," and the White people responding, "Hands up, don't loot!"
"God Bless America" was invoked by the white side, as if those facing them had no God on their side, along with, "You're gonna be sorry when the terrorists come for you!"
And, of course, "I can't breathe" was met with, "I can breathe."
The latter was extremely offensive, and I had a hard time maintaining body language which wouldn't make those yelling it clam up around me. It is hard to fathom, even as a reporter, what is going on with folks who will use a dying man's words against him to prove he was a "thug." Nothing was as scary as hearing folks shout, "I can breathe! I follow the law!"
I was most scared when I got a retired, large white cop to talk to me. He was trying to convince me that Eric Garner should have known how to submit, because he'd been arrested so often. The man put his hands on me to demonstrate what a chokehold was, and what it was not. I hoped Whitney Dow and CS Muncy, another white journalist friend of mine standing nearby, would step in if anything happened. But I momentarily thought I would panic, and my heart raced.
Here I was, being "protected" by the NYPD on duty, surrounded by angry, white, retired and off-duty cops and their supporters. Who hated the press and, it seemed, Black people — and I was in the middle of them. I wanted them to talk, and I wanted to hear what they had to say, so I didn't say much back, even to the man trying to convince me that if Garner had been pliant enough, he wouldn't have died.
I just try to keep people talking in these situations. Whitney could do it a little easier here, because at least he's White. Sometimes my fear gets the better of me. Sometimes, I worry about walking the line between trying to give visual cues that I am hearing someone (no matter how offensive) and not being willing to give them any indication that I agree with anything they say. I wonder, as I transition from doing interviews for print and radio journalism and into doing interviews for ethnography and social science research, whether this will get harder or easier. Especially, as I've found in a decade of interviewing people for media, that those with the most offensive things to say are usually the most aggressive about trying to elicit cues of agreement.
None of this is easy. On evenings like tonight, it's downright terrifying.
Steven W. Thrasher, a weekly columnist for the Guardian and Contexts board member, is in the American Studies program at NYU. Follow him on Twitter @thrasherxy.