Euthanasia: A Threat to Disabled Lives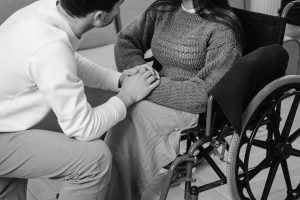 In the past week, there have been several articles published commenting on Canada's controversial plan to revise its current euthanasia law to allow people with psychiatric disabilities to be eligible for medical assistance in dying starting in March 2023. Titled Bill C-7, in 2021 this law expanded access to euthanasia to any person with an incurable illness or disability, not just the terminally ill. A similar process has also been occurring in California in the U.S, as a pending lawsuit seeks to overturn euthanasia safeguards. These increasing permissible euthanasia laws pose a serious threat to people with disabilities and will likely serve as a vehicle for further discrimination and oppression against the most vulnerable.
The view that euthanasia is a reasonable solution for disability is deeply rooted in ableist ideas. Public opinion on disability is influenced by media depictions, which often convey negative messages on disability, even if not overtly. For example, the manifest function, or obvious message, of the film Me Before You is a tragic romance story involving a disabled man. However, the latent function, or unintended meaning, of the film implies that disability is a fate worse than death when the main character chooses to end his life through euthanasia. This type of negative messaging in media that devalues disabled life may contribute to the general public support for euthanasia. Whereas the majority of disabled activists are strongly opposed to euthanasia, but rarely receive any media attention or news coverage. One such activist group is Not Dead Yet, a grassroots movement that opposes assisted suicide as a deadly form of discrimination.
One issue of concern in making assisted dying an option for more people with disabilities is that it will only promote more ableism and prejudice within medical settings. When healthcare professionals' attitudes towards disability were surveyed, it was found that many held the view that a life with extensive disabilities is low quality and not one worth living. This negative bias can affect the treatment that disabled people receive. Thus with ableism already commonplace in medical care, there is concern that professionals will counsel and encourage people with disability to choose medically assisted death instead of providing them with other options for medical care. This concern is not unfounded as there have been reports of abuse, such as a reported case of a Canadian man with a neurodegenerative disease that testified that his nurses threatened to bankrupt him with extra medical costs or kick him out of the hospital if he did not opt for medically assisted death.
Another issue with legalizing euthanasia for disabled people is that there are power dynamics at play that make them at risk for coercion in other settings. According to the relational model of disability, disability is created and maintained by unequal social relationships. In a society where independence and self-sufficiency are emphasized, many disabled or chronically ill people struggle with losing their autonomy and being dependent on others for their care. Feeling burdensome on friends or family could lead vulnerable people to agree to death in order to satisfy others' needs, not their own.
Lastly, one major issue with the process for determining eligibility for assisted dying is that it focuses on biological and psychological factors and largely ignores social factors that may be the underlying cause of suffering. Despite critiques from the disability activists, the medical model of disability, which states that an individual is disabled by their physical health defects, remains the predominant view. However, with this viewpoint, pain may be hastily attributed to physical causes when other causes are to blame. Utilizing the social model, which identifies disability as a result of systemic barriers and a lack of proper accommodations, would be more helpful in identifying factors in an individual's environment which may be contributing to a person's desire to die. These factors could include poverty or financial difficulties, a lack of social support, isolation, or experiencing stigma and/or discrimination. If outside factors are identified, this could be addressed with proper support such as connecting an individual to social networks or increasing care. This would help limit euthanasia to being used in situations where all other options have been exhausted.
As explained in the above argument, continuing to expand euthanization access leads to an increased potential for harm and abuse of the vulnerable in society. In accordance with the views of the disability rights movement, the best move would be for medical assistance in dying to once again be banned, or at the very least reinstate the safeguards that help to protect those with disabilities. Instead of putting effort toward assisting disabled people to die, governments should put an equal amount of effort into providing those with chronic illnesses and disabilities with the proper resources and support to live fulfilling lives.
___
Morgan Houlihan is a student at Macalester College in St. Paul, Minnesota where she studies neuroscience and psychology. She is currently working in direct support for individuals with disabilities and is interested in pursuing a career in healthcare.