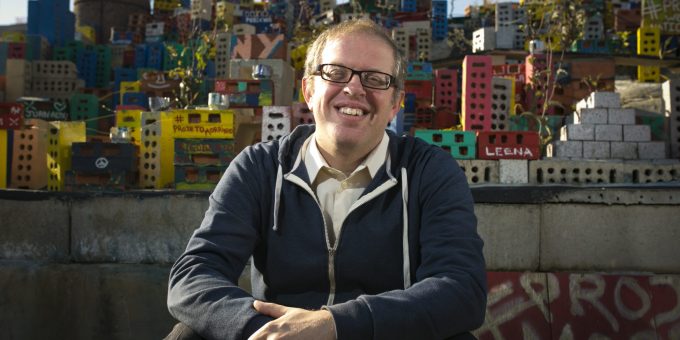 Meet the Section Editors: Joseph Cohen
Contexts section editors are the amazing folks who make sure that we have a steady pipeline of fascinating work to share as culture reviews, photo essays, trends analyses, book reviews, and policy briefs. Today we're introducing CUNY Queens College sociologist and podcaster Joseph Cohen, editor of the Book Review section and author of Household Financial Crisis: The Basic Expenditures that Bankrupt the Middle Class.
Hi, Joe! We're thrilled to have you on our team as book editor and are excited to introduce you to our readers. Let's start with the basics: who are you, where are you, and what do you do? 
I'm Joe Cohen, Associate Professor of Sociology at CUNY Queens College, where I specialize in the sociologies of culture, technology, markets, organizations, and mass communications. I currently research the practicalities of running mid-sized content creation enterprises, like podcasts or YouTube channels. My teaching focuses on content production, organizational management, data analysis, and research methodology. I develop classes to help equip students to compete for careers in New York City's marketing, mass communications, and media job markets.
I am an avid public sociologist. I dedicate my professional energies to making publicly-accessible and publicly-conversant informational content. For example, for the past several years, I've been running The Annex Sociology Podcast. I also develop educational programming for content creators through the Queens Podcast Lab. And now I'm serving as Book Review Editor for Contexts.
Personally, what do you love about Contexts? What is its unique contribution to the discipline?
Contexts connects sociologists with the general public, reaching non-sociologists interested in the unique insights our discipline has to offer. I believe that this form of outreach is crucial if we want our discipline to make positive real-world impacts.
Tell us about the Book Reviews section. What's it all about? What does it add to the magazine? 
I love books. They are a medium that give scholars an opportunity to assemble the totality of what they have been studying and communicate that totality to audiences in a way that opens their eyes to something new. A good book will make you look at some part of the world differently.
My goal as the Book Review Editor is to connect general audiences with sociologists' latest studies. I think there are a lot of practical lessons that readers from outside the discipline can glean from these books. Rather than profiling individual books, however, we're experimenting with reviews that show how multiple new sociology books engage a common problem. In doing so, we hope to invite readers to engage with sociological perspectives—and maybe more generally try their hand at thinking societal problems through sociologically.