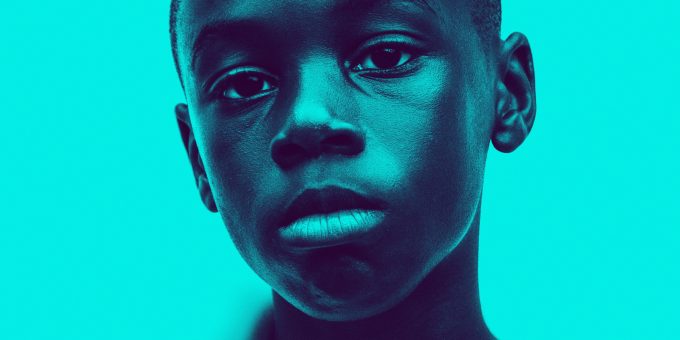 moonlight, trayvon, the oscars, and america's fear of black boys
Two beautiful Black boys' faces kept looking out at me from my social feeds last night: Trayvon Martin's, whose vicious killing by George Zimmerman five years ago today triggered the Black Lives Matter movement, and Alex Hibbert's as young Chiron in Moonlight, which won the Academy Award for Best Picture.
Trayvon's face moves me to tears of anguish. Hibbert's face moves me to tears of joy, because I can't ever recall a sweet Black boy's face on a movie poster being the face of the Best Picture Oscar. In fact, I can't remember a Black boy's face being seen and celebrated as sweet in popular culture hardly at all.
I am stunned that Moonlight won the Oscar, and not just because the White mediocrity of La La Land (and the weird way it imagined a White savior of jazz when, as Seve Chambers wrote at Vulture, jazz is alive, well, and Black) threatened to overshadow it. There's no better analogy of how White mediocrity can deflate Black excellence than the controversial way La La Land was initially announced as the winner, fueling speculation its rightful win was stolen by the Black film. After Adele beat Beyonce at the Grammy's two weeks ago, and news of how the Grammy's secret committee can override its membership, the La La Land screw up may overshadow Moonlight's well deserved win.
Partly I am stunned that Moonlight (budget: $1.5 million) won because being original, bold, and better than your competition is no recipe for being rewarded in America by an institution as racist as Hollywood; bland fare like La La Land (budget: $30 million) always had the upper hand.
But looking at Trayvon Martin's face on Twitter during the Oscars (and Mike Brown's, and Tamir Rice's, and Freddie Gray's), I am reminded at how much America hates Black boys. To see the humanity of how Barry Jenkins humanized Chiron and his relationship with other boys and men onscreen was enough. But to see that vision championed by the Academy as a story worth celebrating as our best American art gives me the slimmest measure of hope about how America may be able to view Black boys differently.
The Oscars individually celebrated two of the Black geniuses behind Moonlight: screenwriter Barry Jenkins, for adapting Tarell Alvin McCraney's play, and Mahershala Ali (the first Muslim actor to win) for his performance as Chiron's friend, Juan. Ali's performance as Chiron's father figure, cradling Chiron in his arms in the sea, is one of the great characters in one of the great scenes of the cinema.
But the Academy also honored one of the great Black mother figures of the theater and cinema: Viola Davis as August Wilson's Rose Maxson. Where Moonlight's Chiron and Juan are prophetic in deconstructing assumptions about Black patriarchy and masculinity—illustrating how gentleness and tenderness are what constitute the connections between Black men—Fences's Rose is prophetic in showing the burden Black women face, and the humanity they create, in living with Black patriarchy.
OJ Made in America also won. I would have been sad if it had been the only Black subject film to win last night, because the OJ Black predator "mandingo" narrative is well known in America. Indeed, I'd have been happier if the excellent James Baldwin documentary, I Am Not Your Negro, had won, or even Ava Duvernay's incarceration documentary, 13th. But the OJ film's director, Ezra Edelman, was one of a record four Black directors nominated for the Oscar.
Indeed, when you step back and look at the films about the Black experience and made by Black filmmakers—Moonlight, Fences, Hidden Figures, 13th, OJ, I Am Not Your Negro—it is a most beautiful spectrum of our range. The need for "diversity" doesn't mean just having a Black person here or there, it means having a diversity of stories told. The OJ doc means more because it isn't standing in for "the" story of Black America, but alongside Oscar winning stories of a Black mother married to her complicated sanitation working husband and of a young queer boy growing up in Florida trying to relate to the world.
It occurs to me, too, that Fences, OJ, and Moonlight's protagonist all go to prison at some point, and we get to see them as fully human, not simply as "convicts," and in the full diversity of humanity which people who have been incarcerated possess. Indeed, combined with seeing women space mathematicians in Hidden Figures and a literary genius in I Am Not Your Negro, Hollywood has given us the widest representation of Black characters in any single year. (We would do well to thank April Reign and her #OscarsSoWhite campaign for forcing Hollywood to redress its lack of diversity at the box office in general, and Seve Chambers for killing La La Land's momentum at the Oscars specifically.) For me, trying to survive the beginning of the Trump administration with my mind intact, this diversity has made the cineplex a place of mental health respite. It has been great to duck into a theater and to see the full range of Black life when it is so often under assault in the news.
Which brings me back to Trayvon. The assault against Black boys in the U.S.—already a national tragedy in terms of policing, incarceration, HIV/AIDS, and school suspensions in the Obama years—stands to get worse under Trump, who cries "law and order" and has repeatedly called for the execution of the (innocent) Central Park 5. While the Academy isn't representative of the whole nation, it does represent the zeitgeist of important culture makers. And culture always shift public opinion and society more quickly than politicians.
And so, it gives me a little hope that as the Academy has embraced Moonlight, America may, one day, better embrace the stories of our sweet Trayvons and Tamirs and Freddies (and of all our Black boys) with the same pathos, love, and generosity with which Barry Jenkins embraced Chiron.
Our board member Steven Thrasher is a columnist for the Guardian, and a graduate student in American Studies at New York University.