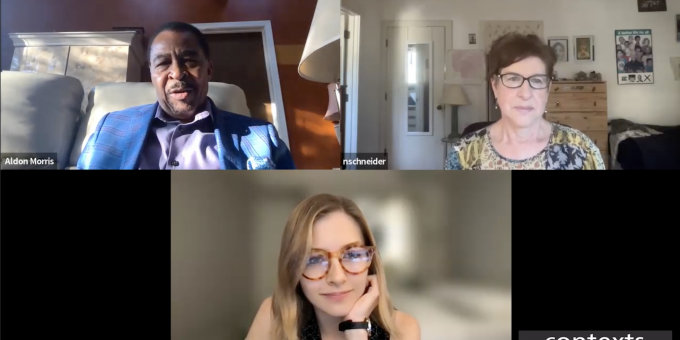 Q&A with Aldon Morris and Naomi Schneider
The following post is the second in a two-part series celebrating W.E.B. Du Bois and the ongoing efforts by contemporary scholars and activists to preserve and enhance his legacy. In this post, blog editor Elena van Stee chats with Aldon Morris about his recent trip to Ghana, where he met with the Ghanian president to advocate for further action to honor Du Bois. They are joined by University of California Press Editor Naomi Schneider, who worked with Morris to publish The Scholar Denied. You can watch the full interview above and find lightly edited excerpts from their conversation below. 
Read Part 1 of this 2-part series here.
Elena van Stee: Aldon, to start off, could you tell us a bit about your recent trip to Ghana? What was the purpose, and what were you able to accomplish while you were there?
Aldon Morris: So, W.E.B. Du Bois died in Ghana on August the 27th, 1963. This trip was a commemoration of Du Bois's passing 60 years ago. The W.E.B. Du Bois Museum Foundation decided that they would have two days of activities commemorating Du Bois's passing, and they invited me to be one of the speakers. The first conversation was all about why Du Bois was so important as a scholar, humanitarian, and so on. And then the second day had to do with us talking about how important it was for Ghana to preserve Du Bois's legacy.
So, the
stated
mission of me going to Ghana was to commemorate the 60th anniversary of Du Bois's passing. But there was also an
unstated
mission. The unstated mission was that the Foundation wanted the Ghanaian government to transfer the home of Du Bois to the Foundation, because the Foundation wanted to raise money to restore it, to make Du Bois's home a place of vibrant intellectual activity where people could travel—especially scholars and students—from all over the world learn more about Du Bois and his work. But the government of Ghana had not responded favorably to this request. So, the unstated mission was to bring these visible scholars who had done work on Du Bois, who were considered to be experts on Du Bois, to come and make a case for why the home site should be given to the Foundation.
And so there I was, sitting in a meeting with the President and a small delegation of people, and I made the argument as to why this should happen. That first of all, Du Bois was a great scholar and humanitarian. That he died in Ghana, and that he was significant to scholars and activists around the world. Ghana could have the privilege of being the lead actor in this. And so we discussed it, and we went back and forth. And so then at that point, toward the end of the meeting, I was informed that I was to sign a copy of The Scholar Denied. This came as a surprise to me—I didn't know that was going to happen! I dedicated it to the people of Ghana and to the president of Ghana; I gave him the book, and he accepted it very enthusiastically. And the President told us that he was going to really look into this, to consider our request.
Then, about a week later, the president traveled to New York and met with the Foundation. And he agreed to relinquish the ownership of the land, to give it over to the Foundation. And so we considered that a great victory. And so now the job ahead, of course, is to raise millions of dollars to make the Center what it should be. I want to appeal to American sociologists to engage in this effort, to help raise all this money. Because Du Bois, as we've learned, was a founder of scientific sociology in America. And we all neglected him in his scholarship for well over a century. And so it's time to embrace Du Bois's legacy and make sure that it's a living legacy.
EVS: You've brought up The Scholar Denied a couple of times. Can you tell our audience a little bit more about the book, what motivated it and what you hope to accomplish through that work?
AM: Well, you know, as a Black sociologist, when I went to graduate school, I was never taught anything about Du Bois. No one was being taught about Du Bois. But I had read about Du Bois for a number of years, starting in community college, and I knew about his significant sociological writings, his theoretical and methodological contributions. It really angered me that there was no knowledge of Du Bois in sociology. I just thought it was a great sin—intellectually, socially, everything else. Also, I was so aware of how Du Bois, all of his adult life, fought to overthrow racial inequality—and social inequality generally—around the world.
I just thought that students and professors and people generally just needed to know about Du Bois's work. As an advanced graduate student, one day I decided I was going to set the record straight about the role Du Bois played as a founder of scientific sociology in America. I started doing more research and writing and so forth. And then I got this bright idea one day, to call up Naomi at the University of California Press, and to make an argument that she should be interested in publishing a book on Du Bois as a founder of scientific sociology in America.
My sense is that
The Scholar Denied
has made a difference in the discipline of sociology, as well as other disciplines. Today Du Bois' work is included on syllabi across the nation—and indeed, outside of the United States, as well. So, I think
The Scholar Denied
is accomplishing its mission. I would add that what I'm really happy about is that there are so many young scholars working on Du Bois. They feel like it's a legitimate topic. You may not understand this right now, but even in the '70s, if a young scholar wanted to work on Du Bois, they were told, "You're wasting your time." They were told that Du Bois wasn't even a sociologist. And so young scholars especially, but old ones, too, did not know anything about Du Bois. They stayed away from him, and they knew it could be professional suicide to work on Du Bois.
I think, after the publication of The Scholar Denied in 2015, that's been changing some. And I would quickly add, again, that it's not just The Scholar Denied, it's all the scholars now who have a deep interest in studying Du Bois and presenting to the academy and to the public the significant insights Du Bois produced—insights that can help us understand this troubled world we live in today.
EVS: Naomi, I want to pass the baton to you now—from your perspective as an editor, how does The Scholar Denied fit into your editorial vision?
Naomi Schneider: Well, excellently! I'm so proud to call Aldon my author and my friend. And to say that I'm proud of The Scholar Denied is such a vast understatement. It's one of the most important books I've published in a career that has lasted over three decades. In my mind, it exemplifies the best of what the University of California Press does. You might be aware that UC Press represents all ten campuses of the University of California. And we define ourselves as overtly progressive. That means we try to serve the common good in ways that lead us to publish books that are edgy, provocative, and intrepid. Just [like] Aldon's book. And you don't find books like The Scholar Denied very often, because it took a lot of courage for Aldon to write the book—to take the positions he did, to rigorously document all his claims. I'm delighted that the book's impact continues to reverberate eight years after its publication.
May I add something? A couple of weeks ago, I was in Boston to be inducted into the American Academy of Arts and Sciences. So, I went over to Harvard's sociology department, and one of the things I noticed is that they now have a Du Bois seminar room. They have his drawings on the wall from the Paris exhibition in 1900. There was a class going on in the room, and I thought "Wow." Du Bois was the first Black person to get a PhD at Harvard, and his work had been excluded at Harvard. And now to have a seminar room in his name is fantastic. I think it shows the change that is happening. Similar things have happened at Brown University and other places. I think that the time has come; his scholarship is being taken seriously. But once again, this is not about honoring one man. …It is to show that, to many, many scholars, the importance of the work—and they have taken up the baton. And so that is the thing that I'm most proud of that. AM: I think the time has come; [Du Bois's] scholarship is being taken seriously.
---
Aldon Morris is emeritus faculty in the Department of Sociology at Northwestern University. He is the author of The Scholar Denied: W.E.B. Du Bois and the Birth of Modern Sociology. Naomi Schneider is an executive editor at the University of California Press. She works with authors to publish books that reassess mainstream history and promote unconventional thinking about contemporary social and political issues, including The Scholar Denied. Elena van Stee is a graduate student in the Department of Sociology at the University of Pennsylvania. She studies culture and inequality, focusing on social class, families, and the transition to adulthood.