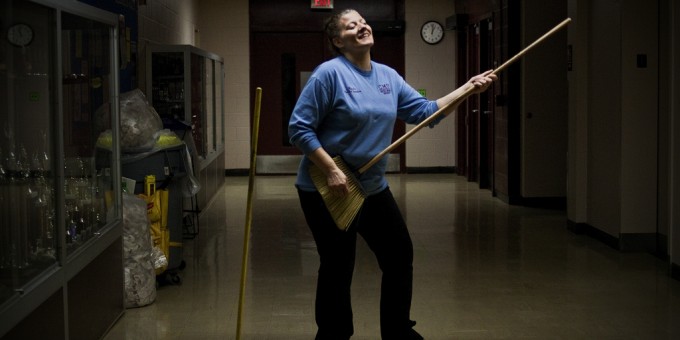 Regulating unpredictable schedules to cut down the chaos
Unpredictable schedules cause chaos in worker's lives, as we report in the upcoming Fall issue of Contexts. These don't just harm individual workers; a change in one person's schedule often creates a cascade of changes in other people's lives—causing unpredictability for co-workers or spouses, day care workers and relatives who care for their children. Such chaos varies by race, gender, and class, but touches many industries—whether retail, fast food, and cleaning jobs or health care organizations (as we observed in our book, Unequal Time).
For a long time this issue was below the radar, but increasingly people are fighting back, through law suits, collective action, and legislation.
California's Reporting Time law requires that people receive pay for at least half of their shift if they show up for (scheduled) work and then are sent home. But many employers break the law. One law firm has initiated a series of lawsuits charging major retailers with violating the law; perhaps retailers will change behavior in response to the threat of class action lawsuits.
Elizabeth Warren in the Senate, and Rosa DeLauro in the House of Representatives, have proposed the Schedules that Work Act, which would address many of the worst abuses, but at the federal level Congress is unlikely to pass significant legislation on any topic. As a result, efforts to address the problem have shifted to states (and sometimes cities).
In Massachusetts, where we live, legislation has a decent shot at passing that would make some modest but much needed changes to shift the burden of unpredictability from workers – who now bear almost all the cost – to employers. On October 13, when Naomi Gerstel testified to the Massachusetts legislature on the bill, and noted some key provisions:
Requiring employers to tell employees when they are hired the minimum number of hours they can expect to work and posting those work schedules at least two weeks in advance. Doing otherwise wreaks havoc in people's lives.
When an employer makes changes to work schedules with little notice, the legislation requires extra hours of pay to the employee whose schedule is changed. That makes employers think twice before making last minute changes and helps offset the burden placed on workers who need to scramble to change plans and find child care.
Requiring reporting time pay, or show up pay. When workers show up to work for their scheduled shift, they should not leave empty handed simply because the employer decides at the last minute they aren't needed that day. Eight states, Washington, D.C., and Puerto Rico already have reporting time pay laws.
Requiring one hour of extra pay for split shifts—that is, when employees are required to work a shift of nonconsecutive hours with a break of more than an hour when they cannot do anything with that time. D.C. and California already have split shift pay laws.
Requiring an extra hour of pay for employees assigned to on-call shifts – a particularly difficult scheduling practice that requires employees to call in to find out whether they have been scheduled to work that very day.
When an employee requests a schedule change to address the employee's most critical obligations – caregiving, school, health, or a part-time worker's second job – the legislation creates a presumption that the employer will grant the employee's request for a schedule change unless there is a bona fide business reason to deny it. Employers gain the right to request changes without fear of retaliation.
All of these are much needed changes. Even when passed into law, all might be flouted by employers. That means that establishing mechanisms to ensure their enforcement is a key part of any new law.
None of these changes solve the problem; each of them takes a small step toward making life easier for workers. The public is likely to be highly supportive, employers to be fiercely opposed. It's a step in the right direction, and we anticipate many other states pushing for these and similar changes.