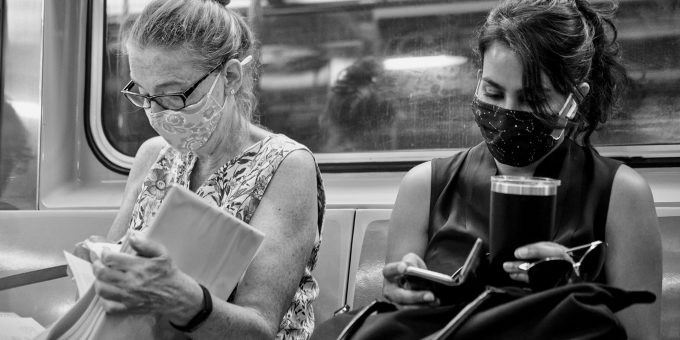 Facial Difference, Social Disability (Or, Why I Didn't Mind Masking)
Finalizing my divorce, searching for a new place to live, re-evaluating the possibility of a family—I was stressed out in November of 2009. Then my face stopped working.
The diagnosis? Bell's Palsy, or damage to the 7th cranial nerve (similar to what Justin Bieber is experiencing with Ramsay Hunt Syndrome). Though it's technically "reversible," 10-20% of people develop a movement disorder called synkinesis. Effectively, as the nerve heals, it regrows to too many places; more "frozen" than paralyzed, those of us in this unlucky group end up mis-wired. It affects our facial expressions and movement, and it can impact tear ducts, salivary glands, the sense of taste, and the ability to filter light and noise. For me, it also meant adjusting to an array of very different social reactions to my face and enduring years of frustratingly inappropriate medical treatment. Like any good social scientist, and as I sought ongoing treatment and support, I was ready to do some research.
Where I'd hypothesized that my interviewees, more than 100 people with facial difference, would focus on their experiences with discrimination, instead the most salient theme was the disruptions they experienced in terms of communication of and with the self. Developing synkinesis, a common facial disability, made it hard to communicate and socialize in culturally expected ways. I began to use the term "social disability" to capture the impacts of my and other conditions on the reception, expression, and/or interpretation of self—and to understand it, all too well, as an embodied challenge.
Axes of identity, race, class, gender, age, and a variety of identity categories impact how social disability is lived, and participants shared how their intersecting communities, supported, disavowed, ignored, or empathized as they navigated social life with facial difference. For many of us with acquired facial difference, the masks that became ubiquitous with the COVID-19 pandemic actually restored our experiences of social space. Here's why.
"La Monstrua"
With a social disability, people lose the autonomy of self-presentation. The word freak came up a lot as respondents spoke about their inability to self-present as "normal." Microaggressions and negative encounters pushed their internalization of others' discomfort. People stared, they told me, and made hurtful observations. They'd been told to sober up, admonished for looking nasty. They'd been avoided and excluded.
Perhaps most difficult, for these folks, was the loss of their former ease, of the control and predictability of self-presentation. Consider my experience: I've always used my smile to communicate warmth, welcome, and my general pleasure in the world. As a middle-aged, reasonably attractive cis-woman with White privilege, smiling at others, even strangers, has almost always elicited a warm response. But a month after my diagnosis, I was brought up short. On a long-planned trip to hike in the jungle, I encountered a family that reminded me of my own childhood outings. I smiled.
"La monstrua!" shouted the daughter, perhaps six years old. Her lack of intention made the moment more devastating.
Now, in place of taken-for-granted interaction tools, people like me have developed on-going, deliberate strategies to forestall others' discomfort and protect ourselves from the repeated hurt of social disability. We wear makeup, we start with a friendly wave from afar, we seek out occupational therapy to try to craft new, heavily forced but possibly natural-looking smiles. Surgeries can be impactful, too. Mine improved my appearance, reduced pain, and allowed me to breathe through my nose, but only one procedure was covered by my union-won health insurance. Most people have inadequate options.
Mimicry and Emotional (Mis)Cues
With synkinesis, miscommunications come not only because one appears different, but because fundamental aspects of communication are disrupted. For instance, the associated subtle (and sometimes not so subtle) tightening throughout the face means unintentionally communicating to others that we're experiencing discomfort, anxiety, and stress.
Mimicry is an essential part of communication. As we interact with other people, we unconsciously mimic facial expressions, sharing emotions as we communicate. This is how we connect with others. I noted, in interviewing others with the same challenge I had, that I was getting a sense of what it could be like to communicate with me. Even knowing exactly what I was getting in to, I would notice my doubt and discomfort rising. Anxiously, I wondered what was off—did they not like me? Why did I feel such a weird social discomfort?
My respondents and I were, I realized, mimicking each other's synkinesis, amplifying potential miscommunications about anxiety, stress, fear, discomfort, and displeasure. These interviews were profound, as many of us had never come face-to-face with anyone else with synkinesis. Most people told me others in their lives could be uninterested in, discomforted by, or dismissive of their challenges. But here we were, experiencing it together. And it was hard! It was something we had to get past—and we did, thankfully.
These interviews were profound, as many of us had never come face-to-face with anyone else with synkinesis. But here we were, experiencing it together.
Trying to ignore engrained social cues and my own perpetual miswiring at the same time makes social situations exhausting, defeating, and unpleasant. I have to ignore the messages of my own face, the ones that signal social failure, stress, and anxiety—the ones that are, in fact, physically painful for me. And I have to know that, to truly be with me, others are always surmounting the barrier of my unintentionally signaled negative emotion.
Miscommunication, Alienation
Like all people, those of us with synkinesis experience our share of profound joy and mundane happiness, and so the most-grieved facial expression in my interviews was unsurprising: the smile. We can still smile, we can still show you our delight, but we can't live the experience of truly spontaneous joy. A smile is always physically uncomfortable—it takes effort, and its a reminder of ongoing, lived trauma.
The act of smiling is the experience of the best of human experience, it's a shared, expressed experience of the best of life. Losing appropriate, automatic affect disrupts communication. It also disrupts the shared experience of communing and the individual's ability to process experience—to communicate with ourselves.
Losing appropriate, automatic affect disrupts communication—including with ourselves.
What I lost is the experience of smiling. Smiling without discomfort, without mis-feel, and without problematic reactions from others, should I leave my smile unmanaged. I've lost that moment of smiling together without background noise in my head, without doubt, without self-management.
As a result of living with synkinesis, people lose connection with the social display of self, the experience of performing the self, shared experiences of the social self, and easy interaction. Facial disability is a barrier to the experience of fellowship. That it is a challenge to the experience of self that one always has to manage reinforces that it is a social disability.
Communities of Support
Advocacy helps many people find community, support, and purpose.  Online and in-person support groups, respondents shared, provided some with a chance to expand their options for medical coverage, share tips and strategies, and to relax the vigilant facial management most performed so often. The concept of a social disability provides a way to express a specific type of challenge and advocate for ways to mitigate the impact of synkinesis on people's lives. It also points to the potential for support spaces, higher quality care, and social awareness to build social lives that are less burdensome—to be social with rather than in spite of facial disability.
---
Faye Linda Wachs is in the sociology department at Cal Poly Pomona. She is the author of the forthcoming book Metamorphasis: Who we become after facial paralysis.