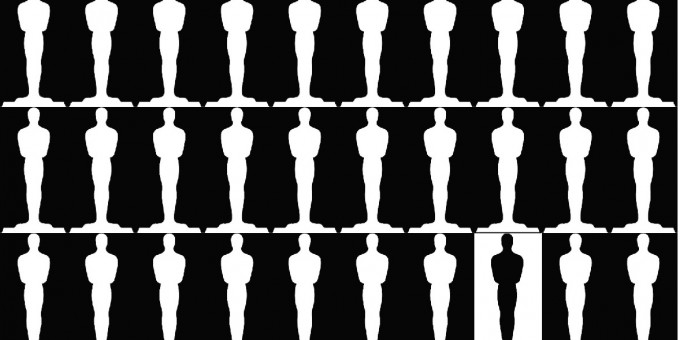 The Whiteness of Oscar Night
In 2001, African American actors Denzel Washington and Halle Berry took home Academy Awards for Best Actor (Training Day) and Best Actress (Monster's Ball), respectively. Many hailed the night as evidence of Hollywood's progressive politics and that the once stark and unbending color line had been irrevocably shattered. Actors of color were here to stay and their work would be evaluated and awarded — to appropriate Dr. King's famous words — not on the color of their skin, but by the content of their character performance.
Before the 74th annual Academy Awards in 2001, only six African American actors had won one of the "big five" Oscars (actor, actress, supporting actor, supporting actress, and director). Since Washington and Berry's take home night in 2001, there have been seven more "big five" Oscars awarded to African Americans (though not for best director).
To add, only two Hispanic Americans have ever won one of the big five Oscar categories, and Asians have only received six. Almost all other winners have been White; out of the 87 times that the Academy Awards have been held (1929-2015), White actors won a 94.54% of the time (398 out of the 421 big five Oscars).
This year nominees for the big five Oscars are all White — with the one exception of director Alejandro Inarritu (for directing Birdman) — prompting the Twitter hastag, #OscarsSoWhite.
So much for color-blindness and Hollywood progressivism.
This should come as little surprise to sociological students of the media. A recent Los Angeles Times study revealed that 94% of those who chose the nominees were White, 77% were male, and a median age of 62. Blacks represented 2% of the Academy, Latinos hovered around 1% and Asians were nearly absent.
Many of these award-winning performances by African Americans were in films that follow the narrative structure of what I call a "White Savior" film. A White Savior film is often based on some supposedly true story. Second, it features a nonwhite group or person who experiences conflict and struggle with others that is particularly dangerous or threatening to their life and livelihood. Third, a White person (the savior) enters the milieu and through his or her sacrifices as a teacher, mentor, lawyer, military hero, aspiring writer, or wannabe Native American warrior, is able to physically save — or at least morally redeem — the person or community of folks of color by the film's end. Examples of this genre include films like Glory (1989), Dangerous Minds (1996), Amistad (1997), Finding Forrester (2000), The Last Samurai (2003), Half-Nelson (2006), Freedom Writers (2007), Gran Torino (2008), Avatar (2009), The Blind Side (2009), The Help (2011), and the list goes on.
When we look at the content of Oscar-wining roles by actors of color, especially African Americans, we see that many were awarded for performances that conform to racist views on what makes for an authentic and believable performance. Some roles emphasize Black servitude to Whites like Hattie McDaniel (Gone with the Wind), Octavia Spencer (The Help), and Lupia Nyong'o (12 Years a Slave). Others show blacks as little more than entertainers for the White gaze like Jamie Foxx (Ray) and Jennifer Hudson (Dreamgirls). Blacks are also awarded for playing dysfunctional welfare queens and pathological criminals, such as Halle Berry (Monster's Ball), Mo'Nique (Precious), and Denzel Washington (Training Day). Another critical favorite is the "Magical Negro" performance in which they present enchanted and folksy Black characters that exist only to assist disheveled and down on their luck White characters get back on their feet, such as Whoopi Goldberg (Ghost), Cuba Gooding, Jr. (Jerry Maguire) and Morgan Freeman (Million Dollar Baby).
The recent film Selma — a film about Martin Luther King Jr.'s staging of the 1965 Selma-to-Montgomery march — did not follow the White Savior Film script. While Selma quickly earned critical praise and predictions of Oscar glory, it was critiqued for its portrayal of former President Lyndon B. Johnson, who some felt was marginalized or misrepresented. For instance, Bill Moyers opined, "As for how the film portrays Lyndon B. Johnson: There's one egregious and outrageous portrayal that is the worst kind of creative license because it suggests the very opposite of the truth." LBJ biographer Julian E. Zelizer stated, "I think in some ways they went overboard in not wiping away, but downplaying how committed the top official, meaning the president of the United States, was to this." and The New York Times wrote that the film's portrayal of LBJ "raises hackles." In the end Selma did garner a nod for best picture nominees, but was omitted from the big five award categories.
In speaking to Rolling Stone about the criticism, director Ava DuVernay stated:
I wasn't interested in making a white-savior movie; I was interested in making a movie centered on the people of Selma. You have to bring in some context for what it was like to live in the racial terrorism that was going on in the deep south at that time. The four little girls have to be there, and then you have to bring in the women. So I started adding women. This is a dramatization of the events. But what's important for me as a student of this time in history is to not deify what the president did. Johnson has been hailed as a hero of that time, and he was, but we're talking about a reluctant hero. He was cajoled and pushed, he was protective of a legacy  — he was not doing things out of the goodness of his heart. Does it make it any worse or any better? I don't think so. History is history and he did do it eventually. But there was some process to it that was important to show.
The relative snubbing of Selma and the ways actors and directors of color are awarded (if they are nominated), raises questions relative to DuVernay's comments. Does a film with either overt or subtle interracial relations and tensions need to follow the White Savior motif to gain Hollywood's approval?
I raised this question in my book, The White Savior Film: Content, Critics, and Consumption, where I examined 50 recent movies over the past 25 years, analyzed nearly 2800 reviews of those same movies, and examined interview and focus group data with audience members of at least three of those recent White Savior films.
Nearly 40 percent of these films highlighted the claim that they are "based on a true story" or directly reference historical events of a highly racialized nature, such as the US Civil War, Nazi Germany, South African Apartheid, Wounded Knee, or the US Civil Rights Movement. These films link the supposed authenticity of history with the standpoint of the White Savior, rather than from the points of view of the people of color who are supposedly being helped.
But when a film tells history from the point of view of the socially marginalized without the presence of a White Savior that saves the day, many may find those films somehow overly "political," "ideological," or simply "untrue."
For instance, when Melvin and Mario Van Peebles sought funds to produce the film Panther (1995), based on the formation of the Black Panther Party in Oakland, California in 1966, they were urged repeatedly to create a White Savior in order to make the film more "mainstream." Mario Van Peebles stated:
We went around to Hollywood studios and we kept on getting the same message: "You really need to make this more mainstream." But when pressed to explain what they meant, it turned out that they meant that there had to be a white person as one of the main heroes of the movie. "People knew about the destruction of the Indians for years," we were told, "but no one really cared about it until they got Kevin Kostner to star in Dances With Wolves. The civil-rights movement might have been led by Stokely Carmichael and Martin Luther King, Jr. but Americans didn't care to see a movie on that till Mississippi Burning tells the story from the standpoint of white FBI agents. So you've got to write this story in a way that gives focus to some big white stars, and then you can do your thing." One of the studio heads suggested that we make one of the leading Panthers a white man. Others suggested focusing on a Berkeley white person who would meet five young black guys, teaches them to read and stand up for themselves, and then they become the Panthers!
And in 2008 African American actor Danny Glover attempted to produce a Hollywood film on Haitian independence and the military hero Toussaint-Louverture. To back the project, he approached a host of financiers and hopeful co-producers, but few were interested. Glover stated,
Producers said, "It's a nice project, a great project … [but] where are the white heroes?" …I couldn't get the money here, I couldn't get the money in Britain. I went to everybody. You wouldn't believe the number of producers based in Europe, and in the States, that I went to.
As these examples show, if one can abide by the white savior script and convince others of the story's legitimacy, these tales will find production and resonance with many "mainstream" audiences. If not, they may be snubbed by the Academy  — or not even made.
Matthew W. Hughey is Associate Professor of Sociology and Adjunct Faculty of the Africana Studies Institute and the American Studies Program at the University of Connecticut. He is the author, most recently, of The White Savior Film: Content, Critics, and Consumption (Temple University Press, 2014).