There is No Green Book for Walking
Why do African-Americans still need to cautiously navigate as pedestrians?
Late last year, the movie "Green Book," starring Mahershala Ali and Viggo Mortensen was released. This true story, which received three Oscars, including Best Picture and Best Supporting Actor for Ali, was about Tony Lip (Mortensen), an Italian-American bouncer in the early 1960s, being hired to drive Dr. Don Shirley (Ali), an African-American jazz pianist, on his eight-week concert tour through the Midwest and Deep South using The Negro Motorist Green Book, or simply the Green Book. For many movie viewers, this was the first introduction to the Green Book, a well-known guide for African-American travelers to find motels, restaurants, and fuel stations that would serve them during this highly segregated Jim Crow Laws era of U.S. history.
Initially, the Green Book was published in 1936 solely as a local booklet for New York City, but the response swelled the need to create a national issue covering the entire country. Originated and published by Victor Hugo Green, the publication was released annually from 1936 to 1966. In an effort to avoid public transportation segregation practices, African-American commuters, who could afford the purchase of an automobile, began driving "in order to be free of discomfort, discrimination, segregation and insult." As such, automobile ownership for the African-American community was the seminal gesture of independence, which bestowed civility and humanity, basic human rights that were otherwise legally and violently denied. Unfortunately, the reach for these social and political freedoms was not without calamity. During this period, African-American motorists endured hardships, such as being refused hotel or restaurant accommodations, expulsion from sundown towns, and threats of physical violence and death through beatings and lynchings. Green and others believed that the Green Book was a remedy to these "difficulties," as he intended for this resource "to give the Negro traveler information that will keep him from running into difficulties, embarrassments and to make his trip more enjoyable." Yet, even after the passage of the 1964 Civil Rights Act, legislation to outlaw racial discrimination, these "difficulties" did not cease even though the Green Book discontinued publication and fell into obscurity.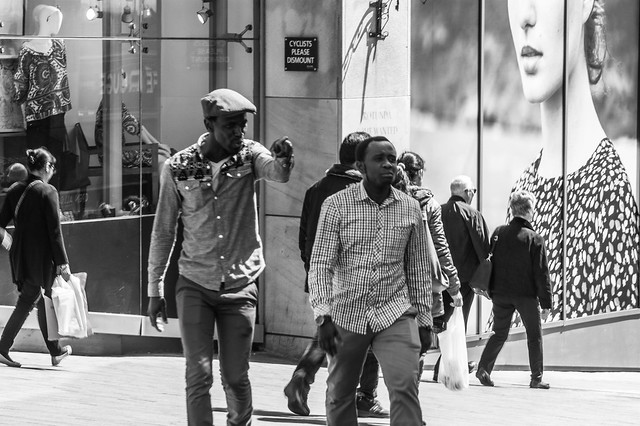 "Driving While Black," a double entendre borrowed from the U.S, criminal offense of "driving while intoxicated," represents the racial profiling endured by many African-American motorists by law enforcement. While the phrase rose to prominence during the 1990s, with racial profiling cases such as New Jersey v. Soto and Whren v. United States, it has been expanded to include other modes of difficult travel for African-Americans, including "Walking While Black" or "Biking While Black." The "Walking While Black" expression can be traced back to a 1999 New York Times article stating that "his [Mayor Rudolph W. Giuliani] numbers, however accurate, cannot reflect the anger felt by people stopped and frisked by the police each day only because they are W.W.B.—Walking While Black." Even though the original meaning of "Walking While Black" referenced the discriminatory targeting of African-American pedestrians by the New York City Police Department, most recently another nuance to the expression has been recognized. In the U.S., African-Americans and other people of color are disproportionately affected by pedestrian injuries and deaths. This year, the National Complete Streets Coalition, a program of Smart Growth America, published "Dangerous by Design" and reported that from 2008 to 2017 African-American pedestrians were 50% more likely to have been hit and killed by a driver when compared to White pedestrians. A statistic with this kind of variability warrants an acknowledgement of the racial bias influence on driver yielding behaviors when African-American pedestrians are present. In fact, two recent studies have examined and explored this form of implicit prejudice. Tara Goddard, an assistant professor at Texas A&M University, conducted the first study ever on driver racial bias in downtown Portland, Oregon. In a controlled field experiment, six trained male participants (3 White and 3 African-American) simulated crossing at unsignalized midblock marked crosswalks while trained researchers recorded the number of cars that passed and the time until a driver yielded. Findings revealed that the African-American pedestrians were passed by motorists twice as many times and experienced wait periods that were 32% longer than White pedestrians. Similarly, another study out of Las Vegas led byCourtney Coughenour, an assistant professor at University of Nevada, examined similar driver yielding behaviors, but used two female participants (1 White and 1 African-American) at crosswalks on multilane roads in low-income and high-income neighborhoods. Again trained researchers cataloged more cars passing through the crosswalks while the African-American pedestrian was in the roadway compared to the White pedestrian within the high-income neighborhood. Both studies demonstrated that African-American pedestrians experience discriminatory treatment by drivers at crosswalks, which could result in fatal consequences. Although research has yet to explore the "Biking While Black" matter, Equitable Cities LLC issued a report last year on the pedalcyclist crashes in South Carolina from 2009 to 2017. It was determined that nearly 40% of the bicycle crashes involved African-American bicyclists even though this demographic makes up only 27% of the population. Furthermore, African-American South Carolinians were more than 1.5 times likely to be a victim of a bike crash than White South Carolinians. Interestingly, the "Biking While Black" expression also pivots back to the initial racial profiling signification. In cities throughout the U.S., such as Chicago, Tampa and Oakland, African-American bicyclists have been shown to be unfairly targeted and ticketed by police departments. For example, statistical analysis of Chicago Police Department data found that more than twice as many bicycle-related citations were written in African-American neighborhoods when compared to White communities.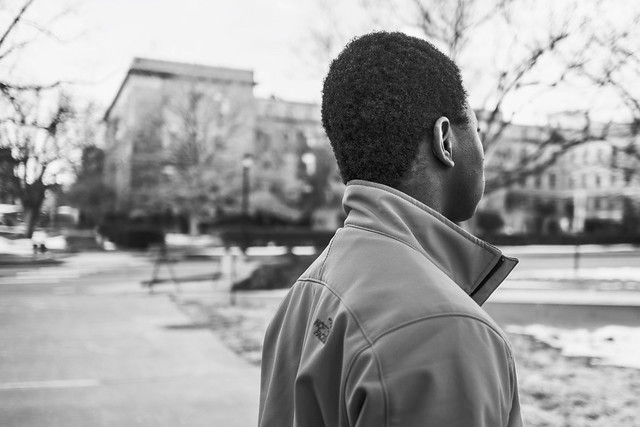 In May 2018, Sherell Lewis Jr., an African-American man, was removing debris from the middle of Highway 171, roughly an hour outside of Lake Charles, Louisiana, when he was struck and killed by a pick-up truck driven by Matthew Martin. The devastation of this deadly incident was overshadowed by a slew of racist and incendiary remarks on social media by the driver, a White man who was quoted as saying he "hit some n-gger on the highway." Even though this tragedy may seem like an extreme "Walking While Black" example, it is one that cannot be ignored when researchers and public health advocates promote active transportation initiatives. Active transportation is defined as walking, cycling or other non-motorized modes of human-powered transport as a means of travel. While active transportation can be used as a very simple and inexpensive strategy to address the physical inactivity and overweight/obesity public health issues affecting over 65% of the U.S. population, there is an inherent level of privilege with being able to freely walk and cycle in certain spaces without being subjected to discrimination, microaggression, violence and death. Unfortunately, this privilege is not and has not been extended to many African-American active transporters, such as, Sherell Lewis Jr., Amir Brooks, Charles Goodridge, Jordan Baker and Treyvon Martin. For some, a fundamental paradox exists between the public health benefits of active transportation and the potential negative consequences of a simple walk to the store or a bike ride to work. Nearly, 80 years ago when the first edition of the Negro Motorist Green Book was published, it served as a temporary solution to wade through a profoundly stained period of U.S. history. Today, there is no Green Book for motorists, but there is also no Green Book for walking or for any other non-motorized mode of transport, despite the apparent need for many African-American travelers. More importantly, the unfortunate question remains as to why this need still persists in the U.S., a country claiming a "post-racial era" status.
---
Jennifer D. Roberts is in the kinesiology department at University of Maryland, College Park where she researches active living and public heath outcomes. She is the director of the Public Health Outcomes and Effects of the Built Environment Laboratory and a Harvard JPB Environmental Health Fellow.