The Negotiated Livelihood of the Tribal Women Vendors of Koraput, India in times of the Pandemic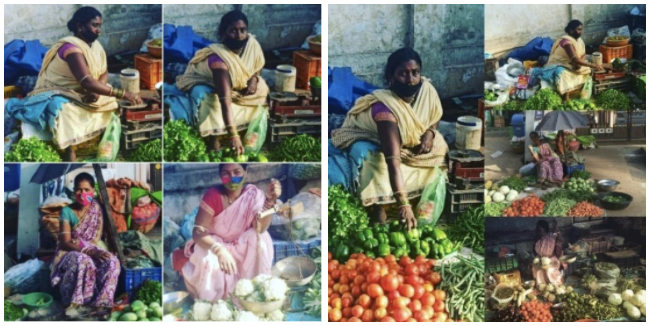 The Covid-19 pandemic has made the visibility of the hard times undergone by the people working in the informal sector like the tribal street vendors, in Semiliguda Block in Koraput, Odisha as the tribal society is matriarchal in nature, we find women heading households, and women are equal breadwinners of the family with men. These tribal women cannot avoid the pandemic by working at home or following the norms of social distancing because it will ultimately lead them to poverty and loss of livelihood. Though they are an important inclusion for the development of the economy, the circumstantial lockdown and lack of social protection has somehow marginalised them and made them vulnerable. The pandemic poses a grave threat to these indigenous communities as they have been a subject to socio-economic marginalization and at a risk of public health emergency. As we move to the second phase of lockdown with no timeline for a pause, there is a need to rethink about the livelihood of these women-headed households, their captivity and burden of responsibility.
Tribal Women Vendors at Crossroads
These women vendors residing a bargained lives as majority of these tribal women on a daily basis sell fruits, flowers, and other daily provisions and negotiate the products with the buyers and ultimately earn their livelihood but with the outbreak of pandemic there is loss of livelihood, surrounded with debts, limited access to health services and other forms of stigmatization which is a major threat to their social well-being. There were various compromises that these women had to do, with the wreaking havoc of lockdown, had to walk daily from different villages, due to unavailability of vehicles, helplessness, lack of nutritious food, need for recharging mobiles, care for children and their needs, gas for cooking and the entire needs of the family which was not fulfilled and pressures on women have been mounting. According to the ILO Covid-19's Impact on the informal sector is equivalent to 195 million jobs lost. There are approximately 4 crore street hawkers in India of which 1/3rd consists of women. 
There has been disrupted access to services in times of lockdown and these tribal vendors have limited access to necessary services and lockdown has ultimately magnified their problem throughout the pandemic and has intensified the everyday life struggle.
During the field study conducted in the daily markets of Semiliguda Block, Koraput Odisha, India, Manju, a 33 year old tribal women vendor who sells flowers at the Semiliguda Market in Koraput says, "I have to come to the market every-day, I cannot work from home and avoid the pandemic otherwise my children will be starving. Social distancing and working from home are for the rich and not for the poor people like us."
Caught between Covid and hunger, Usha who sells vegetables at the local market voiced, My husband is not working as he is handicapped and all the responsibilities of my family is on me, I have to care for my old in-laws, my husband and my children, if I don't come to sell vegetables, to the market by fearing the pandemic, my family's survival will be a threat as we don't have any insurance plans and policies."
The livelihoods of the street vendors need to be secured. The Street Vendors Act 2014 provides that street vending as a livelihood opportunity for most of the vendors should be provided with a designated vending areas and registration of these vendors is necessary for protection and social security benefits.
Suja, a 22 year old woman who sells the fruits in the market, said that "people fear to contract virus and do not come near us. People say to me that I may be unclean so, I may have the virus in me. The people run away from me, if I come closer to show the vegetables, in this context there is less selling of fruits or sometimes no one buys fruits." This reflects the stigmatisation that these women vendors undergo with the pandemic.
A study conducted by WIEGO (Women in Informal Employment: Globalizing and Organising) reflected that in the initial months of lockdown many vendors lost their work and when lockdown was lifted recovery was slow. As we move towards the second phase of lockdown, lack of an efficient social security for these vendors might be a hindrance for their development. Though there have been policies and programmes but there are many vendors who have not been legally identified for the occupation of street vending for which they are unable to usher the benefits.
With their hand to mouth existence these tribal street women vendors suffer from abject poverty. Anu, a 35 year old woman who sells vegetables and whose husband died and now lives with her son, opined "I have to work for my son's online classes, he wants to study, I have to recharge the mobile buy all equipments for him, I want my son to become a officer and not a street vendor as life is very difficult for me. I cannot avoid Covid as my sons' education will be affected." The rise in dependency of online and e-commerce has affected the street vendors miserably where they suffered from acute misery when people feared them carrying covid and shopped online or from other retails. 
Aru, a 40 year old woman who sells spices said, "The market looked very empty during the pandemic. I thought now no longer will people come and sometimes streets become so lonely many drunkards disturb me but I ignore and focus on my work then to revolt as times were too uncertain for me."
Sumitra, a 30 year old tribal woman who sells fish said, "I am uncertain as day by day pandemic rises and stress and tension is building up, I don't know how difficult it will be to contribute to my family and care for my children. I have lost all hopes; somehow the pandemic has affected their mental health."
Lessons from the Pandemic
As the world prepares for phase two of the pandemic induced lockdown, the need for appropriate marketing strategies is required for these tribal women vendors. The lockdown has been a major eye-opener for the recognition of their profession as street vendors and to get all their major needs for social protection met.
As they have learnt the pandemic protocols of masking and better sanitation, there also arises a need to empower these street women by online medium of selling of products and giving them better benefits for the survival of their livelihood as we are gradually approaching the second lockdown. If online is not feasible, cleaning of the spaces where they sell their products and following proper guidelines can somehow give them a sense of relief from the pandemic and poverty and their livelihoods can be protected.
For fixing the economy, it's needed to empower these women in every sphere so they can live a life with dignity irrespective of the circumstantial problems. The pandemic will continue and one has to survive with it specifically the women vendors with specific arrangements for their livelihood in these times of pandmeic, the public spaces must be protected where they sell their products, and they need to be empowered from the menace of pandemic by restoring their social well-being.
---
Dr. Nupur Pattanaik is a lecturer in the Department of Sociology at the Central University of Odisha, Koraput. She specialises in issues of gender, migration, tribal and labour sociology.