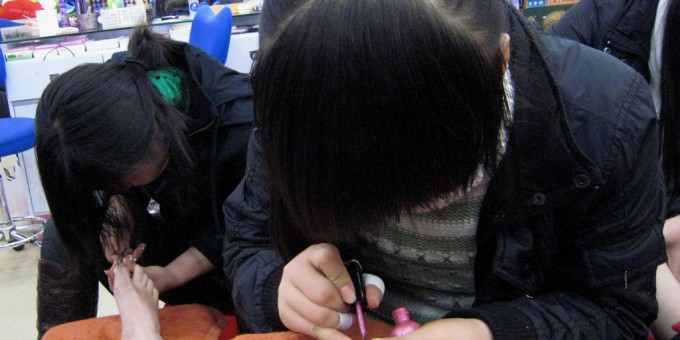 Trouble in the Nail Industry
How can we address labor rights violations in nail salons without making immigrant workers more vulnerable, painting all nail salon owners with a single brush, and fueling anti-immigrant sentiment? What can sociology bring to this conversation?
Sarah Maslin Nir's recent two-part series in the New York Times, "The Price of Nice Nails" and "Perfect Nails, Poisoned Workers" brings in-depth investigation and much needed attention to labor rights violations, toxic exposures and occupational health issues in New York City nail salons.
This is a story that needs telling, but how we tell stories is as important as that we tell them. I applaud and agree with much of Nir's reporting. But some of her language and arguments run the risk of blaming immigrant small business owners for conditions they alone did not create and cannot fix by themselves. At the same time, it lets others, especially customers, mostly off the hook.
In this post, I apply various sociological concepts to fill in some gaps in the NYT coverage of problems in the nail industry.
Nir addresses many factors that contribute to exploitative working conditions in nail salons, but she asserts most strongly that a "rigid racial and ethnic caste system reigns in modern-day New York City, dictating not only pay but also how workers are treated." She then describes how Korean workers are the highest paid, next Chinese, then Hispanics and non-Asians. Racial and ethnic hierarchies without a doubt exist within the salons, but are they the main force dictating how workers are paid and how they are treated?
We sociologists call this the problem of determining salience. How strong of a factor is this racial and ethnic wage gap in shaping the sub-standard pay and working conditions in the salons? In my own research, I found similar practices in which Korean workers are paid more than other workers, but being the highest paid workers in an industry whose entire wage structure is suppressed is hardly winning the lottery. It does not result in some workers being winners and other losers, but in some workers scraping by with a few more dollars in their pockets.
The conditions in these salons—as in many other workplaces–emerge through a complex chain of customer demand for cheap, quick services, lack of regulation, lax enforcement of existing laws, globalized labor migration flows, and ultimately, the bottom line of profit-driven, winner-take-all markets and mentalities. In some places, Nir's article recognizes this. But in others, it veers into stories of Mercedes and Cadillac-driving Korean owners with undocumented workers crammed into their basements.
How are these two story lines connected? Sociologists refer to this as making micro-macro linkages. Korean immigrants, and all small business owners, make choices about how to run their businesses, but to paraphrase Marx, not in circumstances of their own choosing. Nail salon owners must be held responsible for violating labor laws. But they cannot be held solely responsible for causing and fixing deep-rooted social problems and inequalities.
This brings us to the problem of generalizability. Nir conducted extensive interviews, over a hundred. This is formidable and committed reporting. But does it take into account that people who are willing to tell their stories often have the most horrific stories to tell? This in no way invalidates their stories, but it asks how representative they are. Are her respondents what we refer to as outliers, people on the extreme side of an industry with a great deal of variation?
Like Nir, I have also interviewed over a hundred people connected to the nail industry, and I conducted field work in over a dozen salons over the course of over a decade. I have seen many changes in the industry, and even significant changes in a single salon, as owners, workers and customers turn over rapidly. I have seen labor conditions similar to those described by Nir, but I have also seen thousands of mundane interactions in which workers perform manicures for relatively decent wages in mostly decent working conditions, although potentially toxic exposures are always looming in the air. These interactions also need to be part of the story.
My hope is that the NYT coverage will open rather than foreclose more in-depth conversations focused on cooperative, sustained, and multi-pronged approaches to reforming the nail industry. And that sociologists, journalists, policy makers, advocates, owners, workers and customers can work together for industry-wide changes, without vilifying immigrants or making them more vulnerable.
Recommended resources
Roelofs, Cora and Tuan Do. 2012. "Exposure assessment in nail salons: an indoor air approach." International Scholarly Research Notices Public Health.
National Asian Pacific American Women's Forum. "The Nail Salon Industry and the Impact of Cosmetic Toxins on API Women's Reproductive Health." February 2008.
National Healthy Nail and Beauty Salon Alliance. | link
Miliann Kang is Associate Professor of Women, Gender, Sexuality Studies and affiliated faculty in Sociology and Asian/Asian American Studies at the University of Massachusetts, Amherst. She is the author of The Managed Hand: Race, Gender and the Body in Beauty Service Work.