Gentlemen Prefer Stouts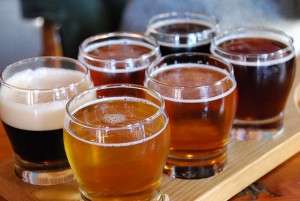 Most craft beer enthusiasts will tell you that the right beer can enhance your food, complement the seasons, and improve a casual evening with friends. But can craft beer also reinforce gender? Yes it can, say experts.
Food choices establish boundaries in a variety of ways. In the craft beer scene, which focuses on small-scale and independently produced beers, these boundaries are becoming increasingly gendered: women and novices are steered towards fruit beers, hefeweizens, blonde ales, and wheat beers; men are encouraged to try double IPAs, bourbon aged stouts, and high-alcohol winter warmers. Styles normally associated with women and novices are often seen as a good introduction to craft beer. Less challenging to the palate, they tend to be described as fruity, refreshing, light, crisp, slightly sweet, or lightly spiced. Typically, women are not expected to move beyond these styles. Bolder flavors—hoppy, bitter, thick, resinous, or warm with alcohol—tend to be reserved for men, who are encouraged by their "beer geek" peers to
advance beyond "girlier" offerings.
Psychologists Thomas Alley and Jeffrey Burroughs (Journal of General Psychology, 1991) say that this is expected: men are more attracted to new and unusual foods, while women are more likely to seek familiar foods. However, owning a uterus certainly doesn't prevent one from exploring the manliest of beers.
Social scientists Alice Julier and Laura Lindenfield (Food & Foodways, 2005) remind us that gender-specific food choices are about gendered performances, not ingrained preferences. The girl who says she only likes hefeweizens and the guy who pretends to enjoy the 18% imperial IPA are both reinforcing dominant notions of masculinity and femininity.
Gendered food choices are also subject to change; today's butch brew may be tomorrow's feminine fermentable. Personal experiences, such as exposure to different types of food, can alter the relationship between gender and food.
Such complexities make the future of gendered craft beers uncertain. Will advertisers solidify these norms by marketing styles to each gender? Will female beer geeks rise up and challenge these norms?
One would hope that, one of these days, everyone will just be able to relax, let go of gender, and have a beer.