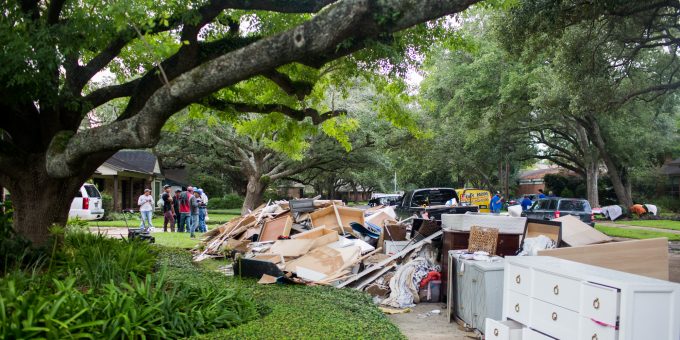 Hurricane Party
On Saturday evening, August 26th, Hurricane Harvey was bearing down on the Texas Gulf Coast. Houston had been hunkered down for more than 24 hours, but only mild rain and wind had come.
Some proclaimed the storm a dud. Houston's weather guru, Eric Berger, whose Space City Weather website is followed by thousands of avid Houstonians, had warned us for several days that there was a worst-case scenario in which we might get 40 inches of rain—an unimaginable tally. When hype-free Eric gets nervous, so does Houston.
Our streets are actually designed to be Houston's drainage system, transforming into rivers to shunt floodwater into the bayous and on to the Gulf of Mexico. Long-term residents know not to drive during hard rains. Still, one resident of the Meyerland neighborhood, known to be a generous hostess, opened up her home to any neighbors able to venture a few blocks. She wrote on Facebook: "Anyone willing to walk/drive to our house for an early dinner tonight? I'll cook and make drinks for you ❤️❤️❤️." And thus, the "Hurricane Party" was born. More than three dozen neighbors and kids flowed in and out of the house that evening. They pulled up chairs and cushions or sat on the floor as they drank wine, ate good food, and enjoyed the company (if a little uneasily). The older boys huddled on a bottom bunk bed, playing video games, while a wooden train table drew the younger kids. In less than 5 hours, most of the party-goers' homes would be flooded—some by as much as 47 inches of brown, sludgy, smelly water.
A few hours into the party, its hostess added a new Facebook post with photos of the party, including a now-poignant giant pile of shoes (grown-up and kid sizes jumbled together at her front door) and one notable image captioned, "Um, who the hell brought a Yankees cap into my house?!" A neighbor quipped in response, "Maybe you can use it to bail flood water later." Later, the hostess would post a new photo: a growth chart showing her three children's heights, now with a new line right around twelve inches: "Harvey."
As darkness set in and the rain began to pick up, families began to collect their kids, take a cookie or two, grab one last cocktail in a Solo cup, and head home. Those homes, for the moment still dry inside, looked strange, as though they'd been turned upside down. In preparation for flooding, the furniture was elevated on concrete blocks. Kitchen appliances were piled high on top of the kitchen cabinets. Televisions were stacked on top of refrigerators, and important papers, photographs, and mementos were stuffed onto the top shelves of closets. The party guests had prepared their homes for the worst before heading to the party for one last celebration before the deluge.
In Meyerland, the community runs as deep as the floodwaters. Unchecked development in Houston's exurbs has turned this central floodplain neighborhood of mid-century modern homes into an unplanned reservoir. We experienced devastating floods on Memorial Day 2015 and again, just as those repairs and renovations were completed, on April 15, 2016 (the "Tax Day Flood"). And between those watery springs, about 2/3 of the entire neighborhood flooded at least once. So, that night at the hurricane party, the guests were experts: they knew what to expect, what to do, and that they could hope for the best, but their homes were likely going to flood. They also knew we would help each other rebuild, yet again.
Why don't Meyerland residents pick up and move? Why would anyone stay in a home and a neighborhood that flooded three times in three years? Some of us can't leave, our life savings sunk into unsellable properties, but most of us simply won't leave the community that has sustained us through multiple disasters. We don't expect most people to understand: this is our home, these are our people, this is our hurricane party.