Occupy Hong Kong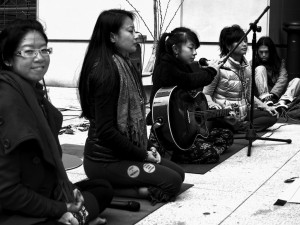 Occupy Hong Kong was China's contribution to the global Occupy movement. Launched in mid-October 2011, the activists planted their anti-capitalist message in the center of Hong Kong's Central Business District. They took up residence in a large public open space beneath the iconic Hong Kong Shanghai Bank of China (HSBC), situated at the crossroads of major financial, shopping and tourist areas.
Signs protested neoliberalism, the banking system, and state suppression. A tank signified the 1989 crackdown on student protesters in Tiananmen Square. Inside the camp were tables and message boards for activists, and meeting, living and meditation areas.
Following the trend of other world cities evicting occupy settlements, Occupy Hong Kong ended one day last September, as more than 100 guards and bailiffs descended upon the plaza, expunging all vestiges of the protest. It reflected China's and the local power elites' belief that Hong Kong should be an economic rather than a political hub which, given Hong Kong's nickname, the "City of Protests," was ironic indeed.