Racism on Campus: Yearbook Pictures From Prominent Virginia Colleges (1890-1930)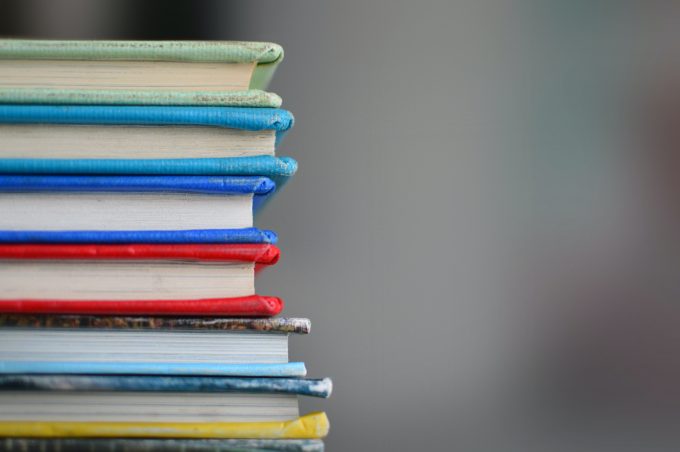 Trigger Warning: Images and words in this article may be triggering to some of our readers as some of the photos feature racial slurs and anti-Black violence. As disturbing as these images and words are, Contexts Magazine aims to be transparent about the historical and current ways that racism manifests in the United States and around the word. This is one such example.
---
What do college yearbooks tell us about the social histories of universities? We asked this question during a political scandal following the discovery that Virginia Governor Ralph Northam's personal page in his Eastern Virginia Medical School yearbook (below) featured a man in blackface standing beside another dressed as a member of the KKK.
Since then, we have discovered thousands of pictures that depict racism published by prominent colleges throughout the state. Below, we present a small amount of this yearbook content as evidence that racism has long dominated campus life at Virginia colleges. This was particularly the case during periods when black labor was critical to maintaining these campuses, yet black men and women remained excluded from attending these schools as students.
The pictures presented below were published from 1890 to 1930 when these institutions acted as incubators and hubs in the dissemination of a destructive ideology that ordered race relations throughout Virginia and the South. This was a time when black men and women in Virginia were systematically disenfranchised and often terrorized throughout the state. All the pictures below were first published by three universities that are located approximately 60 miles from each other in central Virginia: The University of Virginia (UVA), Washington and Lee University (W&L), and James Madison University (JMU). Like today, UVA was among the most prominent public colleges in the country and W&L, a prestigious private college. Both were men's colleges. By way of contrast, James Madison University was originally the State Normal and Industrial School for Women in 1908. With a focus on women's education, it was generally considered a progressive regional institution.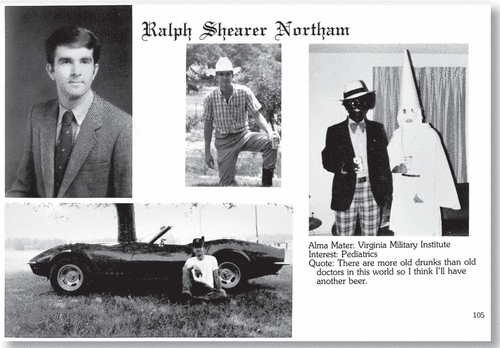 Racial Caricature and Racial Humor
By far, the most common representation of black Americans in UVA (Corks and Curls) and W&L (The Calyx) yearbooks are caricatures that reflect common racial stereotypes of the period. By way of contrast, in JMU yearbooks (The SchoolMa'am) it was rare (6 pictures total) to encounter these types of pictures. Here, men (at UVA and W&L) appear to have been far more active than women (at JMU) in constructing and spreading the most malicious racial stereotypes of the period.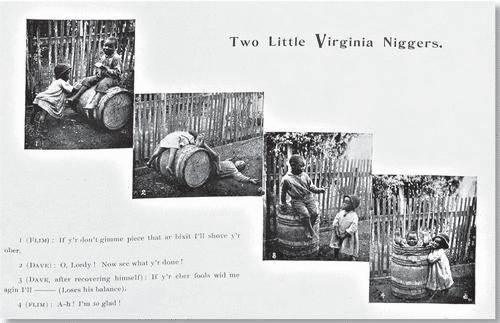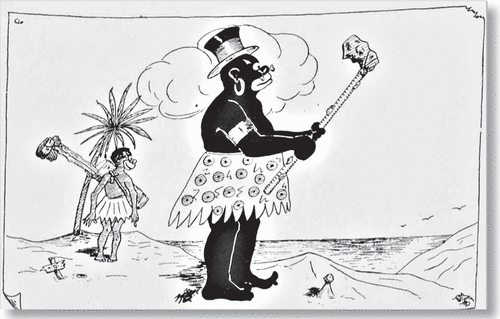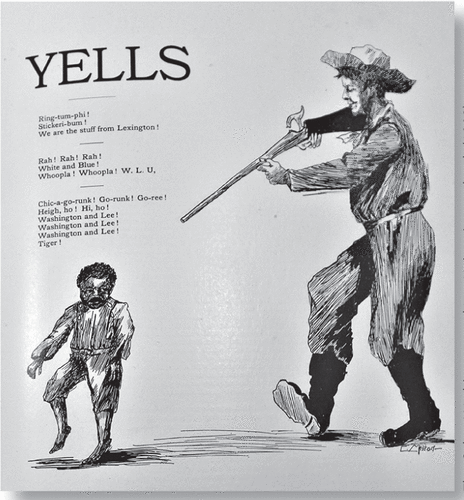 Black Labor: Service at the University
In the yearbooks, some pictures show university workers. Here, black labor—men and women employed as waiters, barbers, laundresses, landscapers, cleaners, handymen and janitors, etc.—maintained these campuses and "served" white students.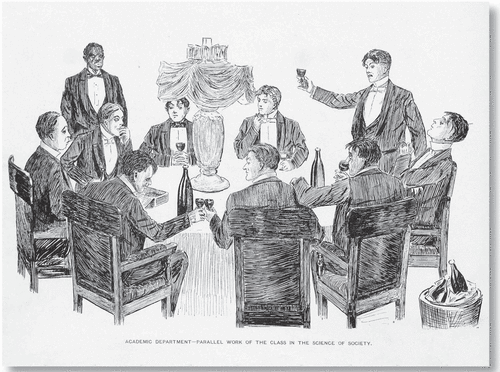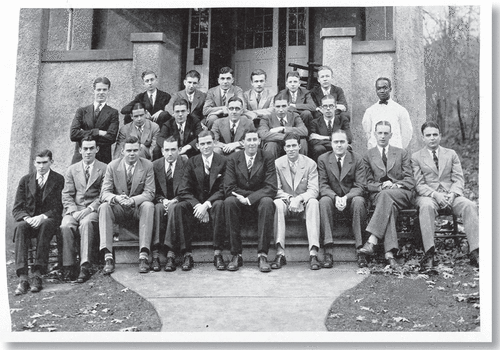 Sport and Entertainment on Campus
Washington and Lee sports teams were among the first to enact the so-called "gentlemen's agreement" in which they demanded opposing teams "sit" their black players. For example, in October 1916 when W&L football team traveled to Rutgers they threatened to forfeit if Paul Robeson (later a prominent singer and actor) was allowed to play. The University of Virginia also quickly adopted the "gentlemen's agreement," which continued until after World War II.
Other forms of campus entertainment were racialized. At the time, the "minstrel show" was a popular entertainment form throughout the United States and on campuses where choral groups often also performed in blackface.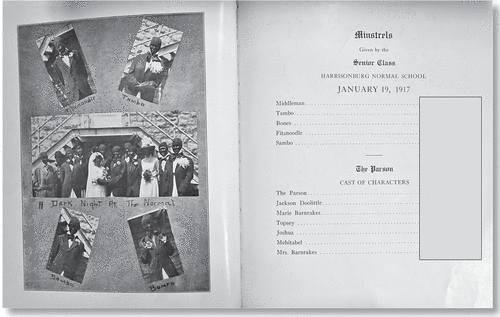 Civil War Memorialization and the "Lost Cause" of the Confederacy
The period when these pictures were published corresponds with the creation of a mythical social history often described as "Lost Cause of the Confederacy" (below). The tenets included the idea that southerners fought valiantly during the "War of Northern Aggression" to preserve a chivalrous society. Also, that "Northerners" did not understand the benefits, for all involved, concerning the institution of slavery. It was also argued that enslaved people came from "primitive" societies, and without the guidance of white masters, they were reverting to a primitive social condition.
The mythology associated with confederate General Robert E. Lee was at the center of this narrative. Here, it is not surprising that R.E. Lee is memorialized in W&L yearbooks because he was, in fact, the President of "Washington College" for five years (1865-70) following the Civil War. Shortly after his death in 1870, the college was renamed "Washington and Lee," and his mythology became an important foundation upon which the college was built. For example, there is an extraordinary memorial on the W&L campus—a 600 seat church commissioned by Lee before his death—that interns his body in a family crypt located below the chapel. In the center of Lee Chapel is a slightly larger than life-sized statue of a "recumbent" Robert E. Lee in which he is rendered "asleep" on the battlefield. Here, "Lee Chapel" was essentially a mausoleum designed to help maintain the civil religion of the "Lost Cause."
During this period, many regarded the Ku Klux Klan with admiration. There is content in both the W&L and UVA yearbooks (none appeared in The SchoolMa'am) that presents pictures of KKK figures directing violence toward black men, women, and children (at right).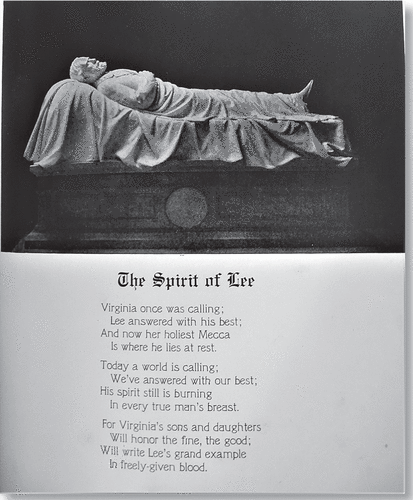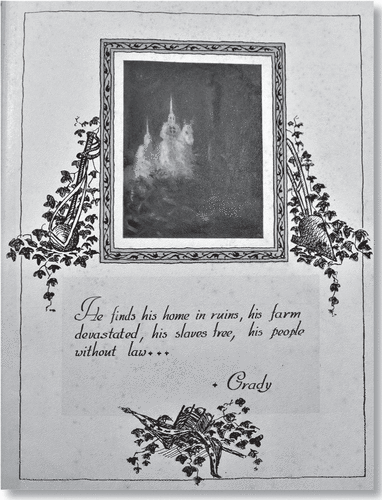 Conclusion
We believe that if faculty, administrators, students, and staff associated with universities throughout the country are serious about redress for past periods of racism, they need to confront how pernicious institutional racism was in the past, and how destructive it is now. The previous material from prominent Virginia colleges was not published through happenstance—it was scrutinized by students and probably faculty before publication—it represents the accepted social history that ordered race relations at these schools and the wider society.
Currently, some at these schools are trying to find constructive ways to confront ongoing racial bigotry. Here, you must contemplate the previous pictures in a "clear-eyed" manner concerning educational institutions' role in creating and maintaining ideals that fuel racial hatred at the present time. For example, we began collecting these pictures not long after a white supremacist "Unite the Right" march took place on the UVA campus. The event ended in violence when Heather Heyer was killed after being run over by a car driven by James Alex Fields, a self-identified white supremacist. Many found these events remarkable—Charlottesville, Virginia is now considered a liberal university community—but a white supremacist organizer of the march, Richard Spencer (a UVA graduate), sometimes insinuated that the community's history made it an ideal place to hold this protest. The material presented in this essay helps explain how a "modern-day" white supremacist can be a UVA graduate, and why he regarded Charlottesville, Virginia as a place where his ideals could find support.
---
Stephen Poulson is in the Sociology Department at James Madison University. He is the author of Racism on Campus: A Visual History of Prominent Virginia Schools and Howard University, scheduled to be published by Routledge Press in 2021.