The New Workplayce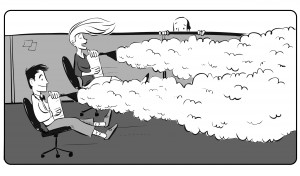 Does all work and no play really make Jack a dull boy? In a 2006 TED talk, education writer Sir Ken Robinson warned that "we are educating people out of their creative capacities." The founders of IDEO, a Palo-Alto based international design company, would probably agree. By blurring the boundaries between work and play, the company has given birth to collaborative, human-centric inventions, such as a smartphone-charging handbag.
IDEO "look[s] like a cross between a cool Montessori school and a crash pad circa 1970," according to Fast Company correspondent Linda Tischler. "There are tubs of markers and easel pads of paper everywhere; Post-it Notes litter the walls of conference rooms…A vintage Volkswagen bus has been converted into a meeting area, complete with beach chairs on the roof."
Describing play as "the cradle of creativity in organizations," researchers Charalampos Mainemelis and Sarah Ronson contend that "play facilitates exploring different perspectives, creating alternative worlds, assuming different roles, enacting different identities, and also taking all these, and the players themselves, out of the cognitive contexts in which they normally operate." Even diversionary play, or play that doesn't involve work-related tasks, can help foster creativity (Research in Organizational Behavior, 2006).
Organizations that don't embrace play culture can instead invest in "serious" games, or "games that contribute to the achievement of a defined purpose," according to Irina Verenikina and Helen Hasan. In The Social Innovation Network 2010 eBook, they showed that using an online strategy game promoted collaborative learning and inter-departmental communication.
So the next time your boss critiques the toys on your desk, remind her that they might be making you a better employee.