Another mass killing in a gay bar
Since 2016, I've been to over 250 gay bars as I crisscrossed the country interviewing over 130 gay bar owners and managers for
a forthcoming book
. On the afternoon that I visited Club Q in Colorado Springs, it was abuzz. They were preparing for the night's event, the 2018 Winter Cotillion of the
United Court of the Pikes Peak Empire
, Southern Colorado's chapter of the International Court System, one of the largest LGBTQ+ membership organizations in the world. In 2021, the local court raised more than $54,000 for various local charities.
Gay bars are synonymous with charity events, and drag is as much a fundraising powerhouse as a performance art. I call gay bars not-quite-for-profits. Their owners tend to have day jobs, and they all agree that they could make more money from a straight business. The bigger value, to them, is the creation of community.Journalists don't contact me when new bars open, when they set new fundraising records, or when their events send queer joy spilling into the streets.
* * *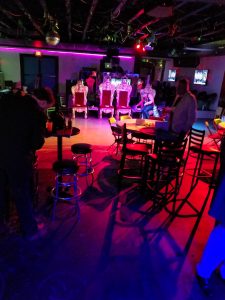 Outside, Club Q was a low-slung one-story building northeast of downtown on the interior of a block between a Subway sandwich shop, a bowling alley, a Walgreens, and a mini-golf range. The bar was clearly marked by a large triangle sign on a post, and its walls were painted in vibrant rainbow panels: they did not hide their queer light under a bushel. A large rainbow Pride flag fluttered overhead, framed by the Rocky Mountain foothills.
Inside, a lavish buffet of slow cookers and mountains of store-bought cookies were assembled on folding tables, overseen by a gay elder wearing a unicorn onesie. On the dance floor, attendants arranged four golden thrones, upholstered in red velvet, under professional stage lighting. A seated judge in a white gown balanced a towering crown with aplomb as she organized her papers. The back bar featured illuminated bottles of liquor under a sign for Jared Polis, who later that year would become the first openly gay man elected governor in the U.S.: gay bars have always been sites of LGBTQ+ politicking, whether for civil rights or uprisings against police violence.
Like many contemporary gay bars, Club Q also had a full-service kitchen. When I came out, back in the '90s, the thought of eating at a gay bar seemed like a recipe for grease and salmonella. These days, of course you should be able to eat in campy style while you drink, perhaps noshing on Club Q's "Gayoli fries," a "Q-sadilla burger," or the "Throuple," a three-cheese grilled sandwich.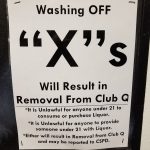 Club Q permitted under-21s. Most clubs don't bother, because young patrons are a hassle and attract the scrutiny of law enforcement. But here, a sign simply warned under-age patrons not to scrub the X's Sharpie-ed onto their hands to try to get a drink: "Washing off 'x's will result in removal from Club Q… and may be reported to [police]." Like many gay bar owners, Club Q saw providing a space for unprofitable 18-year-olds as part of their community-minded mission.
* * *
I didn't interview anyone at Club Q that day, because my target was in Pueblo, CO. Pirate's Cove was then a lesbian-owned club. Until it closed in 2020, part of the 50% reduction in U.S. gay bars over the last two decades, Pirate's Cove was the last gay bar along this road until you hit Albuquerque, NM, over 300 miles away. Stopping at Club Q was a bonus, a welcome halfway point between Denver and my destination. It gave me a chance to stretch my legs, use the bathroom, and peek into the queer life of Colorado Springs.
The city is infamous for Focus on the Family, a well-financed international hate group. It's long pushed gay conversion therapy, anti-queer politicians, and LGBTQ+ hate campaigns. Having a gay bar in its shadow is an act of resistance, and these days, Colorado Springs has two. Media reports that claim Club Q is the only gay bar in town are ignoring Icons, which opened downtown in 2021. These days, gay bars aren't just on the edge of town, but on the main drag.
Colorado Springs is also a military town—Club Q is on North Academy Boulevard, only 14 minutes from the South Gate of the United States Air Force Academy. Military personnel have been patrons of gay bars for generations. Part of the sea change in American attitudes about LGBTQ+ people, though, is the relatively recent welcome of openly LGBTQ+ servicemembers. Now they come to bars like Club Q wearing their uniforms.
Gay bars thrive in culturally conservative areas as much as they do in coastal metropolises. In 2018, Club Q was what I call an outpost bar. Outposts are the only LGBTQ+ spaces for miles around, serving small cities and vast rural regions by catalyzing local activism, giving a stage to queer performers, and serving as a beacon to local LGBTQ+ people.
Straight patrons aren't new to outpost bars—some have always been loyal to gay bars, for others they were the just the closest watering hole. Increasingly, across all gay bars, though, straight people are drawn in by drag performance, which is experiencing a golden age. For that reason, it didn't surprise me that the Army veteran who subdued the mass shooter last Sunday night was at Club Q's drag show with his wife, daughter, and her boyfriend, who was murdered in the attack. Assuming that every man-woman couple in a bar is straight, however, erases bisexual people and heterosexual transgender folks drawn to gay bars for queer communion.
* * *
I've seen others find, in the Club Q tragedy, an unimaginable attack on an LGBTQ+ safe space.
Gay bars have never felt like safe spaces for me. My partner and I have a deal: we don't go to gay bars without informing the other, and we let the other know when we've left safely. Yes, gay bars are often the only public places I feel safe holding hands with or kissing my partner on the lips. But people who rhapsodize about the safety of gay bars erase my experiences of anxiety, alienation, being roofied, and body shaming, and others' experiences of misogyny, racism, transphobia, and sexual harassment.
But the world is even less safe. In America, almost anyone has access to automatic rifles. Right-wing politicians use LGBTQ+ people as props, riling up their base with ancient lies that we're grooming children, when all along it's been LGBTQ+ children who are most at risk—of bullying, of family violence, of suicide. This slander was evoked by a right-wing journalist who, at the press conference after the attack on Club Q, asked if any children had been present in the adults-only club.
The public only takes note of gay bars when something bad happens. It makes being a gay bar expert utterly depressing. I feel an obligation to share my knowledge, but I also feel like a trauma vulture. Journalists don't contact me when new bars open, when they set new fundraising records, or when their events send queer joy spilling into the streets.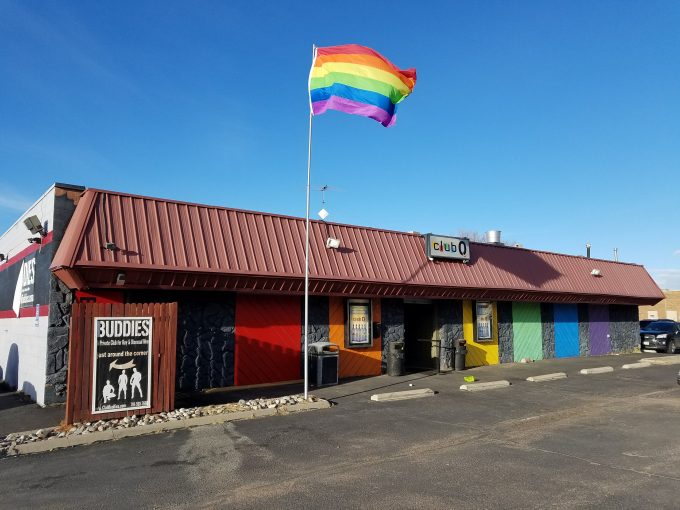 After the Pulse attack, I was angry. I immediately went to my local gay bar to be defiantly gay in public. After Club Q, I was too depressed to leave the house.
Shootings like this will happen again: in gay bars and grocery stores and schools and concerts and mosques and temples and synagogues and churches. In America, we value the freedom to own weapons of war over the freedom to just be.
---
Greggor Mattson is in the sociology department at Oberlin College and Conservatory. He is the author of Who Needs Gay Bars? Bar-Hopping Through America's Endangered LGBTQ+ Places.