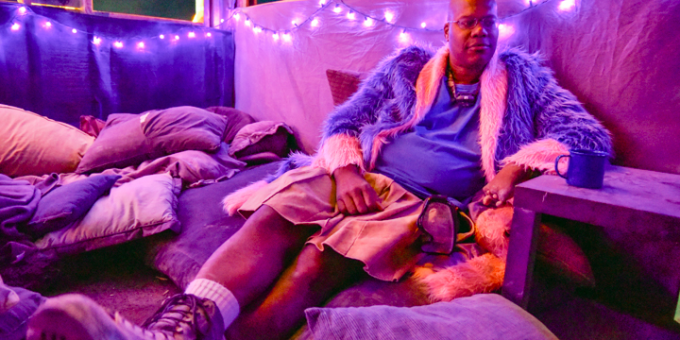 Black in black rock city
An ethnography of Black people at Burning Man
Last week over at the Guardian, we published my story "Burning Man's black campers explain why they are the 1%." It's my first write up of an ethnographic study of Black people who go to the annual Burning Man festival in temporary Black Rock City, Nevada. Because of the publishing dates, it may read as a response by actual Black campers (Black "Burners") to my interview with Burning Man co-founder Larry Harvey published a few weeks ago, in which he told me that "Black folks don't like to camp as much as White folks."  But I've been interested in "Black Burners" for some time, having become one myself when I first went in 2009.
That year, the only time I saw a Black man and Black woman together as a couple at Burning Man, it struck me how few Black people there were. Black Burners are only about one percent of the event's population according to its census (created by a team of demographers and anthropologists). I am used to being in nearly all White spaces, having worked in journalism over the past decade and entering academia now. But it did strike me as very strange that the first of Burning Man's 10 principles is "radical inclusion," while the event so substantially lacks non-White people.
I was very happy when I saw the Soul Train art car the following year in 2010, operated by dancing puppet legend Christopher, and thought I'd like to write about Black Burners eventually. Five years later, I finally returned to do so for the Guardian, where I wrote an overview of the art, a guide to 24 things to do in 24 hours (even if you hate techno music), the interview with Harvey and an oral history of Black Burners.
While the latter is only the first step in what will become a more formal W.E.B. Du Bois-style exploration of the Black Rock City Negro (his concept of "double consciousness" came up more than once), some interesting historical and sociological themes have already started to emerge. They include:
Black Burners wrestle with the commonly held belief that "Black folks don't like to camp" or do things outdoors
Prior to knowing what Larry Harvey would say about the matter, Black Burners had a lot to say about Black folks and camping:
My dad took us camping as a family, from coast to coast in Canada. I don't think we came across very many Black people along the way (Dug Claxton, Toronto, Canada)
I'm not supposed to want to camp because I am Black? You should never let anyone keep you from doing what you want. (Jamila Reddy, Los Angeles, California)
[D]espite the stereotype that African American folk don't camp, we have a long history of being in the wilderness…Think about how we ended up on this continent in the first place (Ashara Ekundayo, Oakland, California)
My parents raised us going camping, which was kind of odd for a Black family in North New Jersey (Tym Byers/"Sophomore", New York City)
Pleasure is difficult for Black People (and people of color in general)
Several Burners talked about the guilt that comes from having a good time:
Burning Man is part of my larger attempt to have a richer lived experience, around pleasure and responsible hedonism. And we grow up in a society where White men have access to pleasure, and pleasure is centered around the male experience. As a woman, we hardly look at our pussies! Even as progressives, we don't think about sex, about how to experience the universe through pleasure. And the problem is that fun and leisure have become the domain of White people. And that's how White supremacy works. It disconnects ourselves from our bodies, so that we grow to believe we are only here to be productive citizens. But our lives have value regardless of how "productive" we are. Burning Man helps us to find tools and practice and habits that help us be full human beings, and not just be contained or limited by our identities. (Favianna Rodriguez, Oakland, California)
There's a sense of survivor's guilt in pleasure for any group of people who have endured some nightmare, from genocide to dire poverty. We have to ask: Am I betraying my people if I have pleasure with White people here? (Nicholas Powers, PhD, Brooklyn, New York)
Going to Burning Man can feel like going to another country
Several Burners told me — and I agreed with them — that if you can get abroad, the weight of being black in America drops away. That's what called James Baldwin to Paris. They described Burning Man in similar terms to traveling overseas:
Being here is like traveling to another country. I've lived in Germany, Switzerland, Austria and France, and I've always had my own way of doing things. Travel has changed me. Traveling, I have seen people who did not see my color. It really affected me, when people would come up to me to help me if they saw I was lost. They don't know me! Back home, people would run from me on the street! These people would come try to help me, and I wasn't even asking for it! It's mind boggling to see how you're embraced in another country, by people who don't see color. If you have a nice smile, that's what they'll see. They won't see the color of your skin, or ask you where you come from. I've been to places where perfect strangers have embraced the heck out of me. Black Rock City does feel like going to another country, another space, another world almost. (Elliot Johnson/"Red Delicious", San Francisco, California)
Black Burners, like all Burners, are well educated
While I haven't formally processed the statistics, three of the 20-odd Black Burners I spoke to had PhDs, and I am en route to one. This fits in with Burners at large being a well educated lot: 27% have graduate degrees, 43 bachelor degrees. Several were working class, but the most common occupations of Black burners (professor, writer, teacher, arts curator) involved jobs requiring a high level of education — clearly a higher level of education, on average, than that of the African American population nationally.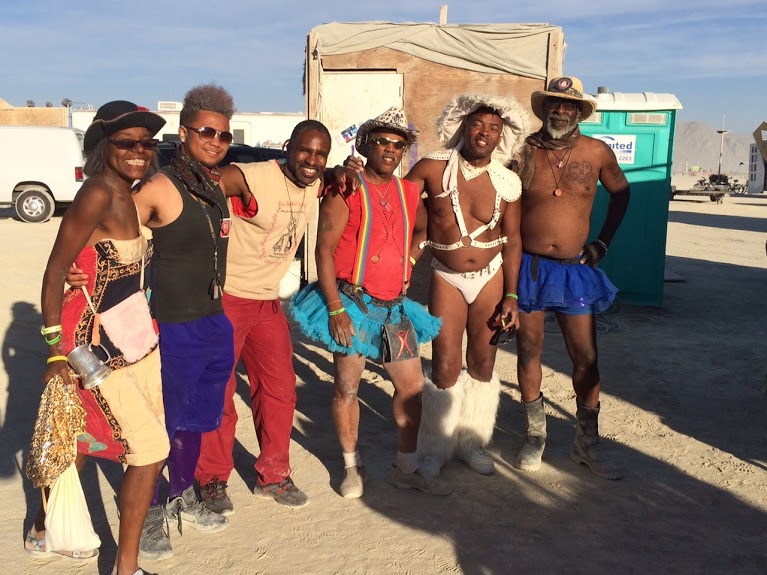 Personal invitations were what was likely to bring them to Burning Man
Most Black people I spoke to came to Burning Man because another Black person had invited them. Black Rock Roller Disco was a major portal for recruiting Black people to come to the playa, after David Miles, Jr. ("The Godfather") invited them. Miles has been running the roller rink for 15 years and brought all the people in this photo to Burning Man:
Miles had no issues with race at Burning Man and described his first visit this way:
The first time I came, people were like, "Oh my God! A Black guy! Are you OK? Can we get you anything?"
His friend, Christopher, said he came to Burning Man
deciding race would not be an issue. But David told me it was not an issue when he invited me, without even saying so. He told me it was the greatest experience he'd ever had. He told me it would renew my faith in my fellow man. He did not say, "Oh by the way, there's a lot of White people, but they're OK," because he sees no color. By not saying that to me, he told me what I just said: Race is not a big deal here. It's not even enough of an issue to mention it.
White fragility is a fraught subject
Talking about race at Burning Man was very difficult when White people got defensive about the need for the discussion. And, seeing the reactions of some of Burning Man's one million followers when the organization posted my story on their official Facebook page, White fragility comes up often. Mark Adolph of Seattle ("Leut") mused on the "radical inclusion" of such a White space this way:
Is radical inclusion about including people who come to you and want to be included? Or is it about reaching out and trying to pull more people in? On the Burning Man site, there is something which says radical inclusion should make you uncomfortable, and if you are just including the person you would have included anyway, it's not radical. I want to talk about that and pivot to race issues we've been discussing, and how difficult they are around White fragility, especially the idea that you have to make White people comfortable before they are willing to have the conversation.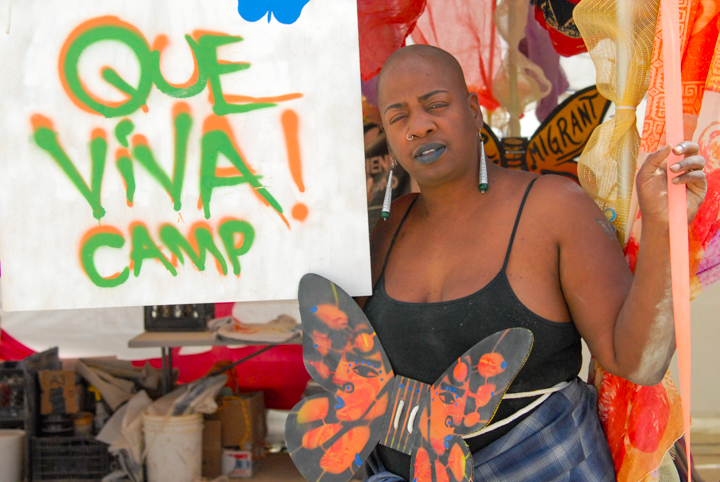 "Othering" still happens at Burning Man
People told me about being racially fetishized often. A Black man who did not want to be named laughed about the amount of sex he had:
As a Black man, I have a fantastic time here every year. I get a two week license, and even if I want to say no, it would be hard with these White women. This White chick runs up to me and says, 'Ooh, I want to see what's under your tutu!' And I am joking around and I say, 'Only if I can see what's in your panties,' and she grabbed me behind the bar. Took me, standing up, right there. Happened to me three times that day!"
But Tafrina DuBois of London emailed me after the festival to share her discomfort of being othered:
It was my first burning man as a Black female from London and I did notice the lack of diversity.  I've been travelling alone since January and haven't felt aware of my colour as much as I did at burning man.  Not in an aggressive way but in a way that White people were explicitly pointing it out to me… comments like "we need more beautiful Black women out here"…."not enough Black people come to burning man" etc., etc. I then began to feel conscious about it…
In one particular instance a White man came up to me in the dust and when we got talking and he heard my voice he was shocked…."you don't sound Black" he said.  "Most Black people just sound Black…. like when I'm on the phone, I'll know when I'm talking to a Black person, but talking to you, I would never know you were Black". Honestly I did not know what to say…confused about how to interpret that!
In another situation, having returned from the festival a friend saw my photo on Instagram. A photographer had taken my picture and written a whole story of how he always felt guilty for jerking away from a Black woman who had tried to kiss him previously. He went on to say that having met me and having me kiss him cured him of his guilt.  I found this weird…. especially since I have no recollection of kissing this man…. made me realise that racism was there in the playa but then again it's everywhere but perhaps feels more concentrated when you are in the dusty wilderness….
While I have started to find some common themes in responses I've also discovered that there is no such thing as the singular "Black Burner," any more than there is the "Black voter" or "Black citizen." Race and othering were on the minds of some Black burners, and not at all on others.
You can read the whole story at the Guardian. I am eager to interview additional Black Burners, and can be reached at steven.thrasher@theguardian.com.
Steven Thrasher is a columnist for the Guardian, and a graduate student in American Studies at New York University.