More Oscars Diversity Won't Solve Hollywood's Whiteness Problem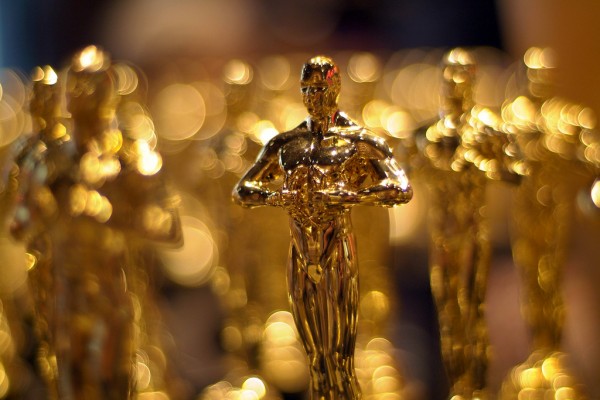 For the second year in a row, the Academy of Motion Picture Arts and Sciences released a disappointing list of Oscar nominees that is, like its members, overwhelmingly White, heterosexual, and male. As bad as that is, the biggest problem with #OscarsSoWhite isn't just that neither Ryan Coogler nor Will Smith will be taking home a statue on February 28th. It's that Hollywood remains inside a bubble of privilege, and that precious little emanating from it reflects what's actually happening in this country. For many Americans, everyday existence has taken on a greyish, dystopian cast; nearly a decade after the collapse of the economy, we're still living with depressed wages and lost jobs and homes, as well as rampant gun violence, and more mental illness than just about any other country in the world. And driven by high levels of substance abuse and suicide, mortality is on the rise for young and middle-aged Whites.
And yet, of the eight Best Picture nominees, only one (the surprise indie nominee Room) is a contemporary domestic drama. All the rest are historical or speculative, taking place anywhere from a decade to a century in the past or off in some distant future. In fact, the most overtly socially conscious of the Best Picture nominees may be the film about the financial crisis of a decade ago, The Big Short. A merciless depiction of the greed that flourished during the Bush years, it's the true story of a bunch of White guys with enough insider knowledge to exploit the system and get stinking rich. All of which is to say that Hollywood hasn't ignored the criminality of the financial services industry or failed to castigate the malefactors, the way, say, Washington has; in addition to The Big Short, we've seen Wall Street: Money Never Sleeps, Margin Call, and the Wolf of Wall Street. Still, it's telling that the producers bankrolling films keep returning to the rarefied world of finance, while the ordinary people who lost their livelihoods during the collapse are barely acknowledged by Hollywood.
You could say that that's just what moviegoers in hard times don't want to hear about: their own problems. It's a truism that the role of mainstream movies is to provide mindless entertainment and escapism for the masses. Recently, A.O. Scott, in an otherwise insightful Oscar roundup repeated that cliché, saying, "It may be that grim times call forth hopeful stories. That was true in the '30s, for sure."
Except that
wasn't
true in the '30s. The Depression did call forth escapist fare but it also elicited a great deal of biting social critique. Back then, Hollywood made big-budget movies with major stars that were designed to appeal to a nation of people who, like today, were both terrified and angry. For example,
Black Fury
examined the exploitation of coal miners, while
I Was a Fugitive from a Chain Gang
and
Hell's Highway
were unsparing in their critique of prison labor.
Heroes for Sale
was about substance abuse and unemployment among veterans,
Wild Boys of the Road
looked at teen homelessness, and
Make Way for Tomorrow
—made right around the time Social Security was enacted—captured the plight of elderly people falling into poverty during the Depression. Some films offered radical solutions to the nation's problems:
Gabriel Over the White House
attempted to show how a wise, benevolent dictator could solve the country's problems (since the ineffectual president Herbert Hoover had failed so spectacularly), while
The President Vanishes
advocated pacifism and anti-corporatism.
Cabin in the Cotton
implied that Southern sharecroppers were well within their rights in burning down wealthy landowners' houses. (According to film historian Thomas Doherty, the Soviet Communist leadership regarded
Cabin
, starring Bette Davis, as such a potent indictment of capitalism that in 1934 they made it the first American talkie green-lighted for screening in the U.S.S.R.)
For all their rabble-rousing, it should be noted that the studios of that time weren't brave. For example, Cabin in the Cotton's sharecroppers are all White; the disenfranchisement of Southern Blacks is entirely absent from the film. Showing the full scope of Jim Crow, however, would have alienated much of the ticket-buying public below the Mason-Dixon line, so Hollywood took the path of least resistance and biggest profits. This cowardice proves my point—the cravenness of not tackling racism in a film about Southern poverty shows that filmmakers weren't being heroic when they addressed social problems such as poverty and labor strife—they were being populist and catering to mass tastes.
When I look at how socially conscious 1930s Hollywood movies were relative to today, I can't help but think of how the crass moguls of 1930s Hollywood were self-made men—immigrants even—who were capable of conceiving that ordinary people might want entertainment that challenged the status quo. The power brokers of today's Hollywood, with their comfortable backgrounds and Ivy League degrees, seem to have much more limited imaginations. After all, the system has always worked just fine for most of them.
And so they bankroll bread and circuses for the masses in the form of sci-fi blockbusters. But are these movies as anodyne as they might appear? Perhaps not all of them. Mad Max: Fury Road shows us a landscape devastated by climate change, and a bleak world in which the haves brutally oppress the have-nots. It's especially a nightmare for women as this world sanctions rape and treats nubile females as baby incubators. Women are its greatest victims—and, at the end, the real victors. Similarly, the Hunger Games touches on problems plaguing poor communities: the pressure to send adolescents off to risk their lives in meaningless battles, the spectacle of young people killing each other while the state refuses to step in and help, the presence of the police as a paramilitary force constantly at the ready to put down the slightest sign of protest or insurrection.
Still, we'd probably be better off if American cinema explored these issues in more than just oblique, metaphorical ways. To their credit, American indie films do try to offer viewers realism, but there are reasons they tend to focus on well-educated, professional types. After all, these are the people (like, say, the newspaper reporters in Spotlight) that similarly well-educated indie filmmakers know best.
While the cost of film school isn't going to go down any time soon, the increasing affordability of filmmaking technology does provide some hope. It's been widely reported that director Sean Baker made his film
Tangerine
on the cheap
using iPhones. The casting of the film was just as groundbreaking: While mainstream movies rely on the box office track records of their stars to attract investors, Baker was able to cast two non-White transgender actresses in their first movie roles. Both Kiki Rodriguez and Mya Taylor are excellent as a pair of L.A. prostitutes, as spunky and sympathetic as their Depression-era counterparts. (Thankfully the racial stereotypes of the 1930s have been jettisoned.) The ability to keep filming costs low allowed Baker to cast the actors he wanted. The result: memorable performances by two new performers, as well as a film that felt very raw, surprising, and authentic. (Both Taylor and Rodriguez, whom Baker met at a community LGBTQ center, didn't just star in the movie; they consulted on the script.)
To be fair to the indie scene, there have been other fine independent dramas from the last decade that avoid preciousness and show Americans living in poverty or on the edge of financial disaster: Love Is Strange, Fruitvale Station, Frozen River, Winter's Bone, and Wendy and Lucy. (Not coincidentally, there's a good deal of diversity in these films on both sides of the camera.) One can only hope that the cost of movie making continues to drop so that the playing field can be further leveled and American movies revitalized from below. Then we might not care so much about Hollywood—and the awards it loves to give itself.
Rachel King is the Media Librarian at Long Island University-Brooklyn. A former journalist, she has written for for Salon, Newsday, Time Out New York, and Art & Antiques.