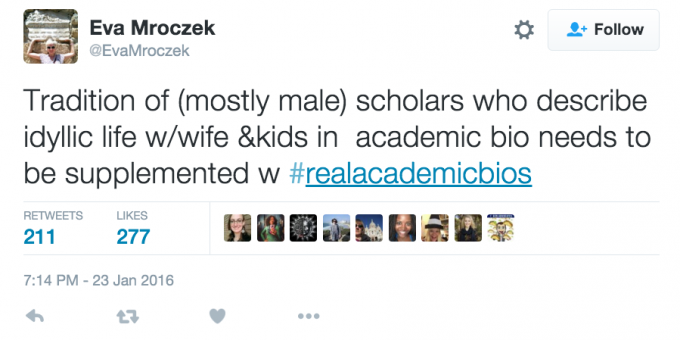 keeping it real with twitter and #realacademicbios
Social media has come to play a significant role in Higher Education. Academics use social media for many things, including public scholarship, professional networking, as well as activism. The many functions of social media are apropos of the changes occurring across much of contemporary society: replacing the water coolers of individual workplaces with a vast network to explore ideas, share knowledge and experiences, build social ties, speak truth to power, and even have some fun.
Academics know the value of networks all too well, both in terms of theory as well as in practice. There are some social media platforms, such as Twitter and Facebook, on which academics are especially well-connected. The growth of Twitter usage in professional fields has led to more formalized networked relations, and with that more instrumental forms of interaction and identity management. But what if those 140-character descriptions contained self-presentations with a more critical, less polished picture of the person behind the professional profile? Enter #realacademicbios.
#RealAcademicBios
The hashtag #realacademicbios emerged in late January, 2016 to express concern over the inequities of higher education. Between January 23 and January 26, 2016 I collected 6,823 tweets containing the hashtag using social media analysis platform, Pulsar Social. The majority of the results (5,433 or 79.6%) were reactions—retweets and replies—while the remaining 1,390 (20.4%) were original posts (see below).

Figure 1: #realacademicbios tweets on Jan. 23 – Jan. 26, 2016. Click to view larger.
The #realacademicbios hashtag was started when Eva Mroczek, a Religious Studies professor at UC-Davis, took to Twitter to call attention to inequalities in the professoriate (figure 2). Among the most prominent gatekeepers was Mel Thompson, an Australian scientist with over 7,500 followers who, like more than two hundred others, made a point to amplify and attribute Mroczek's tweets. This phenomenon is known as networked gatekeeping, where influencers share (retweet) posts, leading to increased visibility and engagement (figure 3). This also inspired a broader collective effort to expose the everyday realities of work and life as an academic.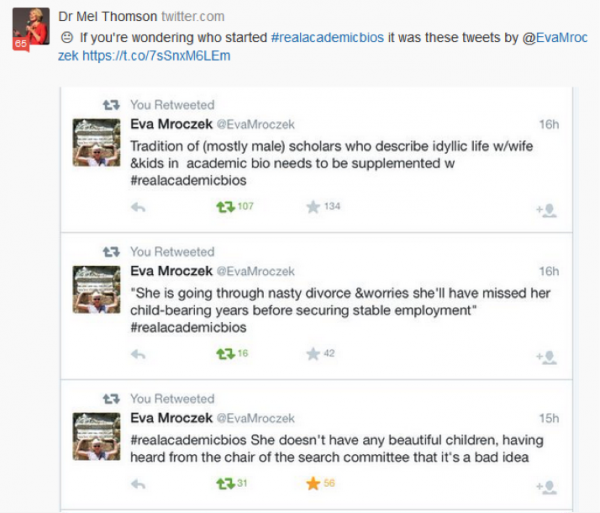 Figure 2: The origin of #realacademicbios. Click to view larger.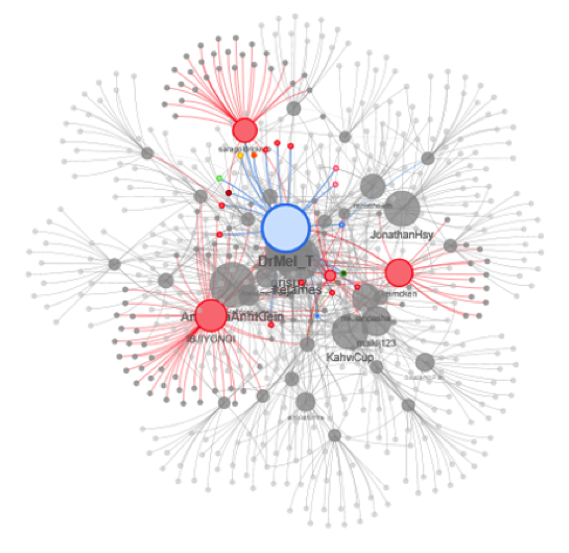 Figure 3: Network map of reply and retweet connections. Click to view larger.
The #realacademicbios tweets represent a variety of themes, but most can be viewed generally as an academically-minded expression of hashtag feminism. For example, the following tweets were among the most illustrative as well as the most widely shared:
Smuggled a breast pump into campus interviews & pumped in bathroom stalls because "Having a baby makes u less hirable" #realacademicbios 
Having to wear a full suit in order to be taken seriously while your male colleagues show up in Hawaiian shirts #realacademicbios
11 years post-tenure, earning $60,000 less than nearest male "peer" in my same school. For real. #realacademicbios
Faculty of color WORK for 7-8 yrs before being forced out. But they can sit on ALL of the committees because diversity. #realacademicbios
#realacademicbios worked my way up from poverty to PhD, only to realize that as good as I am, chasing this tenure job is breaking my spirit
Do I stay single/childless so I can easily move/work to get TT job? If I then don't get a job will I end up totally alone? #realacademicbios
…Most academics can't tweet their realest #realacademicbios for fear of workplace retribution.
These tweets demonstrate the strain felt by so many who struggle for equal treatment and a healthy work-life balance. When read in the aggregate, #realacademicbios displays an even broader array of concerns. As a visualization of the keywords makes clear (see below), the hashtag had an overarching emphasis on labor issues and the current state of higher education.

Figure 4: Word cloud of keywords in #realacademicbios tweets. Click to expand.
Affective publics and challenges to the professoriate in the digital age
The vast majority of #realacademicbios tweets represent an airing of grievances over real issues in the professoriate. For example, studies have demonstrated academia's lack of inclusivity for women and minorities. Additionally, tenure-track jobs, which no longer ensure academic freedom and job security, are increasingly hard to come by. This may help explain why women are less likely than men to pursue a career in higher education, and when they do they are less likely to be promoted, especially when they collaborate with men. Academe can be so alienating that even tenured faculty are looking elsewhere for fulfilling work.
Many of those who do remain committed to careers in higher education find themselves disheartened by the persistence of inequalities as well as the accelerated state of academic labor. Thus, they often turn to networks like Twitter to air their grievances. In this sense, #realacademicbios is similar to so many other affective publics, whether on Twitter or beyond. And while the emergent activism and identity politics expressed through #realacademicbios is nothing new, the publicity and participatory nature of affective protest poses new opportunities for mobilization and social change.
If learning to labor in the ivory tower remains, for many, a tenuous and unequal process, then it should hardly be surprising that members of the academic workforce are turning to Twitter to call attention to injustices and thus, keep it real.
Stephen Barnard is in the sociology department at St. Lawrence University. His research interests focus on the sociology of new media, culture, and communication. He tweets @socsavvy.