Food Deserts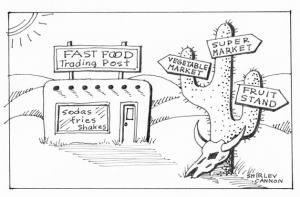 Since 2010, First Lady Michelle Obama has led the fight against childhood obesity. In "Let's Move," an initiative to encourage kids to eat healthier and get exercise, Obama has eaten fresh fruit with Sesame Street's Big Bird and danced with Late Night host Jimmy Fallon. Experts say, however, that efforts that focus on personal habits actually do little to address the spatial and economic inequalities that are often at the root of obesity.
Geographer Nathan McClintock shows in his recent article, "From Industrial Garden to Food Desert," how the process of uneven industrialization, de-industrialization, and racist urban planning policies and lending practices shape the urban landscape and create urban "food deserts"—places where it is hard, if not impossible, to get high quality, well-priced, nutritious foods. Predominantly Black and Latino low-income populations in cities such as Detroit, Chicago, and Newark are affected. Residents regularly walk great distances or spend half a day taking multiple buses if they hope to purchase fresh fruits or vegetables.
Bulking up the research, social scientist Kai Schafft and his colleagues (Food Deserts and Overweight Schoolchildren, 2009) found that Pennsylvania's rate of child obesity is positively correlated with the percentage of residents living in food deserts, while psychologist Naa Oyo Kwate and her colleagues (Inequality in Obesigenic Environments, 2009) showed that black-majority neighborhoods had higher densities of fast food restaurants than did predominately white neighborhoods and that higher rates of obesity among African Americans is associated with living in a neighborhood of high fast food density.
Instead of dancing with Big Bird, Michelle Obama might need to mind the grocery gap.