Punk Politics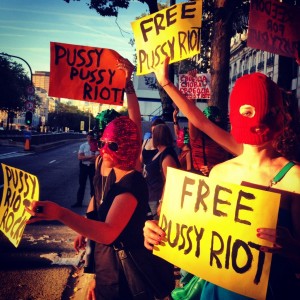 Last February, police escorted Russian punk band Pussy Riot out of a Moscow church after they performed a "punk prayer" that included the line "Mother of God, Virgin Mary, drive Putin away."
Three members of the band, Nadezhda Tolokonnikova, Maria Alvokhina, and Yekaterina Samutsevich, were subsequently arrested, charged with hooliganism motivated by religious hatred, and held in custody until they were sentenced to two years in prison. In October, the court released Samutsevich. "We won't stay silent," vowed Tolokonnikova and Alvokhina.
By sparking international outrage and eliciting support from human rights groups and heads of state, Pussy Riot did exactly what many punk bands have done—sparked protest.
Sociologists Ryan Moore and Michael Roberts, in a 2009 article in Mobilization, "Do-It-Yourself Mobilization: Punk and Social Movements," described punk music as a potent medium of protest. In 1976, punk bands participated in "Rock Against Racism," a campaign that steered British youth away from white nationalist groups. The 1980s saw hardcore bands like Minor Threat and Fire Party organize protests against the Reagan administration's foreign policy agenda and apartheid. Since the 1990s, bands such as Los Crudos and Limp Wrist have bridged punk and activist communities.
Pussy Riot models themselves after 1990s feminist punk movement Riot Grrrl, finding inspiration in its impudence, politically charged lyrics, and outspoken feminism. Writer Sara Marcus, in a 2010 book, Girls to the Front, sees Riot Grrrl as a prophetic feminist movement that urged young women to confront sexism when they saw it. But Marcus laments that since the demise of Riot Grrrl, no movement has confronted sexism as powerfully.
That's why Kathleen Hanna, formerly of the band Bikini Kill, is encouraged by the work of Pussy Riot. "It would be really cool," says Hanna, "if it reinvigorated feminists from all over the world."