Rocking the Vote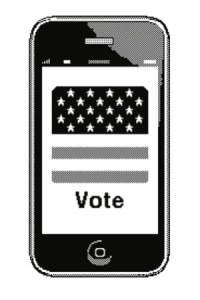 When a Gallup poll showed a sharp drop in the number of 18- to 29-year-olds who said they would "definitely vote" in the 2012 Presidential election, new media initiatives came to the rescue.
Social science researchers have noted the advantages of using digital and entertainment media in soliciting youth civil involvement. "Youth generally find spontaneous, uninstitutionalized, creative forms of collective expression online more appealing than the online civic engagement initiatives sponsored by government and NGOs," argued media scholars Henry Mainsah and Andrew Morrison in the Proceedings of the 12th Participatory Design Conference held in Denmark last year. "Young citizens [also] find more authentic experiences in edgier political sites and in entertainment media and games."
In a photo caption challenge on Comedy Central, participants voted on and shared their political caption favorites via Facebook, Google+, and Twitter. Virgin America and PromoJam united behind nonprofit group Rock the Vote, allowing new voters to register by scanning a code found on in-flight entertainment consoles and t-shirts.
Communication researcher Kathryn Montgomery, in the 2008 book Civic Life Online: Learning How Digital Media Can Engage Youth, says these corporate collaborations are "emblematic of the growing practice of 'cause marketing,' in which companies link their products to causes and issues in order to build customer appreciation and loyalty."
While some decry these efforts, suggesting that they're leading to the commercialization of the democratic process, when it comes to increased youth turnout, Democrats tend to benefit. In last November's election, President Obama enjoyed a 24-point edge over Romney among 18- to 29-year-olds, even if preliminary data suggests that turnout among youth may have declined slightly since the 2008 election.