Second Life's Second Life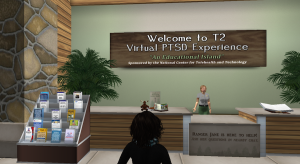 Experts have voiced concerns about digital addiction and social isolation among online gaming enthusiasts. But virtual platforms, such as Second Life, which offers its users custom designed, computer-simulated 3-D environments, have proven to have useful everyday applications.
By distributing information and providing services to at-risk veterans through audio, video, and text communication, the Department of Defense uses Second Life to help those battling Post-Traumatic Stress Disorder. Veterans who exhibit PTSD symptoms, who are fearful of social stigma, no longer need to suffer in silence: they can interact anonymously with service providers and with one another through avatars, or customizable digital self-representations—virtual alter egos.
Weight loss program participants also use Second Life. Health researcher Debra Sullivan and her colleagues monitored a group of individuals who were trying to lose weight. Their 2013 article in the Journal of Nutrition Education and Behavior shows that face-to-face participants lost more weight initially, but Second Life participants were more successful in keeping the weight off. During the weight maintenance phase, researchers found that the Second Life-only group experienced an additional 4 percent loss in weight.
Finally, educators have used Second Life to enable what researchers Palitha Edirisingha, Ming Nie, Mark Pluciennik, and Ruth Young call "border crossing from virtual world to physical world." In a 2009 issue of the British Journal of Educational Technology, they reported that "In-world socialization had led to real-world network building" among college archaeology students.
As digital technology continues to extend its global reach, these successful applications show that virtual behavior can have beneficial real-life results.