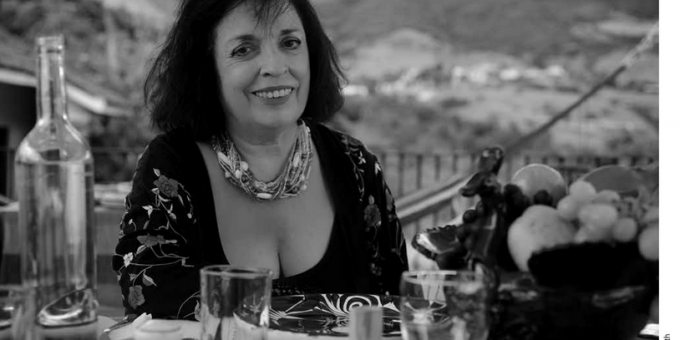 "Honey, Your Name Looks Great in Lights"
Zarela Martinez is one of America's top culinary professionals, cookbook authors, and television personalities. Martinez was a trailblazer in the male-dominated culinary world, succeeding as a young, Hispanic female, and opening doors for other young women and Mexicans to join her at the top. She ran her acclaimed Manhattan restaurant, Zarela, from 1987-2011, when she was forced to close it due to soaring costs. She is a 2013 inductee in the James Beard Foundation Who's Who of Food and Beverage in America. In 2013, Harvard University bought her papers for the Radcliffe Library.
Eli Pollard: Tell me about how a young woman, born in Agua Prieta, a small town on the U.S.-Mexico border makes it to where you are today, a recognized and celebrated chef of Mexican cuisine?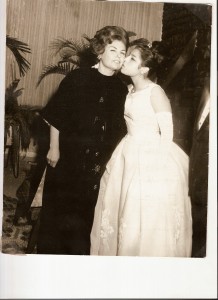 Zarela Martinez: As a little girl, I asked my mother why she named me "Zarela," and she said, "Because it'll look great in lights, honey." I don't know what she saw in me, but that was ingrained in me since I was a little girl. I was a tomboy growing up and killed rattlesnakes with a 10-inch whip on the ranch.
My father said to me, "There is only one sin in life, and that is to waste your talents and you have been given many of them. It's your responsibility to develop them, use them wisely and responsibly." How could I fail, with parents like that? I didn't feel that way about them growing up, but in retrospect I know they gave me the foundation to become a success.
EP: Did your parents instill your love of food in you or did that come later in your life?
ZM: It was the way we dealt with food at the ranch. There wasn't much to do. In the morning I would get up and sit on the fence and wait for the horses to come down to the corral where the cows were waiting to be milked and the cowboy's wife would be there making coffee in the little enamel pot. I'd take a cup up to the tit of the cow and milk it until we had the foam and we'd make a little cappuccino right there. The whole thing at the ranch was about food. We grew it, we canned it, we'd come back and have lunch, always Mexican, and then a snack…. We were all chubby. At night we had international cooking. We always had sit-down dinner with linen tablecloths, in the middle of nowhere, linen napkins and Blue Delft china. Food was everything; it's what we did at the ranch, celebrated food.
When did you realize you could do something professionally in the culinary world? EP:
ZM: I didn't. My mother did. She said one day, "you have a talent for this and you should do this for your life. I am going to give you classes and help you launch your career." At this time, I was living in El Paso, Texas raising three step kids… in an abusive marriage, working three jobs. I'd moved to El Paso when I was about 23 years old; there I met my husband who was a widower raising three kids. A year after we were married, I gave birth to twin sons in 1976. I started baking and selling cookies to make extra money, and eventually I was working an 8am–5pm job, then I'd cater and sell produce at night. I was overwhelmed but gained a lot of skills.I asked my mother why she named me "Zarela," and she said, "Because it'll look great in lights, honey."
EP: So how did your mom help you at this time?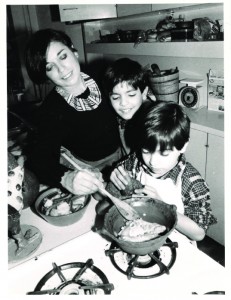 ZM: In 1976, she found a catering mentor for me, who trained me how to set up a catering business. I did this after my twins were born. My husband didn't approve of me making these sorts of decisions without his input. He became abusive after that point, and I realized he was an alcoholic. I knew I had to get out of the marriage, but had to wait nearly five years before I could make that happen.
EP: How did this abuse affect you?
ZM: I was never really able to trust men in relationships until I was much older. Professionally, I don't think it really impacted me much since I was already so determined to succeed, but perhaps it pushed me more in this direction. My husband never did like my food.
EP: How did you transition from catering in El Paso to the broader culinary world?
ZM: One day [my mom] decided she was going to help me study cooking. She wanted to take me to Julie Dannebaum's cooking school at the Greenbrier Hotel in West Virginia, but they were on strike, so that plan didn't work. Eventually, we drove through New Orleans where we found Paul Prudhomme's restaurant. My mom worked her magic and, long story short, he "discovered" me. He brought me to New York with my mom in April 1981 to help on an event he was organizing for Tavern on the Green. Prudhomme was a big guy, both literally and figuratively. He was the first "real" American Chef and I was awed. I decided I wanted the stardom he had and that feeling you get when being recognized for a talent.
EP: When did you go back to New York after that first visit?
It was on that first visit that I met Warner LeRoy, the owner of Tavern on the Green. Our food was a real success, so people took note. We even garnered national press where someone wrote about the meal I prepared with my mom: "Mexican food of incredible finesse from a mother and daughter team from El Paso." ZM:My father said, "There is only one sin in life, and that is to waste your talents…. It's your responsibility to develop them, use them wisely and responsibly." How could I fail, with parents like that?
After about six months of working up the courage, I finally called Warner LeRoy and asked if he remembered me, which he did. I told him I had a deal for him, he of course laughed and invited me to make my pitch. I told him if he hosted an event that my mom and I would cater it for him. He loved the idea so, in 1982, I came back to New York with my mom and all my spices and key ingredients to prepare the menu. It was at this event in the Dakota that I met Craig Claiborne, the pre-eminent food writer for The New York Times. When I was ready to move to New York later that year, it was Craig who helped generate a real buzz about my food and catering business.
EP: That was an amazing way to launch your career.
ZM: Yes, but it got even better. These opportunities and connections helped put me on the map for the Williamsburg Economic Summit, known as the 9th G7 Summit, in 1983 where I was tapped along with Paul Prudhomme, Wolfgang Puck, and other leading chefs to prepare one of the five meals for the leaders of the G7 countries, including Ronald Reagan. All the meals at the Summit were designed by American chefs to highlight American foods.
EP: Tell me about opening your restaurant in 1987, the well-recognized Zarela.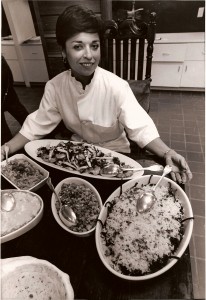 ZM: It was hard. While I had a good reputation from working with Paul Prudhomme and from running my own catering business, I started with very little money—just $20,000 capital to get everything off the ground. I told my vendors that if they believed in me, they would give me my first order for free, and that I'd stay loyal to them when my restaurant took off. I said if they didn't give me the order free, I'd never order from them again. They all gave me my first order for free with one exception, Corona. In 23 years, I never sold a Corona beer in my restaurant.
EP: You live with two chronic diseases, Crohn's and Parkinson's disease (PD). Tell me about your life with these two conditions.
ZM: People know I have PD, but many of them don't want to accept it. They don't realize how hard it is to live with it. I had it for a long time. I was diagnosed in 2004, but I think it started in 1987. I had a major anxiety attack while getting a massage in 1987, just as my restaurant was opening, and after that, my left hand was "clawing." I'm sure I had PD well before it was diagnosed.
I've had Crohn's for about six years. It's a painful disease in one's intestines, but people with Crohn's cannot take painkillers, which is probably okay since I think painkillers suck, because they distract you from the pain, but don't really cure the pain. I prefer others ways to address the pain, like using oils or bath salts with cannabis.
EP: You've had an amazing life and career. How has having two chronic diseases affected how you live?
ZM: It's tough because you never feel great with Parkinson's, so life with PD requires discipline. I force myself to regularly exercise and stay social and creative. The constant self-awareness is exhausting and can even make it hard to sleep at night. At the beginning, I was struggling to speak clearly, a common symptom from the Parkinson's, which is why I started singing a lot and eventually got a part in a feature film in Mexico where I sang two songs. The movie, "Moronga" which means "blood sausage," is supposed to go to film festivals later this year, so perhaps next year you'll see it! Parkinson's also impacts my family relationships since it upsets my family to see me in pain. Because I am a strong person, it's hard for people to see me being "weak."
EP: What is your advice to someone who wants to enter the culinary world?
ZM: [laughs] Don't. It's so tough now to make it work in the culinary world. I would tell them to enjoy cooking at home, or focus on catering and desserts, the two areas I think people can make a profession these days and you can still have a life. I sacrificed so much, but I was lucky because I had a lot of support when I started out. I was a star, and I called my shots. My mom told me before she died that she'd wished she'd had the life I had. I feel very lucky.